Sponsored post written by me on behalf of Tyson Foods, Inc. All opinions are entirely my own.
My mom has taken care of me for almost 35 years.  Even after moving out of her house, going to college, getting married and having kids, she is still always there for me.   She has been there to listen to my excitement and my sadness.  She has helped me through the struggles of being a new mom – and even the struggles of being a mom for the second time!  May 14th is the day to celebrate Moms.  Make sure to let Walmart, Tyson and Thomas help with your Mother's Day brunch needs!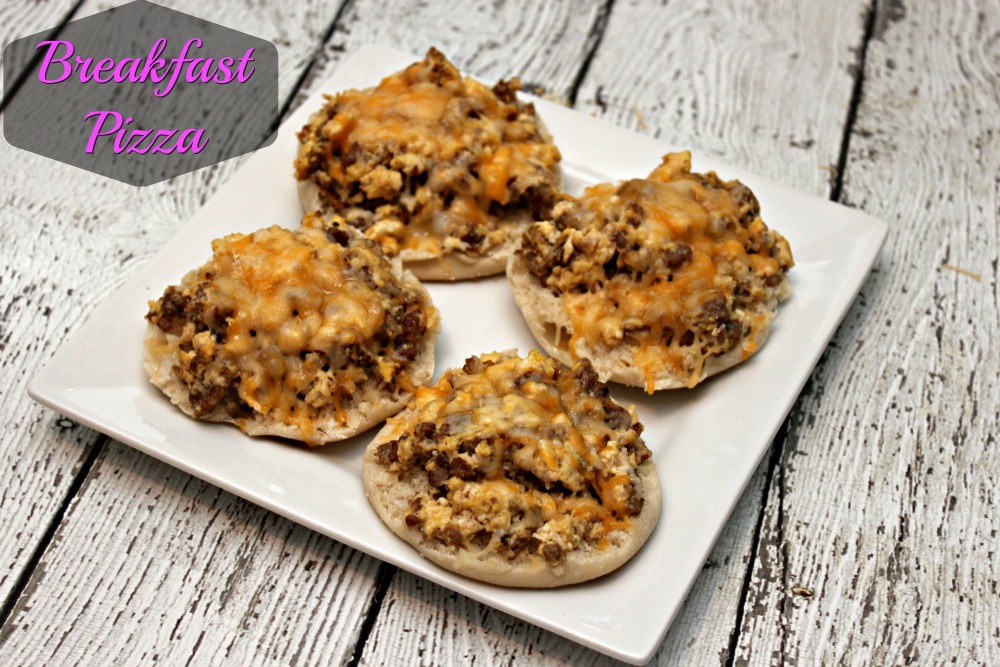 Typically on weekends, we make sure to have a nice home cooked breakfast.  This Mother's Day brunch is going to be a little extra special.  Peanut and Lil C are going to help me make a Breakfast Pizza.   We just needed to make sure we stop at our Local Walmart Store to get eggs, cheese, Jimmy Dean® Regular Premium Pork Sausage, and Thomas'® The Original Nooks & Crannies English Muffins. While we were there, we did grab a 16oz Sara Lee® Pound Cake (All Butter) for dessert after dinner.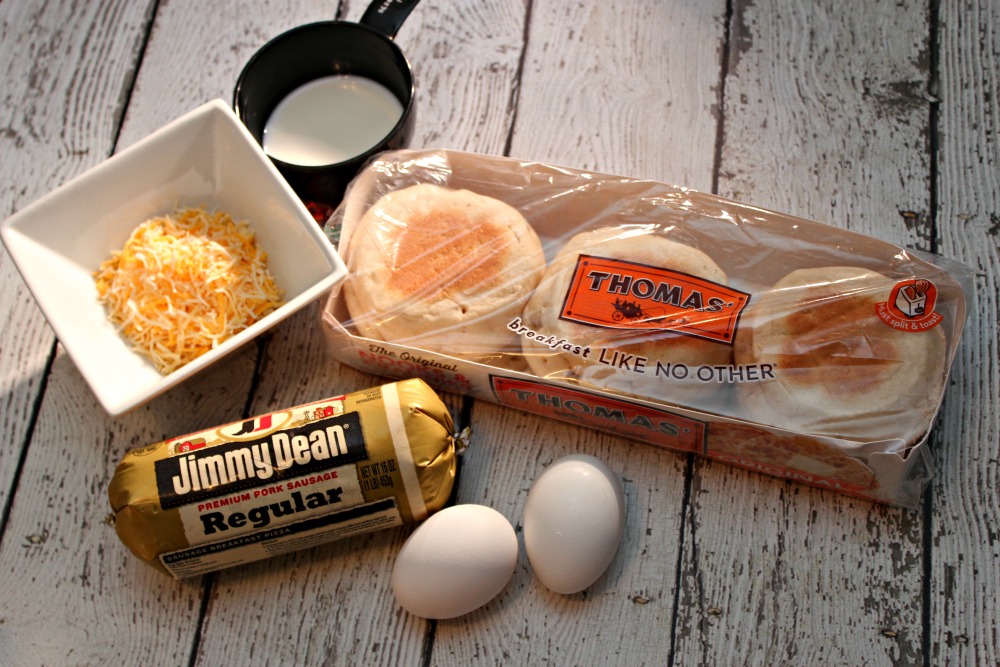 Ingredients:
2 Eggs
1/2 cup Milk
1 cup of preferred Shredded Cheese
1/4 roll of Jimmy Dean Regular Premium Pork Sausage
2 Thomas' The Original Nooks & Crannies English Muffins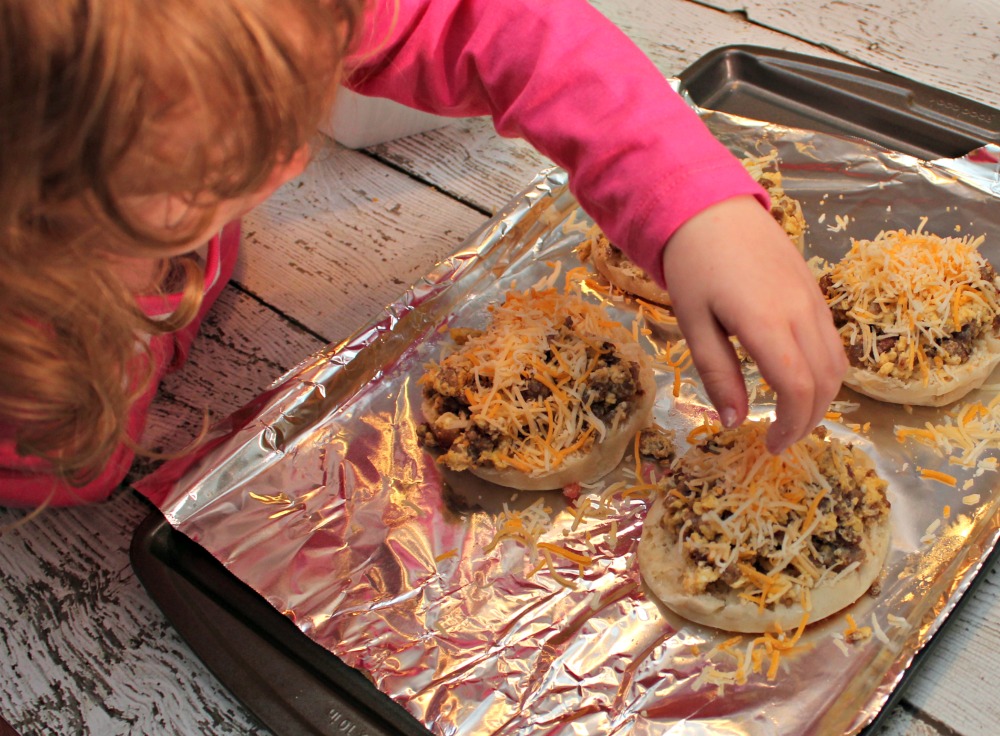 Directions
1) Pre-Heat your oven to 400F
2) Brown your Jimmy Dean Regular Premium Pork Sausage
3) Beat 2 eggs in a bowl
4) Add your milk
5) Add egg and milk mix to pan of Jimmy Dean Regular Premium Pork Sausage.
6) Toast your Thomas' The Original Nooks & Crannies English Muffins
7) Place English Muffins on a Foil Lined Cookie Sheet
8) Top your English Muffins with a large spoon of Scrambled Eggs
9) Top your Breakfast pizza with shredded cheese of your choice.
10) Place it in the oven until the cheese is melted. (approximately 4-5 minutes)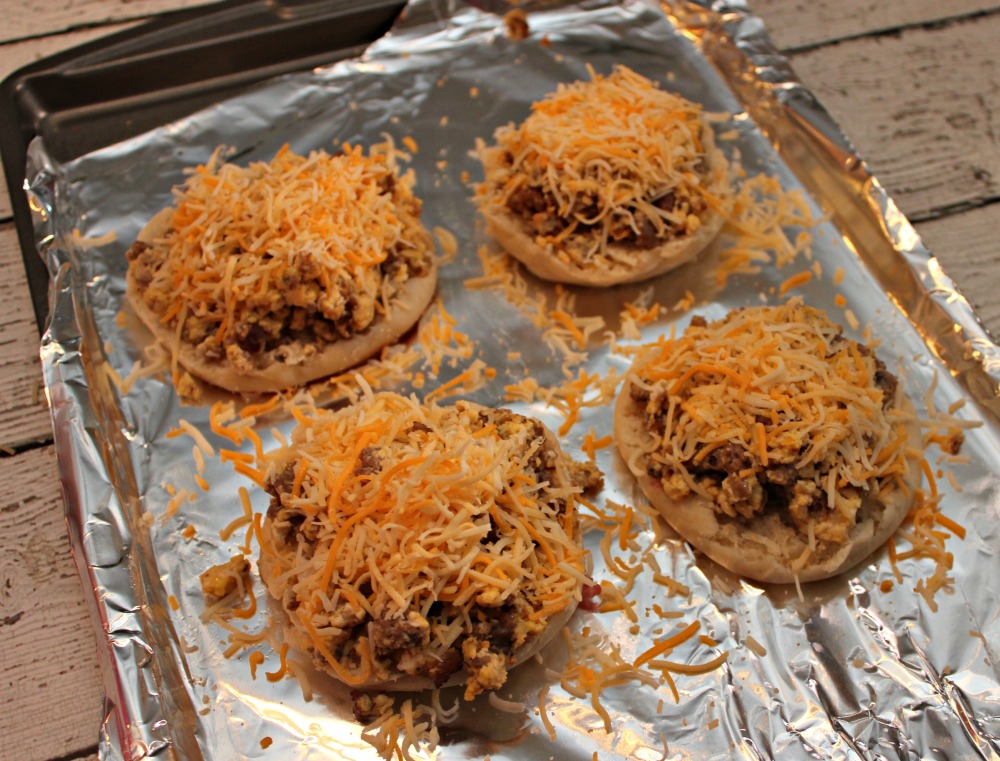 This is the perfect Mother's Day brunch idea!  This simple breakfast is easy to make – and allows both the kids to help make them.  Lil C has learned how to brown the Sausage meat, and Peanut loves adding the cheese to the Breakfast Pizzas.  The extra love that was put into creating brunch makes it all that much more tasty!  It also doesn't hurt that these are easy to make, and no one has to slave for hours over the stove making brunch.  This gives us more time to play and to go visit our mothers to say thank you for all they do.
Would you like to be entered for a chance to win one out of five $200 Walmart gift cards?   To enter the Tyson Loves Mom promotion, all you need to do is post a picture to either Instagram or Twitter.  Make sure to use the hashtag #TysonlovesMom, #Sweepstakes and tag @TysonFoods.  Make sure this picture has something to do with Mother's Day – Such as pics of
Your mom,
Your Brunch with Mom
Breakfast in bed for mom.
How are you planning on celebrating this Mother's Day?  Do you have any special plans?  Are you looking forward to breakfast in bed, or making breakfast with your kids?
This post may contain affiliate links.