Experts have said for years that rewarding kids for good behavior rather than focusing on the negatives is the key to positive parenting. With Valentine's Day coming up, why not change up the rewards for your little loves? Print out a set (or two) of these Valentine's Day Rewards for your kiddos. They'll love the variety! If your kids are anything like mine, they would love a trip to the Dollar Store – or a little extra for dessert!
To Print: Click on the picture, or you can go here to print it out directly.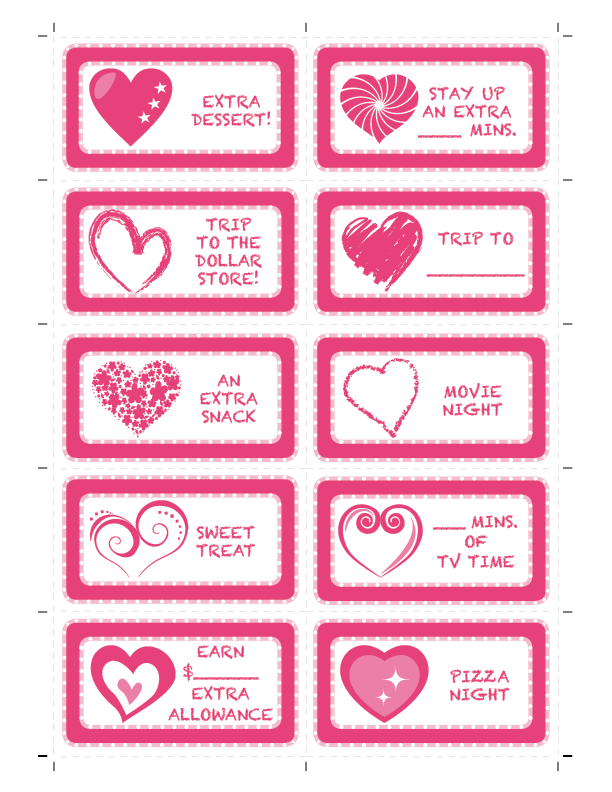 It might be a good idea to laminate this sheet of Valentine's Day Rewards after it's printed to both add durability and ease of use. You can use the cards again and again that way. Another variation is to print them out on sticker paper. You can stick them to their chore charts or your calendar when they earn them!
Rewards teach kids about responsibility, accountability, and that if you do good, you receive good in return. They can be used to celebrate things like good grades, getting up and getting to school without a fight, clean rooms and other household chores, and even potty training! Don't save your Valentine's Day Rewards just for Valentine's Day though – hearts are stylish all year round!
What do you reward your kids for? Do you use cards for rewards? I'd love to hear your reward ideas – feel free to share them in the comments!