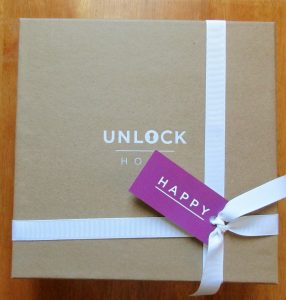 Nothing says "I really don't know you well but I'm obligated to get you something" better than a gift set! I've unfortunately been on the receiving end of several bath sets, hot chocolate sets, and even one of those awful un-refrigerated meat sets. Gross. However, my sentiments on gift sets changed when I unboxed The Unlock Home Happy Gift Set.
Unlock Home is all about unlocking happiness in the home, so it makes perfect sense that they'd make something called The Happy Collection! The collection features gifts for people that love high style and unique products. They're the perfect way to get into the holiday spirit!
The Happy gift set has everything you need to unlock happiness. It's a fun set featuring Unlock Home's signature scent of red berries, fresh citrus, and light floral and herbaceous aromas. When I tell you this scent is amazing, I mean it! It's sure to bring more happiness to any day!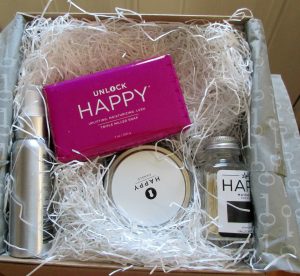 The deluxe set comes already attractively wrapped and includes:
Metal Tin Soy Candle: The candle is made using an Eco-friendly soy wax blend. It's scented with the finest premium grade fragrance oils available, and proudly hand-poured in the USA. The chic tin keeps your candle dust free as well as preserves the scent when you're not using it. It burns for approximately 30 hours. 
Jar of Matches:  I never thought I'd say matches were pretty, but there is something about this jar full of matches that I'm in love with.  I'm not sure if it's the shape of the bottle, the crystal clear glass, or the stark white matches. The convenient striking label is just the icing on the cake.
Soap: The veggie-based soap is triple milled and enriched with moisturizing Shea butter. I smell so good I just want to spend the day sniffing myself! The festive purple packaging makes this soap look great in the box and on a shelf in the bathroom.
Mood Mist: Non-aerosol room and linen spray gives you short bursts of long lasting fragrance. I keep mine in my office and give it a quick shot in the morning and after lunch. The scent makes me feel more positive about the day ahead. Attached to the mood mist is a stainless steel skeleton key you can re-purpose as a charm.
A beautifully crafted card that was created to frame. It's a great reminder that happy does indeed start at home.
Arrives wrapped in a custom Kraft box. Tied with Unlock Home's signature white ribbon and happy tag.
Gift Message:  They'll also include a personal note from you!

The Unlock Home Happy gift set is a really fun set that would be great for anyone who loves their home. Women especially love the scent, but my husband thinks it's great too! (Which is good because that's a pretty big bar of soap. I'll be smelling Happy for a while!)
You know what else makes me happy? Even after the holiday is over, I can still buy all of these things individually here.
How do you feel about gift sets?