I may be aging myself with this post, but unicorns weren't always cool. When I was a kid, they were awesome. So was Rainbow Bright and My Little Pony and all the original Care Bears too. After a while, that changed, and the unicorn lost its charm somewhere along the way. My older girls (now in their early 20s) didn't really have much interest in them at all.
However, unicorns have been making their way back into pop culture, and I'm so excited! My youngest daughter loves them. She's got stuffed unicorns, clothing with unicorns on them, unicorn coloring books, and now…a unicorn headband.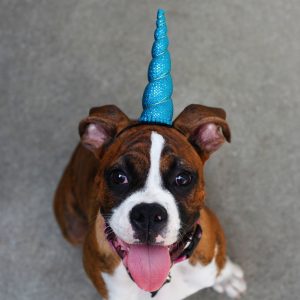 We recently tried out the gold sparkle unicorn ear set from Brooklyn Owl. The headband comes in several colors – gold, silver, purple, aqua, and hot pink. It's adorable! Best of all, the sparkles don't come off. (Any mom of a kid who loves glitter knows how important this is!)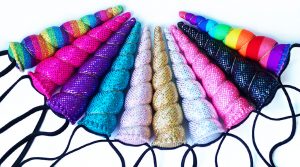 She's been running around the house for days wearing it. Jumping off the furniture and calling it flying. I'd complain about it but it's really cold out and she's got to get some energy out somehow. Flying is always better than sitting in front of the TV. Also, Disney is playing Hannah Montana reruns for the entire month of December. If I hear "sweet niblets" one more time I might scream.
Side note: Why is it that they can't "fly" to brush their teeth or "fly" to do their homework?
Anyway, the headband is really adorable and makes a great stocking stuffer for any unicorn lover. How often does a little girl get to pretend they're a special mythical creature? Not often enough.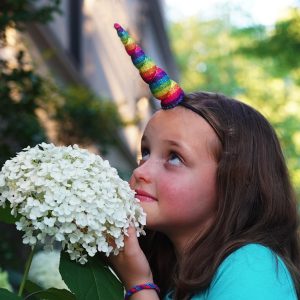 You can get your own unicorn headband at Brooklynowl.com. It comes in both original and tween sizes, so little girls (or boys – unicorns don't discriminate!) of all ages can rock the unicorn look! The original sized horn is 5″ tall by 1.5″ wide and the ears are 2″ tall. You can also move the ears up or down on the headband for a better fit.
I can think of so many people on this list that would love to have these for Christmas. Hooray for imaginative play! Unicorns rock!