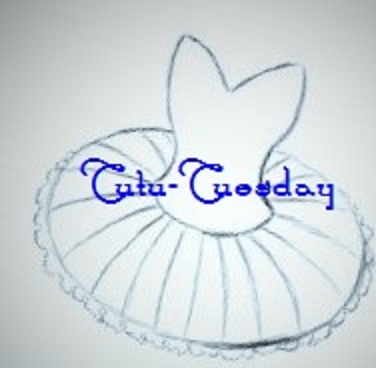 TuTu~Tuesday: Second Dance Lesson
So let me give you a little background on me for perspective…
I have never taken a dance class, I can't tell you what the terms mean, I definitely can't tell a turn out from a turn in… I went to a few take your friends classes when I was younger with my best friend and my cousins. But I was never myself really interested in actually dancing so imagine my surprise (and maybe a little bit of horror) to find my child begging for dance classes. I thought at first is/was just a faze, something someone put in her head by a random comment so I just nodded and said maybe. Then her cousins started taking lessons and we went to a recital… Then the constant begging and the constant dancing started in earnest.
So when this new studio opened up in our small little-blink-and-you-miss-it-town, I jumped in with both feet… Oh boy! I had no idea what I was in for every Friday night for 45 minutes…
There I was on the first day in the middle of a 6-8 combo group of girls screaming and giggling with music blaring, tap shoes clicking from the previous group changing, with my just turned 7 year old and my 4 year old son wondering what the heck I had just gotten myself into. Thank God for Ms. M and her endless patience, otherwise I don't know where I might be (probably sitting in the corner banging my head against the wall praying for earplugs.) My poor little guy was complaining the entire time because it was so loud, he hated the music, he was bored, and hungry.  I had thought I would take him next door to the library for a bit to read books and explore- but the fact that they close at 5pm nixed that idea- did I mention its a small town? you know the kind that pretty much rolls up its side walks after the sun goes down.
By the second week, I came prepared for "war"… We brought small light snacks for Mr. D and Myself (dance is from 5:15pm-6pm-prime hungry time ), drinks(juice, ice tea and propel water), His tablet and  headphones, a bag of toys and crayons with a brand new coloring book. We get there and realize we forgot the brand new never been worn ballet slippers that I had bought not 3 hours before class. They were sitting in the box on the kitchen table (that I had purposely put there so we would NOT forget them!)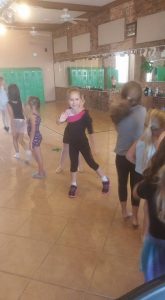 So she had to do the lesson in her street shoes… not fun.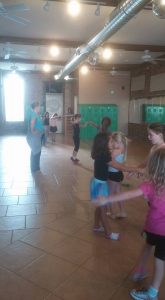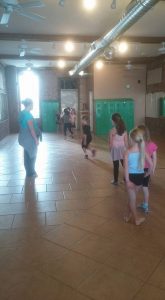 The class was excited and ready to dance. They learned new jumps and twirls, twists and turns. I am sure there are all these technical dance terms for the stuff they were doing- but to be honest with you- I wasn't paying any attention to the instructor and what she was telling them. After each class was finished, I learned, the instructor gave the kids free dance time. its usually about 5 minutes of ribbons or bubbles with current music and screaming girls. Then they get a sticker and come running to their parent or parents who are sitting there silently thanking god that the music has stopped and praying the ringing in their ears will too. 🙂