As you may know, I attended the 2018 North American International Auto Show during the Press Preview week.   I was telling my one friend how Overwhelming it was – but in a good way.  I felt like a kid in a candy store.  So many things to do, that I didn't know where to start. Here are a list of my top 5 favorite things to do while at the North American International Auto Show.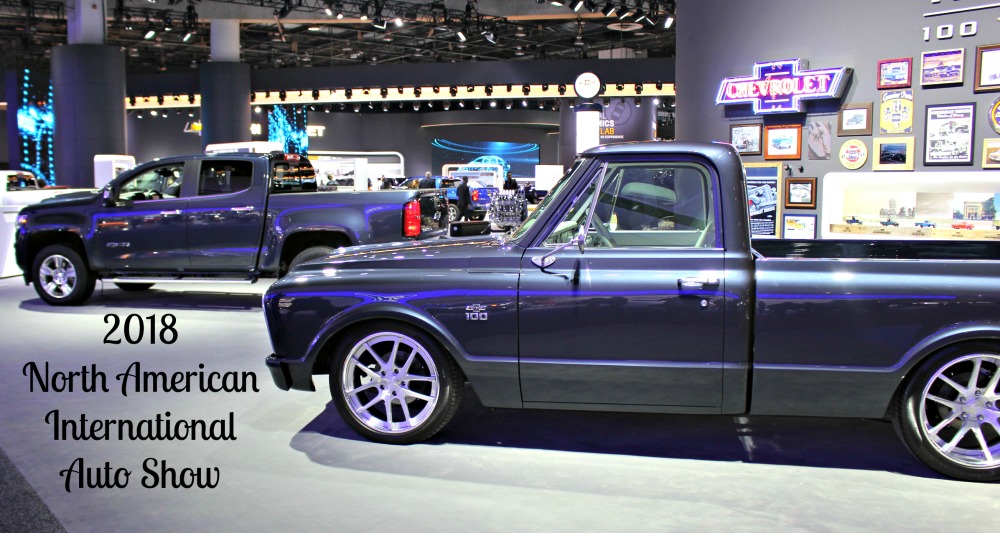 Build your own Ford Lego Character
At this booth you are able to build your own Lego character in your likeness.  You can see above that I have built 4 Characters,  Even though they're wearing the same uniforms, their faces and hair styles are all unique.  Hubby is almost always wearing  a black baseball cap, Peanut has a Light brown – dirty blond hair, Lil C has that messy brown hair going on. I couldn't find a hair style that had color streaks, so I went with the traditional brown pony tail!  There are a couple different Racing Backdrops you can Photo from.
Star in your own Ford Mustang Bullitt Feature
Many of you may not know, but I HATE being in front of the camera.  So this was a huge hurdle that I overcame.  I had a little help from my friend over at Night Helper getting the courage up to try this.  I felt that I was going to look silly doing it, but it turned out quite well.  Make sure if you have the time to stop by and try your hand at acting.
Carpool Karaoke

I secretly love to do Karaoke.  So when I saw that Cadillac Carpool Karaoke booth, I knew I wanted to try it.  You got to chose between 3 different songs – none of which I knew.  You got to listen before hand, so you knew which one you wanted to choose.  Once you get situated in the soundproof booth, you are ready to film.  Yes, there is a little screen with the words.  And you are actually singing along – so it's not complete Karaoke style.  You can sing as loud as you want, you can dance in your seat, or you can just sit there pretending you're really driving. All that matters is you have fun doing it.
Simulated Race in a Dodge Challenger
While I was walking around live on Facebook, I saw this Challenger set up.  They are side by side challengers that you race via simulation. The first thing that they tell you to do is Keep your foot on the gas and use the shift paddles on the steering column to shift and stay out of the red.  When you take off your front wheels come off the ground – and you need to keep the car in control.
Of Course – See the Cars
You cant walk around Cobo without stopping to see the cars.  I mean, Everywhere you turn you'll see a car or two.  I spent a lot of time in the Dodge Section, checking out the new Ram and Jeep Wranglers. But I did find my dream car – the Corvette! One day I will have that car!

What are you most looking forward to seeing at the North American International Auto Show?