We recently added a new deck to our home, and we've been spending a lot of time enjoying it this summer! One of the first things we did was pick out some good patio furniture for it. Because the area gets full sun for most of the day, we needed an umbrella to give us a little bit of shade, too. The Abba Patio 10-Feet Offset Cantilever Hanging Patio Umbrella is the perfect fit for us!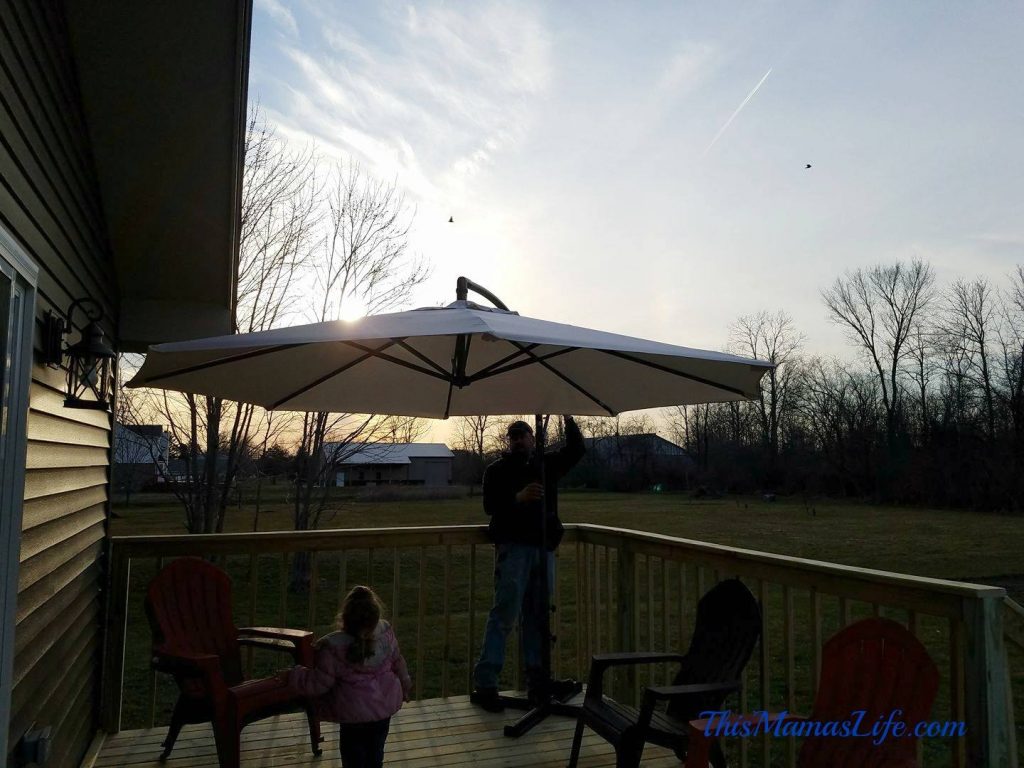 The biggest reason we chose this patio umbrella was because of its size.
The 10 – foot diameter gives us more than enough coverage for a table and chairs or a shady spot for Peanut to play. Because it's got a UV protected and air-vented Parasol, I can even put her kiddie pool underneath it. I feel comfortable that she won't be sunburned while she's playing in the water.
It's also extremely durable.
The polyester patio umbrella is made of a thicker fabric than most umbrellas. The rust-free powder coated 1.8-inch-thick aluminum pole and eight heavy duty ribs support the umbrella shade.  I don't worry that it will fall apart with the first rain we get.
The umbrella is also water-resistant.
If a few sprinkles come through while we're enjoying dinner on the deck, we're literally covered. (If you've ever had to quickly gather up your meal and run in the house so it doesn't get drenched, you understand!) In the case of thunderstorms, the crank and cantilever operation mechanism makes it super easy to close it up quickly if there are any in the forecast.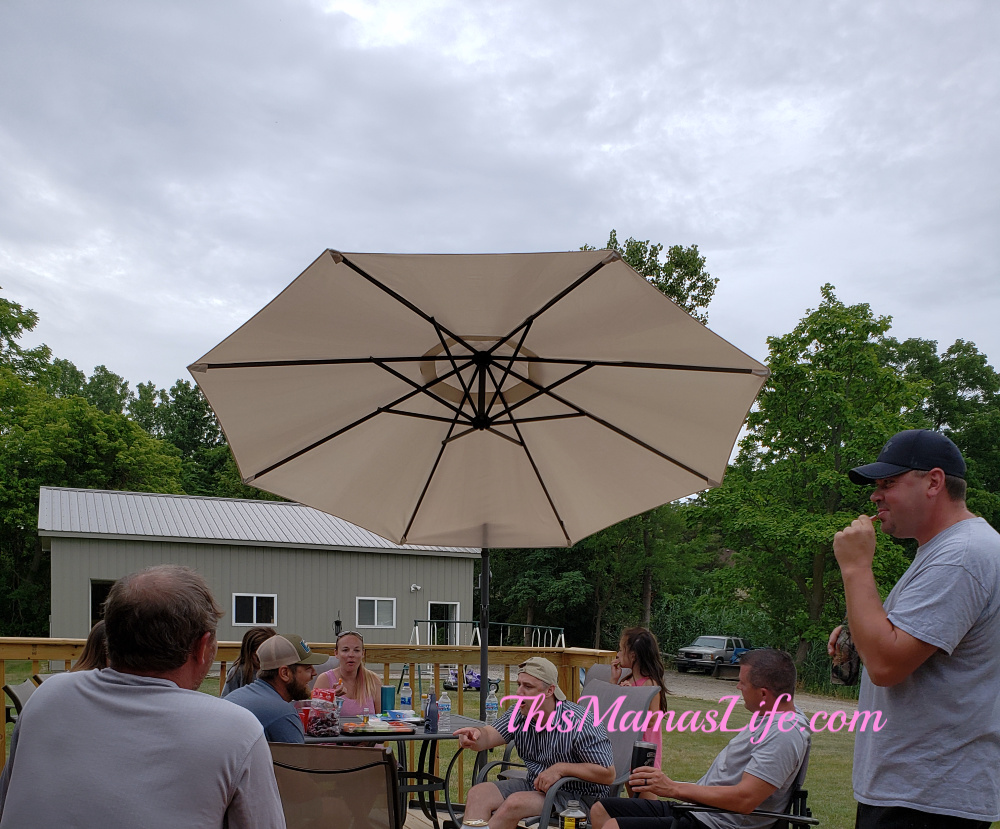 Another thing I love about this patio umbrella is that it's somewhat portable.
The sturdy cross base lets you move it freely around your deck. It hangs over a table and chairs for morning coffee or shades a water table for the kids during the day. However. it can be moved to the other side of the yard if you want to offer shade for your weekend BBQ guests.
Because the top is so sturdy, the included cross base of the patio umbrella does need to be supported.
This is easily done with bags of sand. For a more permanent but less portable solution, paving stones, concrete weights, or brick pavers work well.
This umbrella has really made our summer more enjoyable overall. It looks great and is super useful for everyone in the family in one way or another. I am so glad we added it to our deck! Because our deck is large, I'm even considering getting another one for the other side.
Do you have a patio umbrella? What activities do you enjoy under it?