Soy Sunday; Ice Cream Sandwiches with Chocolate Chip Cookies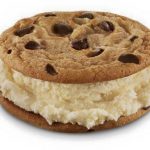 We have all had an ice cream and cookie sandwich or some version of it (if you havent, your missing out and should seriously go buy one or make one for your self- they are sooo good!) Well what do you do when everyone in your family is enjoying one of these frozen treats except your 4 year old who is allergic to it… you make your own home made version of the classic.
These are so easy to make and even easier to make ahead for future needs. We used some on had staples we keep around the house… Dairy Free Ice Cream and Dairy Free Chocolate Chip Cookies.
When taking the cookies out of the package, you might want to avoid having the kiddos around as they tend to swipe the ingredients before they can be used to make the treats 🙂
We took the cookies out of the package, then we took a scoop of ice cream and dolloped it in the middle of the "bottom" cookie. then we took the top cookie and pressed it on to the ice cream. We wrapped the "sandwich" in wax paper and stuck them in a freezer bag  before sticking them into the freezer for awhile- at least a 1/2 hour to let them get nice and hard. If you make a "few" (or a box in our case) you can save them for later when you want a treat. We made ours ahead and individually wrapped them in wax paper then put them in sandwich bags. I didn't want them getting "lost" in the abyss of our deep freezer so I put them in a gallon size freezer bag too. Plus I didn't want them to get freezer burned either.
There are many different options when doing this DIY since you can pick your own cookies, ice cream and maybe even your own "topping" on the sides of the sandwich. We didn't go to crazy with our but we have seen ideas for similar sandwiches with sprinkles, chocolate chips, different cookies, and different ice cream. The best part about these DIY treats is that you can make them however you like them 🙂 Do you have any flavors you are looking forward to enjoying this summer?