WELCOME to the New Year!!!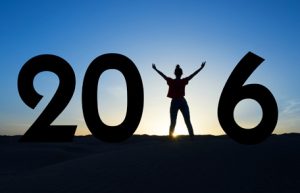 What is your new year's resolution this year? Well like many, we here at This Mamas are a little more focused on a healthier lifestyle.  So for our first Soy Sunday post of the new year I though I might tell you about this awesome new snack Mr. D and family got to try. It is a healthy, good for us snack that is All Natural, Gluten Free, Dairy Free, Soy Free, Vegan and are handmade to perfection with all natural and organic ingredients to offer a quality and fresh product you can take anywhere! 
So, what is this amazing snack? Well, they are called B'Bites and they are simply put, delicious!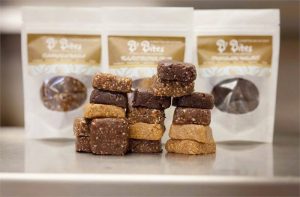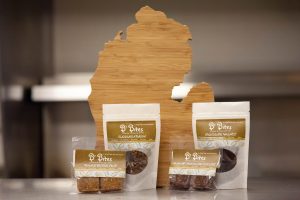 All Natural Bites, creator of B' Bites, is a Southeast Michigan based company that is dedicated to providing high quality delicious snacks that are handmade with whole, natural, and organic ingredients. B'Bites takes pride in the creation of its nutritious snacks by choosing the best ingredients Mother Nature has to offer.
Each 'Bite' is a 1 3/4″ size square that is   soft, chewy, and delicious while packed with Potassium, Fiber, Calcium, Iron, Folate, Phosphorus, Magnesium, and Protein. B'Bites are also made without added sugars, artificial sweeteners, and preservatives. They are the perfect snack for everyone to enjoy and are an easy way to provide needed nutrients while tasting great. They are the perfect size to enjoy anytime of the day and great while on the go.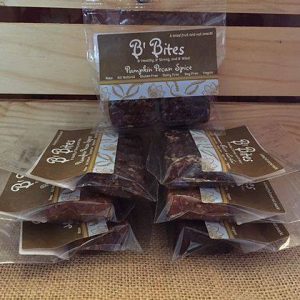 While talking with Billie, the owner of All Natural Bites, I explained to her Mr. D's dietary needs and what we look for in a snack. She sent us a box to try and encouraged all of us to try the different flavors provided. When we got the package in the mail, the kids were so excited to see what it was, they thought it might be a Christmas present for them.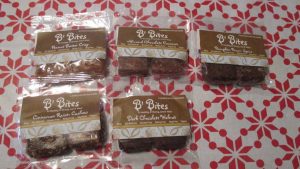 Here are the 5 flavors we received to taste test:
Peanut Butter Crisp
Almond Chocolate Coconut
Pumpkin Pecan Spice
Cinnamon Raisin Cashew
Dark Chocolate Walnut
They each picked out a different flavor to try. I took one of each out and cut it in quarters for them to try. Neither one was impressed with the Dark Chocolate Walnut flavor, they both like milk chocolate flavors. But, both loved the Peanut Butter Crisp. Personally I liked the Cinnamon Raisin Cashew and the husband liked the Almond Chocolate Coconut.
During the past month we were constantly on the go between Miss Z's dance classes, both kids Christmas programs, class parties and visiting with family. The snack packs come with 2 "Bites" in them, perfect size snack for both of my kids. Because they were prepackaged, these were easy to just toss in our go bag and have easy good snacks on hand while in the car or waiting for the next activity to start. It was so nice to know that each kid could enjoy the same treat with out worrying whether Mr. D could have it or not and it made it easy for them to share with each other. The other nice thing about these is that they are not messy like some granola bars can be and are not full of sugar which can make my kiddos drive me crazy. The one downfall is that the kids can not have them as snacks at school because they either have nuts in them or they are made on the same equipment that processes peanuts and tree nuts.
Are you interested in trying B'Bites? Well here's your chance to get a sampler box… B'Bites and This Mamas Life have teamed up to bring you an awesome giveaway… all you have to do is enter our giveaway here…
and you will be entered in the drawing to win. Good Luck!!! We cant wait to see who wins this next Sunday.
We received products for this review. Giveaway ends at 5:00 pm est on Jan 10th 2015. The sponsor is responsible for supplying the prize.