Homemade Dairy Free Italian Bread Crumbs
A simple DIY for homemade dairy free bread crumbs to use for all kinds of foods. We use bread crumbs in meatballs, chicken tenders, meat loaf and several other items. Its not only hard to find, but expensive to buy dairy free bread crumbs. So I figured what the heck, why not try making them myself.
I found the recipe on the foodnetwork.com when I googled how to make bread crumbs
(it was pointed out later that I could have just asked my 84 year old grandmother- oops)
Anyway, here are the ingredients as listed on the website…
Ingredients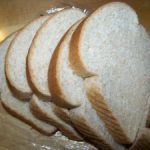 4 oz stale bread, cut or torn into 1 inch pieces 
1 tbsp Italian seasoning
1/2 teaspoon garlic powder

1/4 tsp kosher salt
Here are the instructions:

preheat the oven to 300 degrees f
place all ingredients into a blender or food processor, cover and pulse until coarse crumbs form (takes about about 2 minutes)
spread the crumbs evenly on 1-2 half baking sheet pans and bake until the crumbs just begin to toast (about 5 minutes)
cool the crumbs for about 15 minutes and then transfer to container or in our case- use them right away 🙂
makes about 3-4 cups takes about 30 minutes to make.

We use Sara Lee brand bread for just about everything. The kids love the taste and texture of it and I love that it comes in so many different varieties.  Normally we use the White (made with whole grains), Honey Wheat or the 100%Whole Wheat breads. You can find your favorite here on their website