Soy Sunday 131: Jelly "Sushi" Rolls
Every once in a while we make a new twist on something for the kids to change up the way they eat something. For my daughter we make her Nutella "sushi" rolls and she loves them with or with out a banana, strawberry or raspberry in the middle. Well my little guy decided he wanted some sushi rolls too. So this mama came up with jelly sushi rolls instead for him since he can not have anything with nuts in his classroom.
I used his favorite white bread and his favorite strawberry jam
First I took slices of bread, two for each kid and rolled them flat with a rolling pin. After they were flat, I cut the crust off and made square slices of flat bread.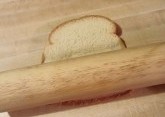 After they were squared off, I smeared jelly on each slice and rolled them up into a sushi roll. Then I sliced them into bite size pieces.
For Mr. D's lunch for school, I added some smoked sausage sliced into bite size pieces and several raspberries and sent him to school with a yogurt and milk. He enjoyed it immensely and asked for the same thing the next day