Mr. D Friendly Brownies A La Mode
This summer has been a exploratory journey with Mr. D. We have been expanding his food options and seeing what he can tolerate and what he can. While trying new foods we also use some "old foods" in new ways to change up the options for Mr. D.
While trying new options are fun and make for some interesting stories, sometimes you just want an oldie but goody…
We used a brownie mix from Betty Crocker (I love that lady :] ) Yes, we could have made them from scratch (I have in the past) but sometimes its just faster/easier/better to use a box mix.
After the brownies were done and cool enough to cut, we added them to a bowl and scooped some awesome Vanilla Bean ice cream from So Delicious Coconut Milk Ice Cream.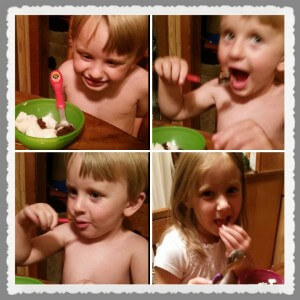 As you can see, Both of the kids enjoyed their dessert. 🙂