Over the holidays we have all kinds of different foods with so many different ingredients. Most of the time people forget that what they have is not always allergy safe or friendly. With so many family members its hard to remember the one person who cant eat the same as the rest. Does this happen in your house?
This Christmas was the first time that Mr. D really got to eat with the family for the meals. Unfortunately I still have to remind most of the family that he CAN NOT have the food they are serving. Surprisingly I even had to remind my mother.
To make up for her "mistake"  she found a recipe for Dairy/ Lactose free apple pie. The recipe is below as well as the link she found it at. We served it a la mode with Mr. D's favorite vanilla bean ice cream 🙂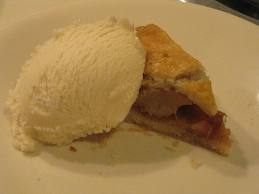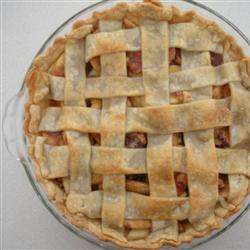 Dairy/Lactose Free Apple Pie
Ingredients:
1 1/2 tsps ground cinnamon
1/2 tsp ground nutmeg
1 pastry (9 inch double crust pie)
5 apples (peeled cored and sliced)
2 tbsps maple syrup
2 tsps vanilla extract
Directions:
Preheat an oven to 350 degrees F (175 degrees C).
Stir together the sugar, cinnamon, and nutmeg in a small bowl; set aside.
Press one of the pastries into the bottom of a 9-inch pie pan; reserve the crust.
Toss the apples with maple syrup and vanilla extract.
Spread 1/3 of the apples into the pie pan and sprinkle with the sugar mixture.
Repeat the layers with the remaining apples and sugar.
Cover the pie with the top crust and pinch the edges to seal.
Bake in the preheated oven until the crust is golden brown, 30 to 35 minutes.
Allow to cool before serving.
PREP 15 mins COOK 30 mins READY IN 1 hr 15 mins
find the recipe here… http://www.yummly.com/recipe/external/The-Best-Apple-Pie-Ever-AllRecipes