When it comes to play yards, there are all sorts of options. Different sizes and shapes and colors…you could spend weeks just trying to figure out which one would suit your family the best.
One of the first things you want to consider is size. If you've got a teeny tiny house, you don't want a huge play yard. At the same time, if you've got twins or kids that are close in age, a larger play yard they can share would be perfect!
There are so many things to consider. What do you plan on using it for? Will the little ones be napping in it? Do you need to use a play yard as a temporary crib when you travel? Is your primary purpose to have a safe place to corral your child just so you can get a shower in peace? All of these things make a difference.
One play yard that really suits our needs well is the Play Yard Cabana by Primo Baby. This thing is seriously awesome. First, I love that it comes already assembled. I work full time and have a house that's always busy. I have to admit that when it showed up on my doorstep I was a little bit intimidated by the thought of having to assemble it. The ability to pull it right out of the box and go was a really nice surprise.
When you're done, you simply fold it right back up and put it into the included carrying bag. Even the canopy folds up and fits into a storage spot inside the play yard. Our home has limited space so that's a huge feature for us. It barely takes up any room at all.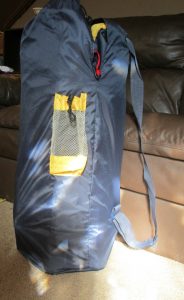 Don't let the small bag fool you, though. This play yard is super spacious when it's open! As you can see, I can fit an infant carrier and an average-sized 6-year old inside there. The age limit on the play yard is 3, but there was definitely plenty of room for a bigger kid. She just couldn't stand up. Also, the play yard floor is on the ground. It doesn't have any annoying bars to make the kids uncomfortable. The big kid wanted to keep it for a fort. *Mean Mommy said no.*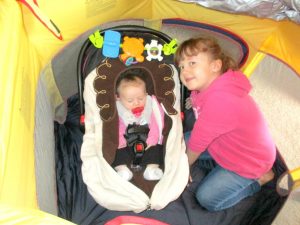 The door zips up like a tent and latches from the outside so that the child can't undo it themselves. Obviously, I don't recommend your child unattended. However, if you've got a couple of kids playing outside in the yard while you garden, it's good to know the little one is safe and sound inside the cabana rather than escaping and eating dirt. (Unfortunately, I've been there more than once!)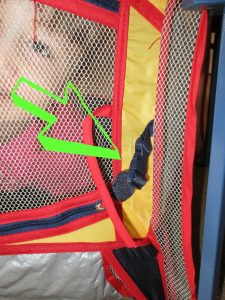 You can use it as a traditional play yard or as a cabana. Obviously as a cabana, it will give the child a lot more shade as well as protect them from mosquitoes or other backyard pests. If insect allergies run in your family, you'll definitely appreciate the extra protection from the screened in canopy.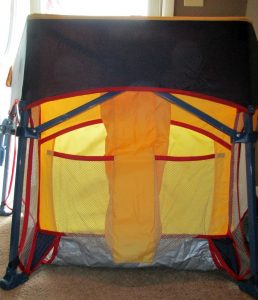 The play yard is very durably made, too. The big kid was in there playing all afternoon with pens and crayons and dolls and there isn't even a tiny scratch. I have no doubt that this is going to last until the baby is 6 too. Maybe even longer.
I'm sure we're going to get a LOT of use out of this play yard. I'm already envisioning warm, sunny days outside with it – the baby chilling out in the shade and me working on my tan!
What do you look for in a great play yard?