What do you think of when you Hear "Detroit"?   There is more to Detroit than just being known as the Motor City. We are home of the Wings and the Tigers… and one of the nicest hotels I have ever been in – MotorCity Casino Hotel.   MI Savings Mama has teamed up with MotorCity Casino Hotel to bring you a little piece of Detroit.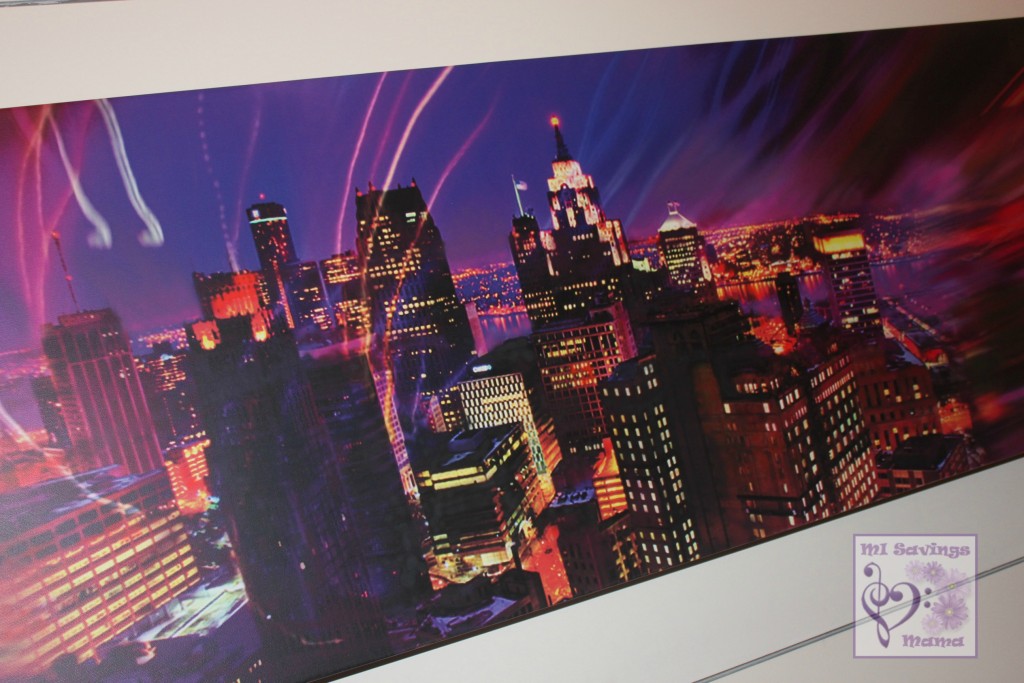 A little about MotorCity Casino Hotel:    Designed with input from renowned automotive designer Chip Foose, MotorCity Casino Hotel is Detroit's most innovative entertainment venue featuring the crown jewel of the city's skyline. With world-class luxury hotel accommodations, spa facilities, fine dining, live performance venues, and high-energy gaming, you'll find your kind of entertainment at the new MotorCity Casino Hotel. Our 67,000 square foot state-of-the-art meeting and conference facilities will take your meetings and social events to a whole new level.  MotorCity Casino Hotel is Detroit's only locally-owned and operated casino.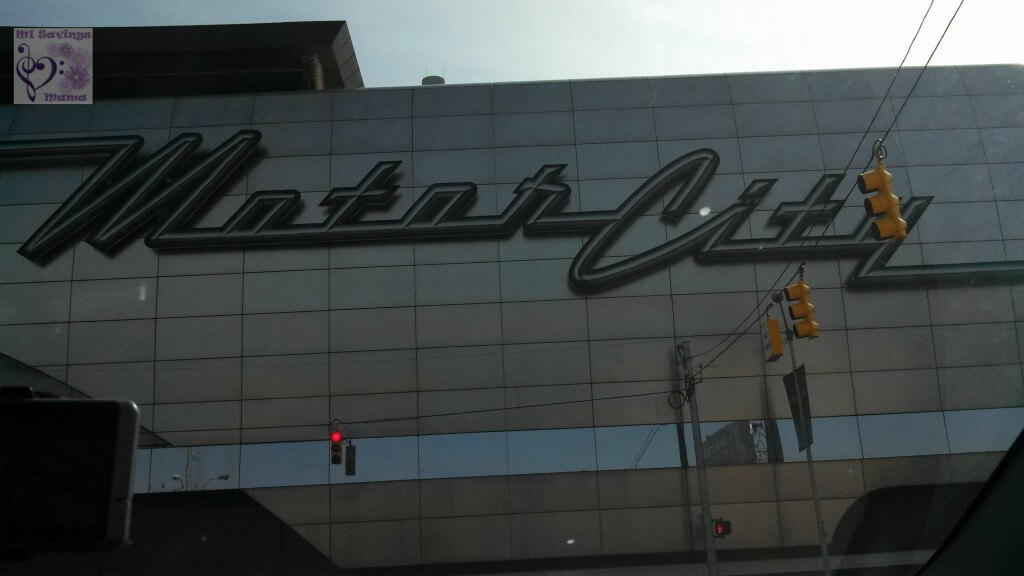 With all the stress of Planning a wedding – and Trying to combine families… My better half and I realized we needed a Mini vacation.   But neither of us wanted to go on a long hike.  And me never being to the Michigan Casinos, we figured what better place to stay then MotorCity Casino Hotel.   We arrived before evening, So the building wasn't lit up yet, but I can tell you that it's gorgeous when it is.  
Room:  When we arrived, we found out that our room was on the 15th floor.  This took using your key card in the elevator to get access to the floor we're on.  Even though I scoped out what the rooms were like on the Website, I still walked into ours in awe.  Our suite featured a small kitchenette area, Living area, a Large bedroom and a Bathroom.   The Room over looked the City – and I will have to say, that view alone gave me a whole new appreciation of the city of Detroit.    The first thing I wanted to do was flop down on the Huge King size bed.  Just from looking at it, I could already tell it Looked COMFORTABLE.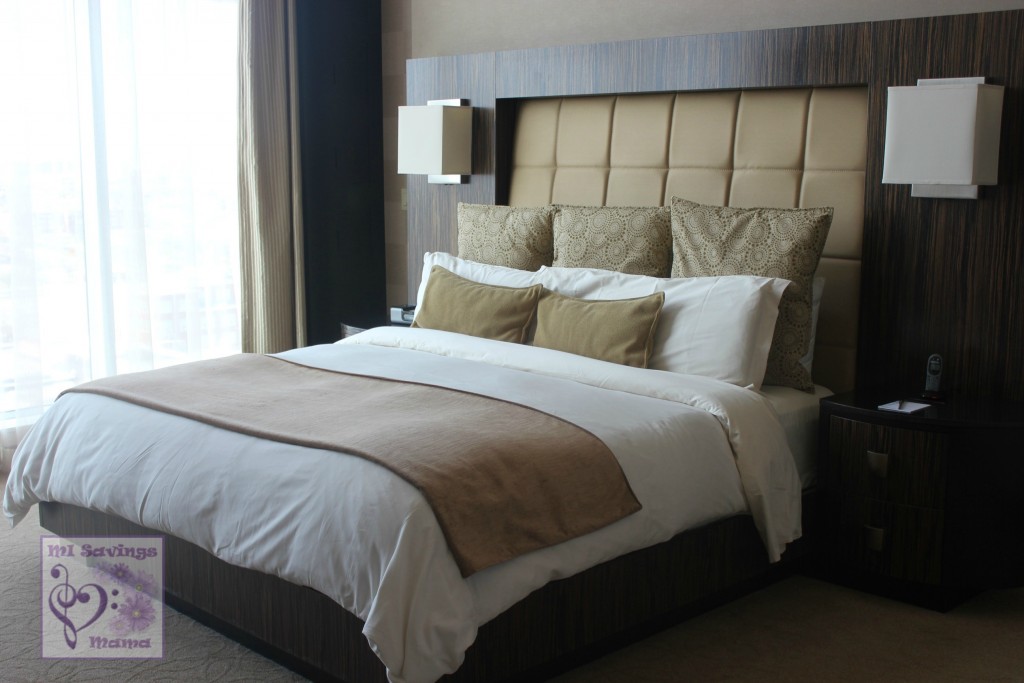 If you are looking for a Comfortable Bed… then You NEED to sleep on the ones at MotorCity Casino Hotel.   They are like putting a  Firm and Soft bed and mixed it into one. You sit on the bed – and you just sink… And it seems to mold to your body.  This is probably one of the best nights of sleep I have gotten in a long time.   And finding a bed that both Jeff and I slept on well… Yeah, I'll take one of those to go please!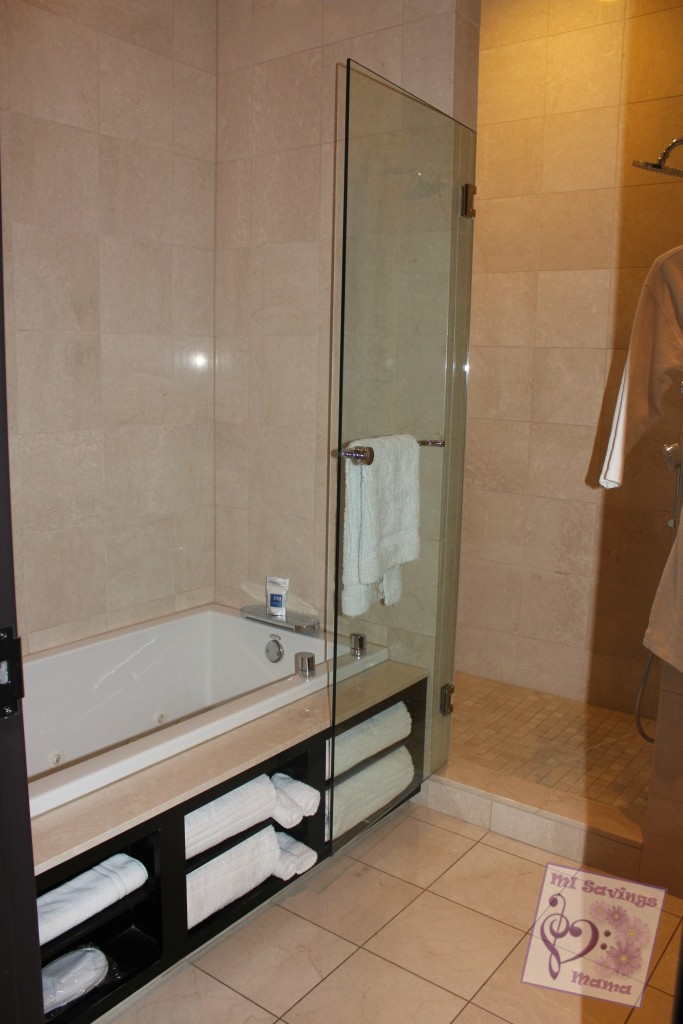 The bathroom – was HUGE!  Jeff is over 6 foot tall – so to find a Tub that is large enough for him to sit in – is AMAZING!  He was able to sit straight legged in this tub, and have it come well upto his chest!   They also had what I consider a 2 Person Shower.  There is a shower head on both sides of the shower stall – and spraying streams on one side!  It took a little figuring out, but we did figure out  how to take the PERFECT shower – where it massaged all the muscles you needed!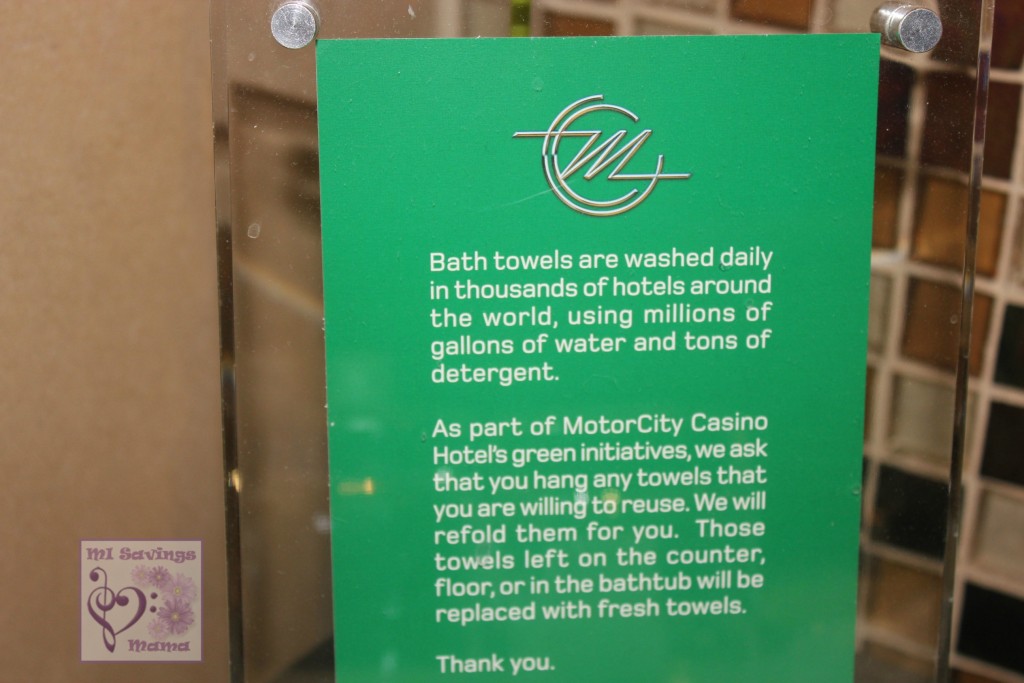 I loved finding this sign in the bathroom.  Usually if Jeff and I stay at a hotel for multiple days, we prefer to not have our towels picked up and washed daily.  It's great knowing that MotorCity Casino Hotel is on board with a green Initiative!  Way to Go MotorCity Casino Hotel!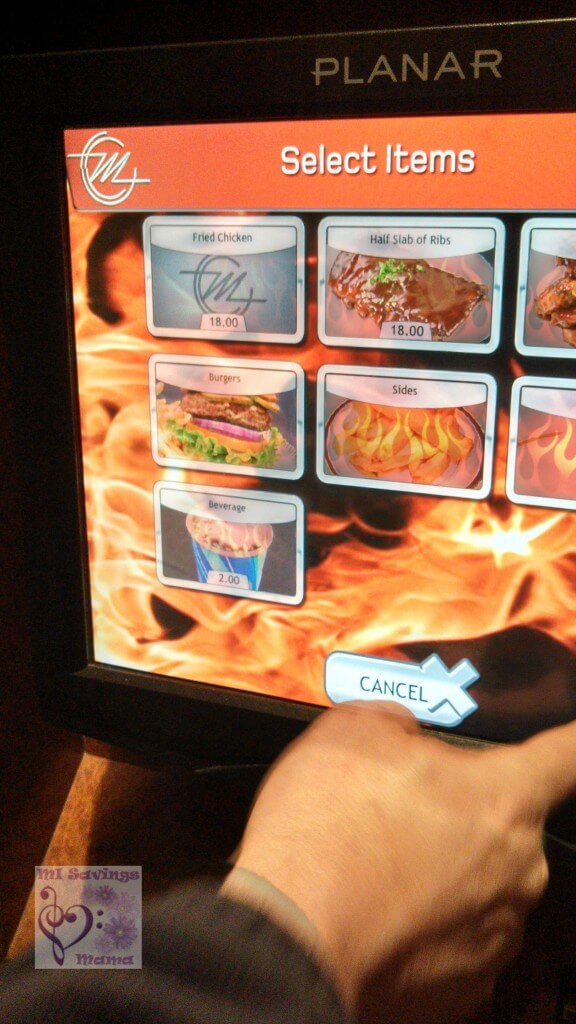 Dining:  MotorCity Casino Hotel had a great line up of Places to eat. In keeping with the MotorCity Theme – You will be able to eat at the The Lodge Dinner, Grand River Deli, The Assembly Line Buffet and The Pit Stop.  There is also a Little Caesars Pizza for all you pizza lovers.  And if you're looking for the perfect meal for the perfect Date Night – then Make sure to Check Out Iridescence.  We chose to eat at the Pit Stop for our meal.    I will have to say, placing my order for dinner was one of the most fun thing.  It's completely touch screen.   You walk up to a screen and place your order that way, Pay and then take your receipt.  Both of us ordered a Cheese Burger and Fries. The burger was cooked to Perfection – and the fries… Were Just right!  Usually we share an order of fries, but I am so glad that we both got our own order.   I didn't want to share!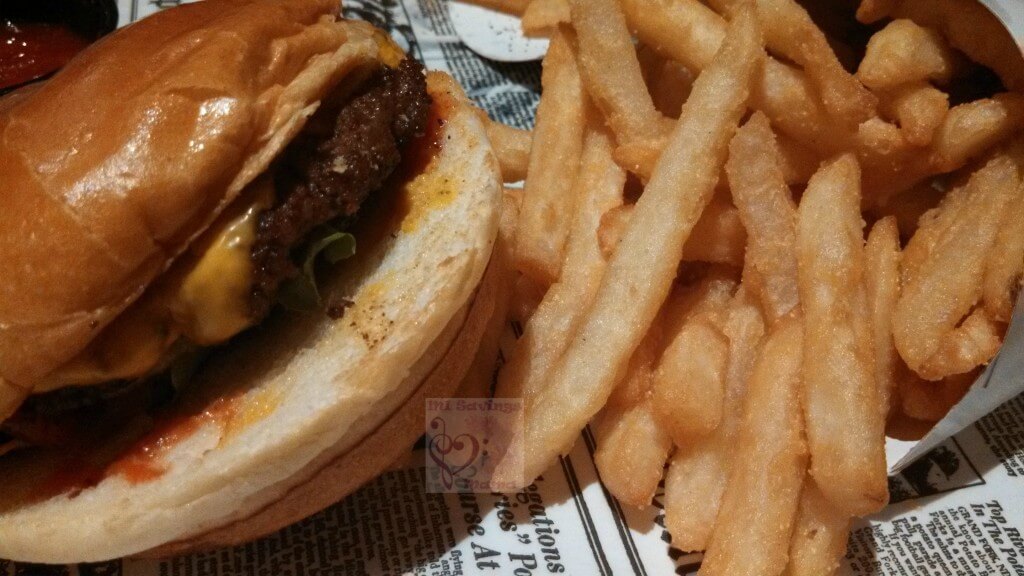 (please ignore the lack of toppings, i picked them all off before taking this picture… I like my burger with just lettuce, ketchup, mustard and Cheese)
We would have really like to have the time to try out the other restaurants – Maybe we'll have to plan a trip again.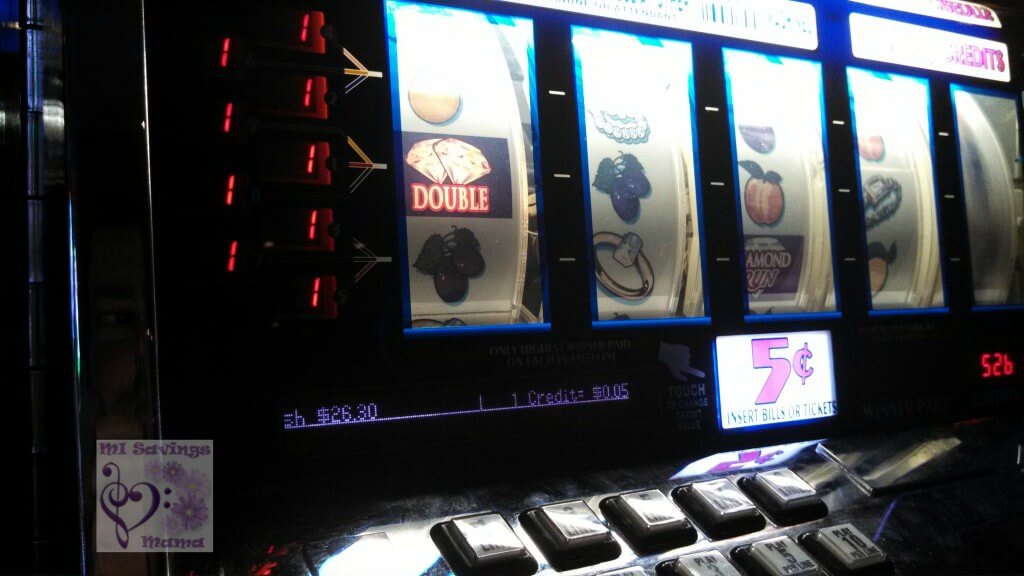 Casino: This was the first time I have been in this Casino.  The last time I stepped foot into a Casino  was in Canada with my dad well over 10 years ago. At that time I had no interest to drink or gamble.  So walking into MotorCity Casino, I felt completely different.  We actually took a few moments and I was shown the fun of playing slots.  They have everything from penny slots and up.  We figured be safe and sit down at a Nickle Slot machine.  Each of us played $2.00 to begin with.  As you can see, I multiplied my original investment  – and a good hour plus of play time!
One thing that made our night even better.  We ran into some friends that we haven't seen in going on a year and half now.  The wings were playing – and they had Season tickets.  And they were taking advantage of staying the night at the hotel and Celebrating a win!  This weekend couldn't have been any better if we planned it that way!
I keep hinting to my better half that we need to stay there the night of our wedding.  We'll see if he takes the hint.
*I received a room in exchange for this post. All opinions expressed are 100% my own.