Calling all MICHIGAN Monster Truck Enthusiasts!! Monster Jam is coming to the Ford Field on January 14, 2011!  Show starts at 7:30pm.  You also have the opportunity to get pit passes and met the cars and drivers!  Readers of MI Savings Mama have the opportunity to get a family pack for 100.00!  Included in the family pack you will get 4 Tickets, 4 Hot Dogs, and 4 Sodas for only 100.00!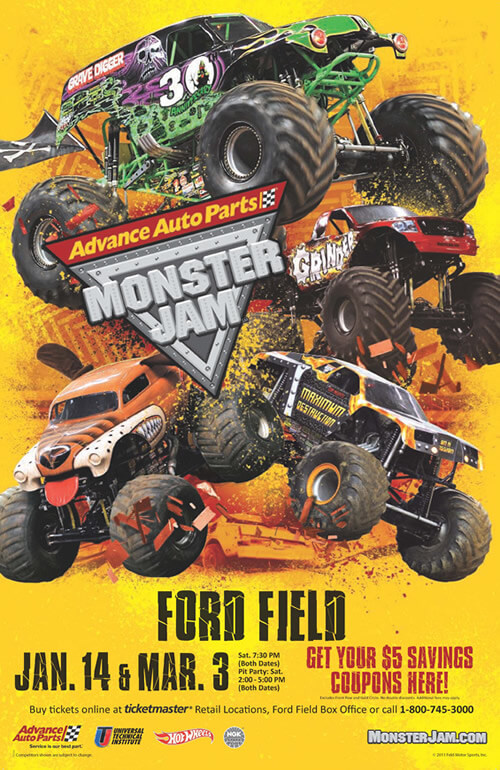 Here are some fun facts about the trucks:
Height – Approximately 12' / 3.6 Meters
Width – Approximately 12' / 3.6 Meters
Length – Approximately 20' / 6 Meters
Weight – 10,000 lbs / 4500 Kilograms
Tire Size – 66"/ 167cm / 1.7 Meters X 43"/ 109cm / 1 meter on a 25" / 63.5 cm Tall Wheel
Motor Type – Supercharged Fuel Injected Big Block American V8
Motor Size – less than 575 cubic Inches / 9.4 Litres displacement
Horsepower – 1350 – 2000+
Top Speed – 70 MPH/113 KM/H, Monster trucks are equipped with tachometers which measure the working speed of an engine versus speedometers which measure vehicle speed
So, In other words, these trucks are Monstrous!  Theres a lot of things that I didnt know about Monster Trucks until I learned about the Monster Jam.  I found out that Steel body full-size cars are the vehicles typically crushed during a monster truck event.   The Cars, as well as vans, buses, motor homes, airplanes and ambulances, are attained from local junkyards and returned after each event. They crush an average of 3000 cars a year!  Can you believe that?!How can you get tickets for this event?
You can purchase them on ticket master
**I received a set of tickets in exchange for this review. All opinions are 100% my own.