For me December means the month of baking.  It isn't really until just before Christmas where I pull out my KitchenAid Mixer and clear off my calendar and spend a day or two just doing something I enjoy – Making cookies.  Growing up I remember being in my mom's or my grandma's kitchen and helping them bake Christmas Cookies.  There were Press cookies, Cherry Bits, Brown Eye Susan Cookies and one of my Favorites; Molded Peanut butter balls.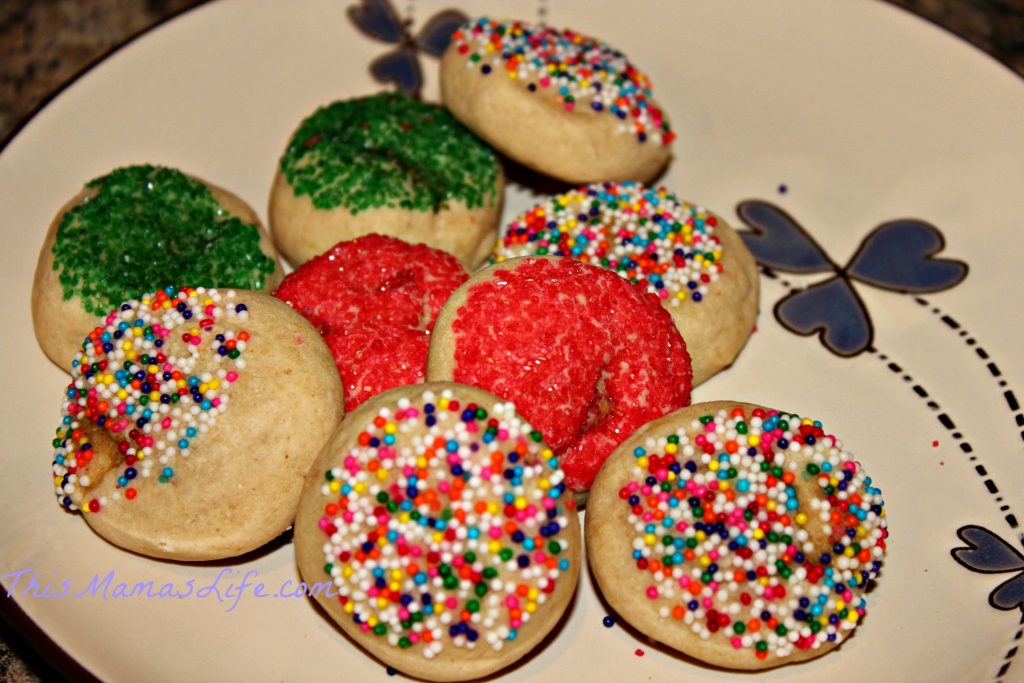 Once I moved out of my parents house I still tried to keep the tradition of making three cookies for the holidays. There is just something about making Cookies that makes it Christmas for me.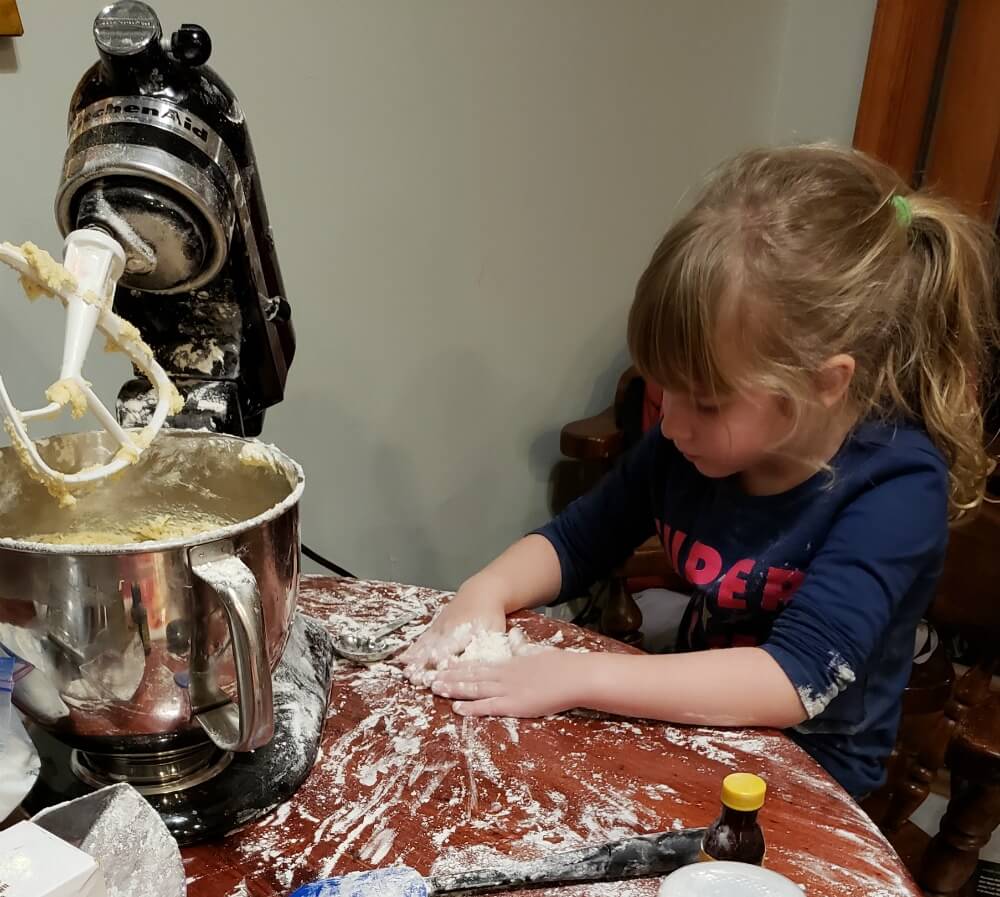 Last year, my Grandmother passed away.  Making cookies this year has definitely had a new meaning for me.  I have started to teach my 2 older kids how to make each of the cookies.  C can follow the directions and understands measurements, Peanut… Well, she enjoys breaking the eggs and pouring the flour (and playing with it when she spills it outside the mixer) I can only imagine that the smile my heart has watching the kids help me bake.. is the same smile that my Grandma had when we were in the kitchen helping her.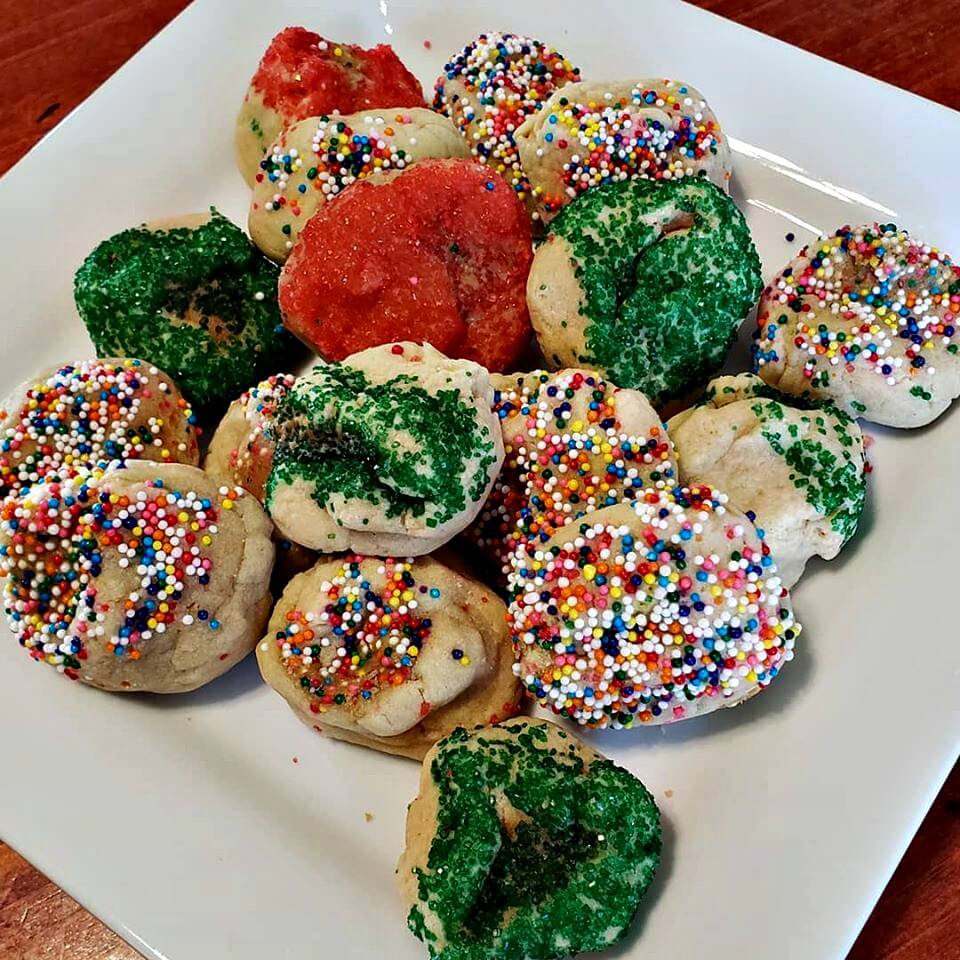 The best thing about these particular cookies… They are filled with peanut butter and are covered with sprinkles. My other favorite thing – they are bite size.  But, in all honesty, being bite sized makes it that much easier to eat… too many.
Molded Peanut Butter Cookies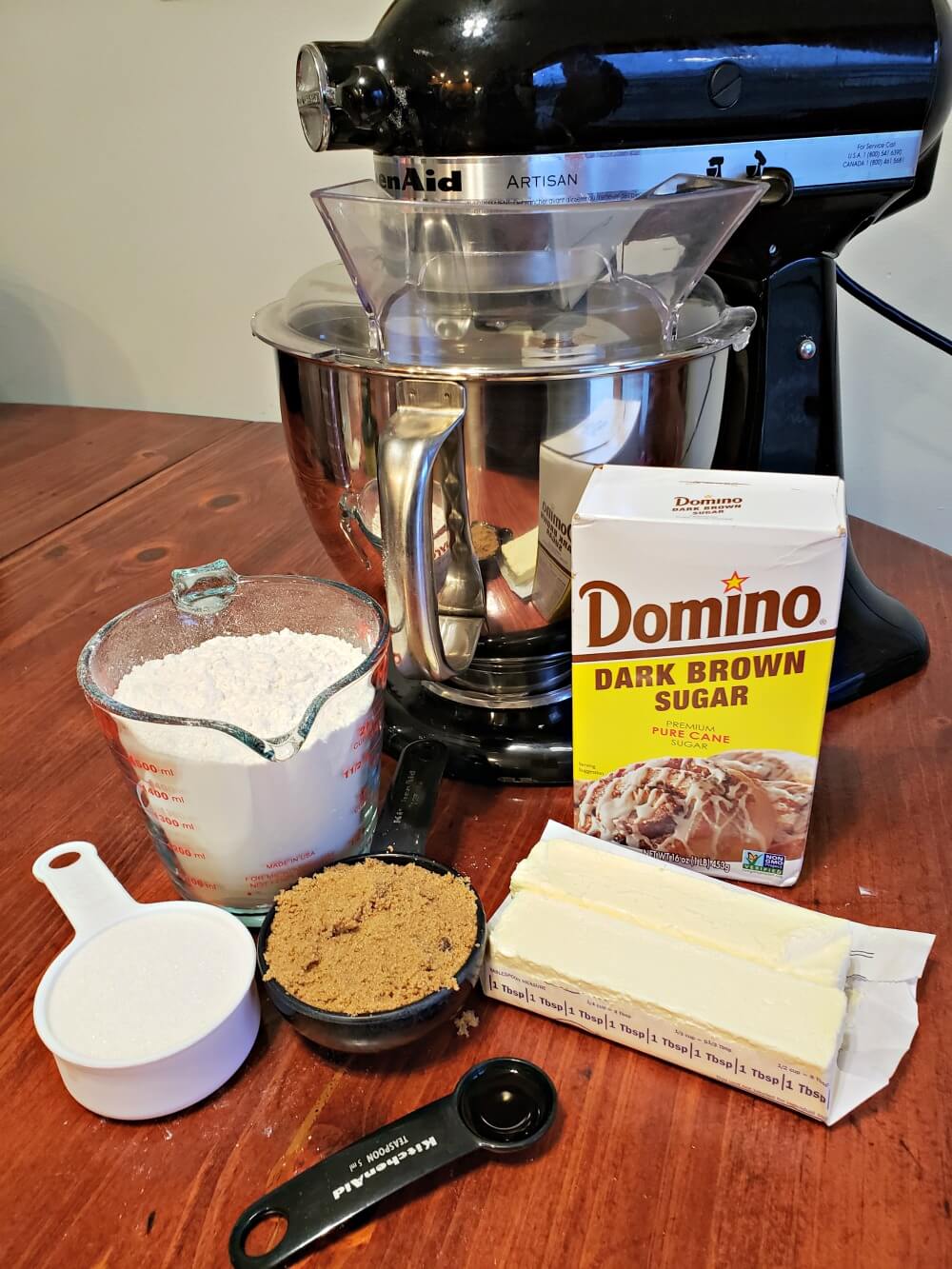 Cook time:
Ingredients
1 cup oleo/Margarine
1/2 cup sugar
1/2 cup firmly packed brown sugar
1 egg
1/4 tsp. salt
1 tsp vanilla
2 1/4 cups flour
Filling ratio:
1Tbls brown sugar
2 Tbls peanut butter
Instructions
Preheat oven to about 370
Cream oleo.

Gradually add sugar & brown sugar creaming well.

Add egg, salt,vanilla and beat well.
Gradually add flour, mixing well.

Shape dough by teaspoon into balls.
Make an indent in each ball, fill with about 1/4 teas of filling.
Reshape and seal.
Roll in colored sugar.
Bake on greased pan for 7 to 10 minutes or until lightly brown.
What are some of your favorite Holiday traditions?  Do you have a favorite cookie that you leave out for Santa?
What is Houseful Of Cookies?
Houseful of Cookies is an annual, virtual cookie hop, hosted by Natasha Nicholes of Houseful of Nicholes. She really likes playing on the "Houseful" theme when there is more than one of something, and since there's more than one cookie…here we are. Each year, she gathers a bunch of us from the internet to bake up our epic cookie creations and share them with all of you! It's a fun time, and we all have dealt with butter, flour, and various flavorings to bring you our goodies each year. This year, we present to you, our cookie hop.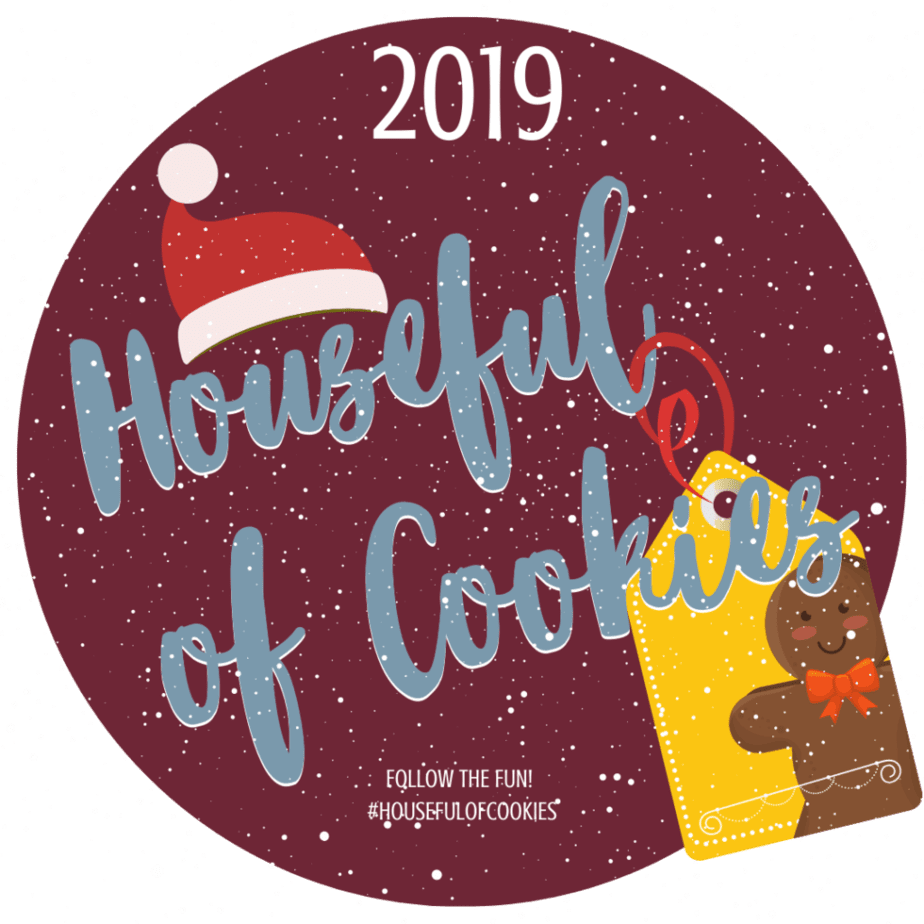 Houseful Of Cookies Participants
Brownie Cookies – Houseful of Nicholes
Chocolate Rolo Surprise Cookies – Good Girl Gone Redneck
The Perfect Christmas Sugar Cookies – Love, Jaime
Cake Mix Santa Cookies – Dairy Carrie
Candy Cane Cookies – Brooklyn Active Mama
Chocolate Dipped Peppermint Shortbread Cookies – Honest & Truly
Gingersnap Cookies – Divas With A Purpose
Decorated Ugly Sweater Cookies – 1000 Directions
Mickey Christmas Headband Cookies – Cutefetti
Birds Nest Cookies – My Crafty Life
Cranberry White Chocolate Chip Cookies – Kenya Rae
Gluten-Free Russian Tea Cakes – Day by Day in Our World
Not His Mamma's Tassies – Heather Spins a Yarn
Molded Peanut Butter Cookies – This Mamas Life
Not Your Mama's Milk & Cookies – Life of a Ginger
Peanut Butter Marshmallow Chocolate Chunk Cookies – Mama Harris' Kitchen
Coffee Sandwich Cookies with Browned Buttercream Filling – How Was Your Day?
Butterscotch Cornflake Cookies – Omadarling
Coffee Cookies – Someday I'll Learn
Toffee Bits Cookies – This Worthey Life
Fruitcake Cookies – Sugar, Spice, & Glitter
Keto Almond Joy Cookies – The Crunchy Mommy