We were so lucky to have been able to visit the lovely state of Florida once again. But this time, it wasn't just the two of us.  So a Sporty Two-Door car just wouldn't do. So hearing that I was going to get to try out the new 2015 Mitsubishi Outlander, I was ecstatic.   I knew it would be perfect for the 3 of us to travel in!  There would be plenty of space for all our luggage, the hubs and I and All of Peanuts Gear!
Some of the features that the 2015 Outlander SE had are:
Bluetooth Audio
7 Passenger Seating
USB Audio Interface
Rear View Monitor
Heated Seats
HD Radio
Bluetooth Hands Free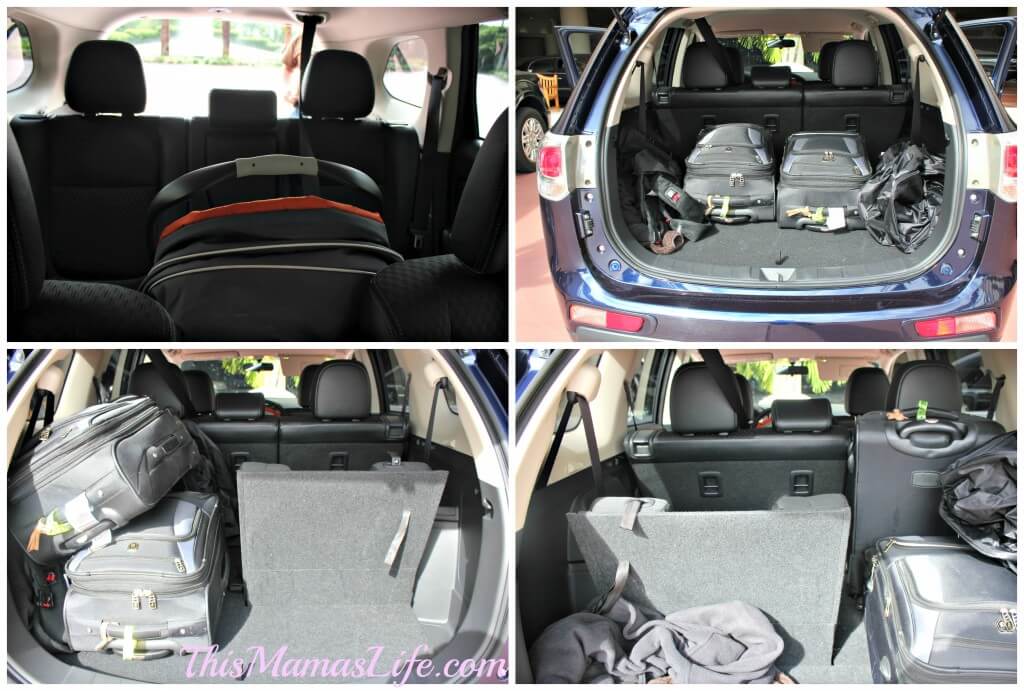 The Outlander is made to fit upto 7 passengers;  The two front seats, 3 in the middle and 2 in the very back.  Peanut made sure to make most of the middle row!  She got to sit front and center!   One of the things that I loved most about the Outlander's seats was how easy the back row was to fold down.  You had the option of either both seats up, both seats down or one seat up and one down. To show how the space worked in the back, We shuffled around our luggage. (Those are the Carry-On size luggage. )
The 2015 Outlander features the CVT Transmission.  In the past, I was  not fond of CVTs, but the Outlander has actually perfected the Trans, so it feels more like a typical Automatic transmission.  The shifting was great – and it was great on gas!
We did have to rely on our Cellphones for our GPS.  This particular model does not have a built in GPS.  Thankfully it was easy to navigate through Orlando to Melbourne!