This past Saturday one of the This Mamas Life families got to experience something pretty cool…Matt, Kristina, Miss Z and Mr. D got to explore the Michigan's Adventure Amusement/ Water park located in Muskegon, MI. Being a Michigan native, I am not especially proud to say that I have not explored all that my awesome state has to offer. Since becoming a parent, I have started to remedy that by taking my kids on new adventures. While the trip had its ups and downs, good points and bad points; over all we had an awesome time and would love to go back when Mr. D is a little taller and NOT on a WEEKEND! but more on that later 🙂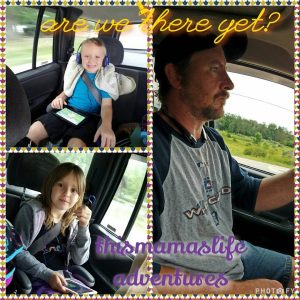 Even though the map may say it only takes 3 hours to get to the Amusement park, we are in reality about 4 hours East of Muskegon. Have you ever went on a road trip with kids? There are always potty breaks to be had. Because of where Michigan's Adventure is located at and where we are located at, we opted to do a Saturday Day trip instead of a weekday or even a Sunday. We probably should have just spent the night in a hotel but for personal reasons, we opted not to do that and we probably should have went on a week day… but oh well- live, learn, and plan better for next time.
So we loaded up the kids in my Jeep, packed the cooler with food, drinks and lots of ice, filled up the tank and off we went.
These photos were taken about an hour into the trip. Kids were comfy in the back with their tablets, headphones, drinks and bag of goodies (toys/ games/snacks) to keep them occupied. The Husband and I had our GPS, satellite radio, snacks, drinks and for me- my kindle.
When we finally arrived and as we were sitting in the queue to park, we were surprised with a parking voucher from another vehicle that was entering the park next to us- that was awesome since it was minimum $15 to park in the parking lot 😮 after parking- fairly close to the entrance we decided to eat in the car rather than haul even more stuff in with us. So we had a Jeep-picnic: sandwiches, chips, jello, cucumbers, drinks. Once everyone had eaten their fill, we grabbed our one bag- a backpack that I had loaded with our bathing suits, mini first aid kit, towels, sunscreen, and ziplock bags for our wallets and phones. Last thing I did before we when in was this little trick I learned off pinterest…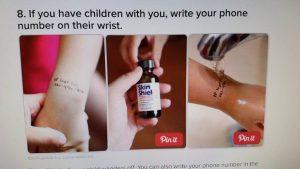 I used an ink pen and liquid band-aid to write my number on the kids forearm… just in case. It lasted about 3 hours in the water park before it started cracking and flaking off. By hour 6-7 it was pretty much gone.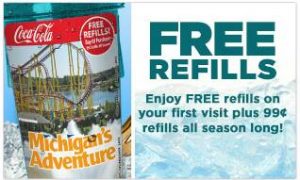 When we got inside the park the kids of course wanted food and drinks, even though we had literally just finished eating. We got Dippin' Dots (yum!) and these really cool souvenir cups that have free refills on the first day and if you come back during the season- its only .99 cents to refill!
We spent most of the day in the Wildwater Adventure Waterpark side of park.
They provide these really great life jackets all over the water park for kids of all sizes so that if you forgot yours (oops) or did not know that you needed one, you do not have to worry about your little one missing out. Because we spent most of the day in the water side, We don't have a lot of photos to show for our time spent there. We have a lot of memories though…
We started off fairly simple- the kids got to check out the Half Pint Paradise with its water slides, sprayers, and shallow wading pools (.6 inches to 1.5 feet of water) They probably could have spent most of the day right there and been extremely happy.
Matt (the husband) and Miss Z decided to try the Sidewinders ride while Mr. D and myself went to the Beach party and the Pirate's Plunge/Gang Plank. Matt and Miss Z joined us over there pretty quickly when Miss Z decided she wasn't quite brave enough to do the Sidewinders ride.
The kids had a blast sliding down the water slides and cruising through the wet and wild fun house.
On the Cyclone Zone Mr. D lost his tube on the way down and got really scared. Fortunately Matt had went between Miss Z and Mr. D so he was there to scoop him up and give kisses until I got down there too. At that point he wanted nothing to do with water slides for the rest of the day. So we went for a nice slow cruise around the the lazy river and then swam in the Tidal Wave pool for a little bit.
The kids were disappointed that the wave machine wasn't working in that one. (There was a mechanical error of some kind and they were working on it.) Miss Z wanted to try the Snake Pit so we walked over there. Some how she convinced her little brother to ride a water slide again. When we arrived at the bottom he had the biggest grin on his face and yelled out "I did it Mommy! I held on the whole way down!"
At that time everyone was getting hungry and we realized it was 5:00 pm.
We had been swimming and playing for 5 hours straight, it was time to eat! We decided to get a simple 1/2 cheese and 1/2 pepperoni pizza and some bosco sticks. The slices were a good size- we were pretty impressed. Of course we used our refillable cups for our drinks and then it was time to decide where our next adventure would be. This resulted in lots of questions, reading of the map and of course funny faces from Miss Z.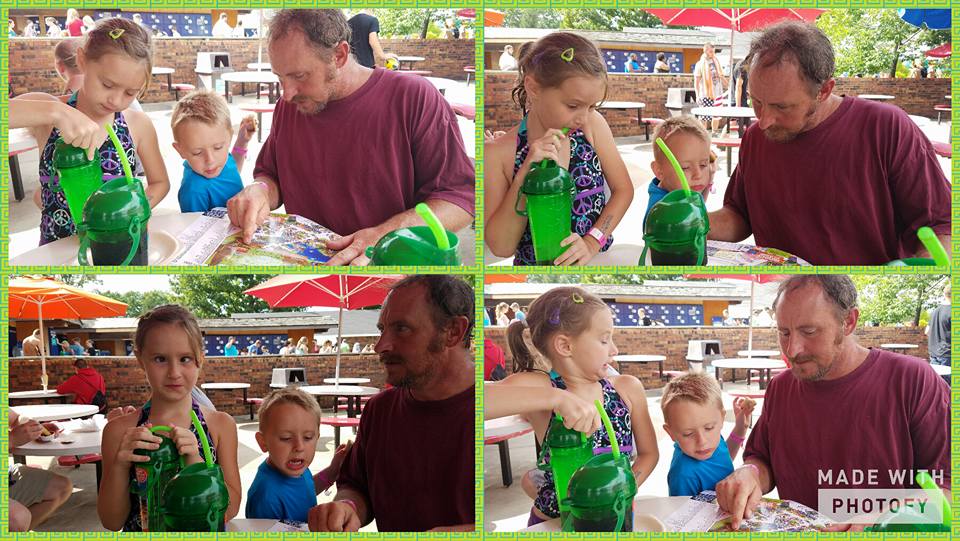 We started with the Grand Rapids and Adventure Falls rides since we were already soaked from the park. On the way over to those the kids were stunned at the RipCord ride. When asked if they wanted to try it, they both adamantly and very loudly proclaimed NO WAY!!! Which resulted in lots of chuckles, smiles and nods of agreement from the other passersby and I am sure even the people in the harness even heard it.  After we went on the Adventure Falls (twice) and the Grand Rapids they wanted to go the the Mad Mouse which was all the way at the front of the park… I told them we would work our way that way and see what else there was to ride. They had the carnival rides (winky the whale, drummer boy, Merry go Round/carousel) and games (basketball toss, ball toss, ring toss) along the way so we stopped and did a few of the "kiddie" rides. The kids loved the Lakeside Gliders. They thought that was so neat and wanted to go on it again.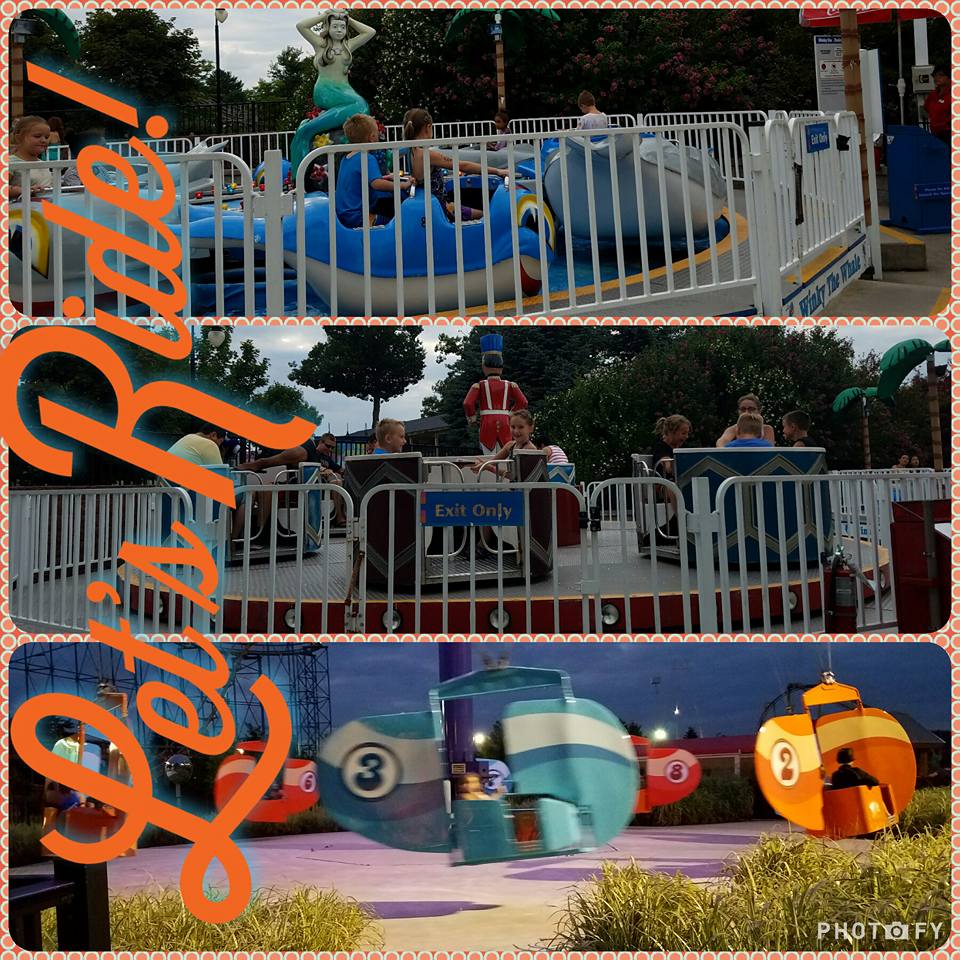 When we finally made it to the Mad Mouse ride. the kids and Matt got in line to wait for their turn (this mama stayed back on the bench.)
With about 10 people before they got on, Mr. D decided he needed to go to the bathroom NOW!
I ran up the express pass lane, grabbed him and rushed him to the closest bathroom. We made it back just after Matt and Miss. Z were loaded and on  the line for the start of the ride.
Thankfully there were these 3 really sweet teenage girls who were next in line. They took pity on my little guy who had tears streaming down his face. So they let him ride with them since the car was a 4 seater. The oldest offered to make sure he was good and with many thanks, Mr. D got to ride his first true roller coaster.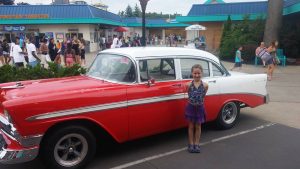 All over Michigan's adventure they had amazing landscaping and scenic views. Each area had thematic props and pieces to help lend its self to the the atmosphere.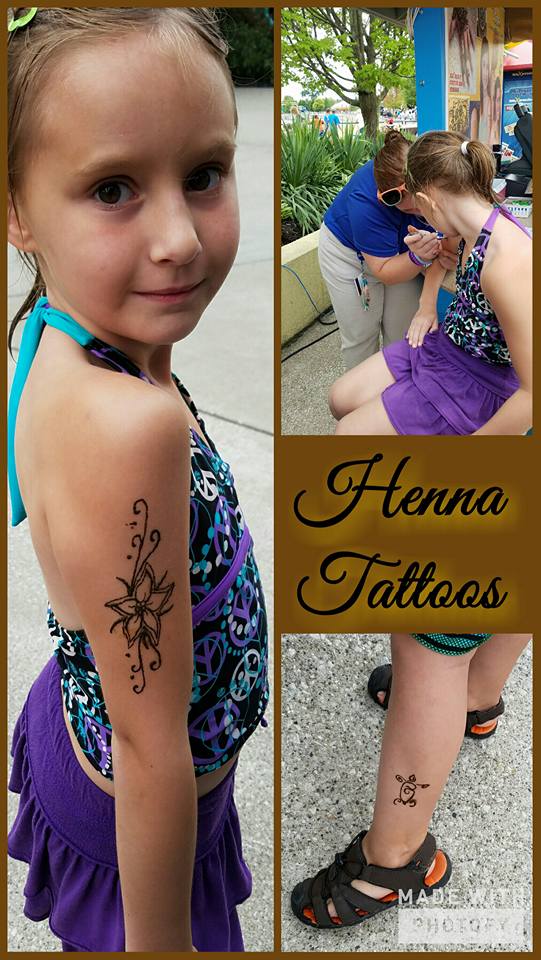 We had lots of fun just looking at things as well as actually participating in the rides.  Miss Z decided she wanted a Henna tattoo so of course Mr. D wanted one too. He got a turtle and she got a flower with swirls. Then they talked their mama into one as well.. so I got one similar to Miss. Z's.
At the end of the night we checked out the souvenir shop and picked out some neat things. Then we took one last photo before we made the long drive home..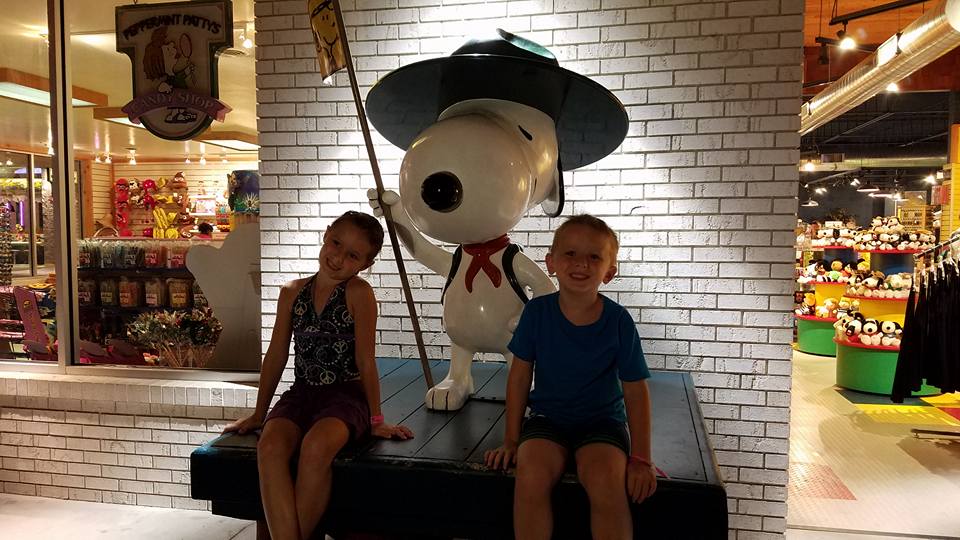 If you're wanting to visit Michigan's Adventure multiple times with the kids, you can always get Season Passes! Just three visits and the pass will pay for itself!
Disclaimer: We received admission tickets in exchange for our honest post. All thoughts and opinions expressed are those of This Mamas Life.