Mango is an exhilarating ingredient that can elevate any dessert it's added to, making it taste fresh and light. A single bite can send your senses straight to the tropics, where there are cool ocean breezes and beaches of white sand. If you are a fan of this juicy stone-fruit, you will absolutely love making, finding and eating all three of these mango desserts. 
Mango Pie
Try something different from your usual slice of apple, blueberry or peach pie, by making a warm flaky mango pie along with crowning garnishes like dollops of citrus whipped cream and sprinkles of toasted coconut. Bring out the tropical flavor of the filling with aromatic spices and additions like cinnamon, vanilla, lemon juice and lime zest.
After pulling the pie out of the oven, your house should be filled with a sweet and comforting fragrance — it will make you want to dig your fork into the pastry right away, but you should still wait for the bubbling hot pie to cool down.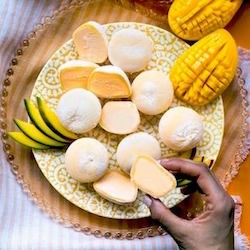 Mango Mochi Ice Cream
If you haven't tried a ball of mochi ice cream before, you will want to run to the store when you're done reading. This frozen treat is made of a sphere of premium ice cream and then coated with a soft layer of sweetened rice dough called mochi. The company My/Mo Mochi ice cream has boxes of incredible flavors that every dessert-lover will appreciate. You don't even have to go to a specialty shop or trendy restaurant to get your box — you can find them in the frozen food aisle of your nearest grocery store.
If you want to satiate your craving for a mango dessert, you should try sweet mango mochi ice cream on its own or serve it in a sundae and then cover it with tropical toppings. If you're not sure what toppings will work for your sundae, you should learn how to toast coconut or make homemade sesame brittle — for a quick alternative, throw on a handful of chilled raspberries.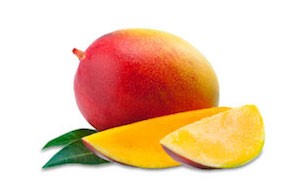 Mango Mousse Tart
If you love the taste of this tangy fruit, you will love the filling of the mango mousse tart and its intricate decoration — slices of mango are placed in an elaborate pattern so that it looks like a yellow rose. To properly create the pattern, you will need to thinly slice seven mangoes and then coat the entire pie with every piece starting from the outside and working your way in. As you may have discovered with the pie and the mochi ice cream sundae, coconut pairs very well with this flavor — instead of sprinkling toasted coconut on top of the tart, the recipe bakes it inside of the crust.
Mango is so succulent, juicy and sweet that it could be a dessert all on its own
You simply need to take out a paring knife and cut out bite-sized pieces away from the stone. But when you are hoping to eat something more exciting than slices of fruit, these three mango desserts can sate your cravings and satisfy your taste buds.