**This post contains affiliate links and I will be compensated if you make a purchase after clicking on my links.
Granted, since having Junior, I may not have eaten the healthiest ALL the time, or worked out DAILY, But I Tried. I tried counting calories… I tried to watch what I ate… I tried adding in exercise routines when I had the ability to. But for whatever reason, the scale would not work in my favor. I noticed the same problem with all 3 of my kids – the 1st year after they were born, I struggled to loose weight (Actually, I gained weight). We have finally hit the 1 year mark, And I'm praying that my body will cooperate like it did in the past and let me shed some of this excess weight. The next obstacle though is what to do to help loose weight? My doctor once told me that there "is no magical pill to promote weight loss", but I know there are many different programs to help promote it. After looking into a few different styles, I realized that Noom was going to be the way to go.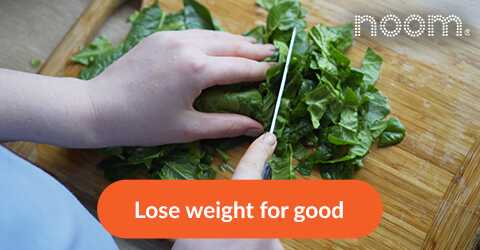 Lose Weight For Good With Noom
I have signed up with Noom and am eager to get going. The one thing that I love about this program, it doesn't just make you log your weight and food; It actually gives you tips to overcoming obstacles that you may face. You will have a coach assigned to you – and you are also part of a community.
Here's what you can expect:
Easy to follow tasks. Start each day with a customized to-do list of #PsychTricks.

Personal support. Lean on your personal coaching team.

Inspiring progress tracking. Get motivated with personalized feedback.
If you're like me and need an extra nudge, why not sign up with Noom and join me in my goal to being healthier. If you're unsure if it's for you, make sure to Try Noom's 14 Day Trial! Who's with me!!!