Trying to figure out what to get the kids for Valentines has always been a small task.  Last year we went to the movies as a Valentine Day Treat… But this year, we have Peanut, which makes a family movie just a hair difficult.  But HABA has the perfect gifts kid friendly Valentine gifts!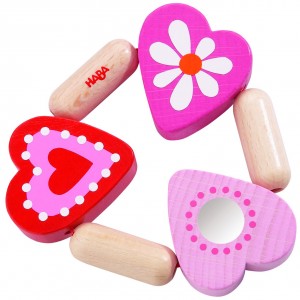 The Mimi Rattle is perfect kid friendly Valentine gift for Peanut.  It is designed for ages 0-12 months.  It's made up of three bright wooden hearts of pink and red along with three natural colored wooden pegs in between. The hearts and pegs are all decorated in bright pinks and reds and each piece can spin freely. The bright colors really grab her attention.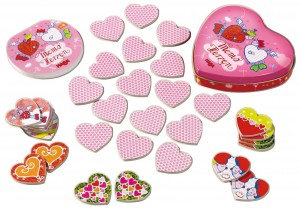 If you have a little one between The ages 3 and 5, then The Hearts Memory Game would be a great Valentine's Day gift for them.  It's similar to many other memory games, but cuter, because it's Valentine's Day themed! Here's how this fun game works – Lay the hearts face down on the table and shuffle them. Then arrange them into rows. Take care that none of the hearts are on top of each other. To start, the first player turns over two hearts – Do they match? If so, you can keep the hearts and turn over another pair. If not, let everyone see them and place them face down again. Game play continues until all pairs been collected. The player with the most pairs is the winner!
What is your Favorite HABA Product? I cant wait to share these kid friendly Valentine gifts with my little ones!
* I received the Mimi Rattle In exchange for this review.  All opinions expressed are my own.