How do your mornings look? Do you wake up, blindly fumble around the kitchen to make coffee, and then wait 20 minutes for it to be finished? Even worse, do you get ready for work without coffee so that you can stop at a coffee shop and stand in line on the way to work? Wouldn't it be nice to open a door and have a piping hot and delicious coffee waiting for you – no lines, no waiting?
That may sound like a dream, but it's not. As a matter of fact, that's a very real scenario. Introducing Hotshot – ultimate coffee convenience in a can! I have to say that this is the first time I've ever heard of coffee in a can, but after trying out Hotshot, I'm convinced that this amazing idea is the perfect solution to my busy mornings!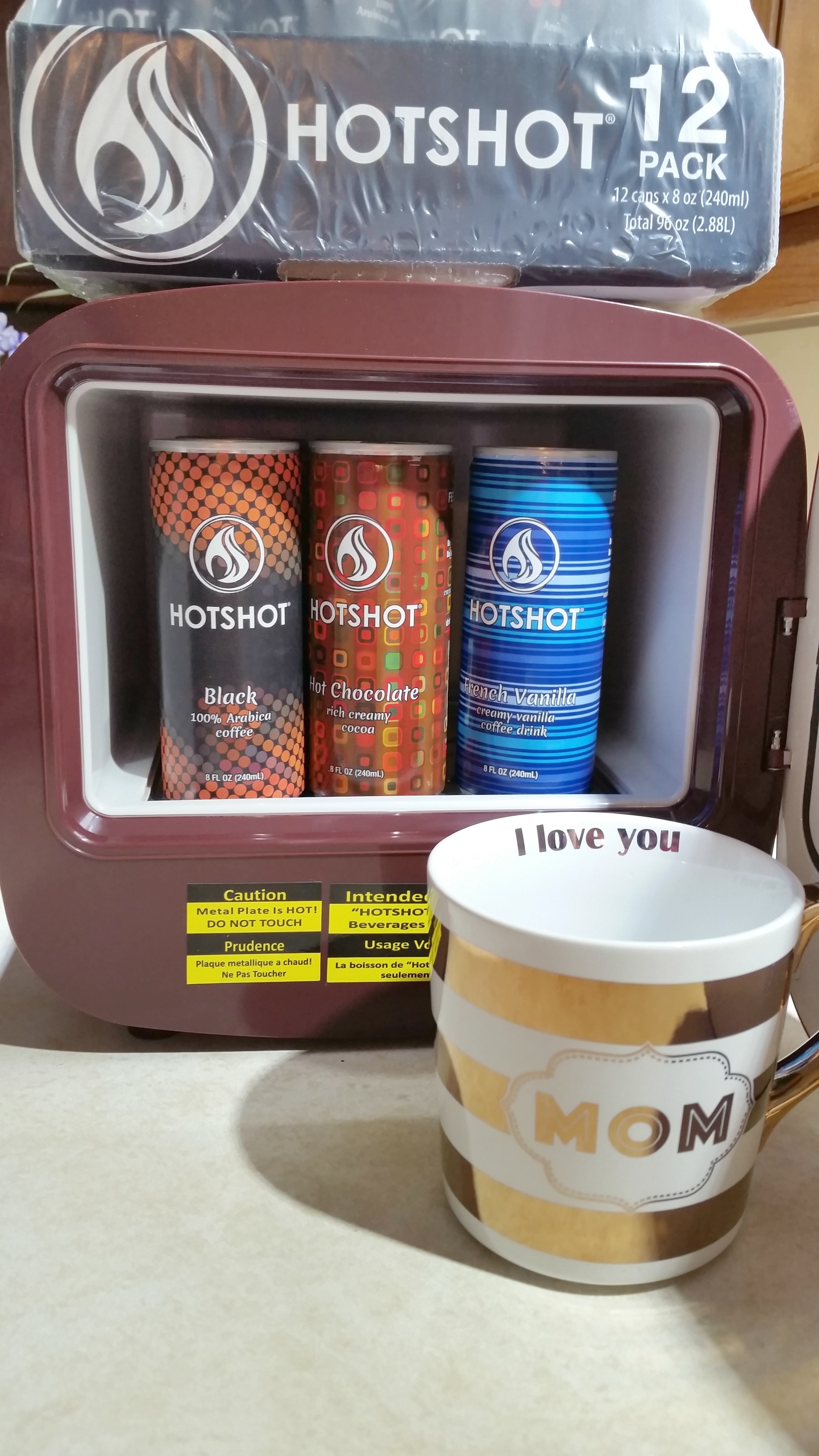 Here's how it works: The insulated heater works similarly to a mini-fridge, except instead of keeping the drinks cold, it keeps them hot! One of these little beauties just graced the counter top in my office. It's the perfect addition! When I walk in there in the morning, I simply open the door and grab a can of coffee on the way to my desk. It also works for the little one after school. She walks into my office and grabs a can of hot chocolate!
The hotbox is efficiently designed and can hold 9 cans of steaming hot beverages while only taking up a small bit of space on the counter top. The small design packs a big punch, heating the liquid to 140 degrees each.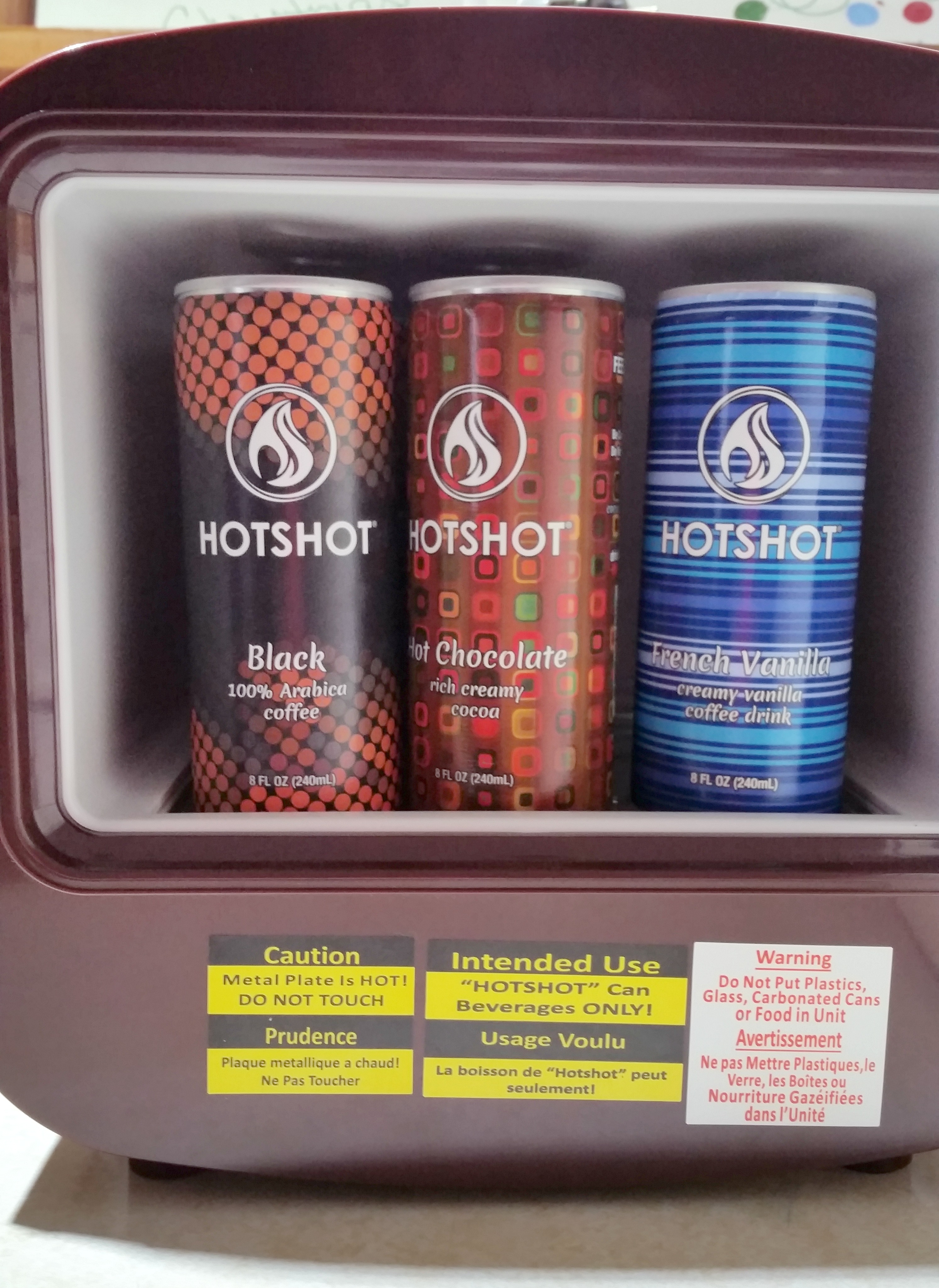 You don't have to worry about burning yourself on the cans when you take them out of the heater, either. The insulated labels keep them only warm to the touch (keep in mind that I let my first grader help herself to them!) while keeping the liquids inside nice and hot.
I love the Hotshot so much that I bought one for my mom who lives alone. It doesn't make sense for her to make an entire pot of coffee for just herself, so this is the perfect solution. She's really happy with the grab and go convenience.
Hotshot makes a great gift for anyone living in a dorm, as well. When my older girls were away at college they would have loved this idea! It eliminates the need for late night coffee runs and is a great way for parents to save money. Gift your kids a Hotshot this year and they'll need less cash for fancy coffee shops! It's a gift for both of you!
We tried the variety pack, which includes French Vanilla, Black, and Hot Chocolate varieties. The French Vanilla is my favorite because it's already just the way I like it. The black coffee is also very tasty. If you like your coffee light and sweet, you'll obviously need to pour it in a mug and add sugar and creamer. The little one loves the hot chocolate so much that she may need her own Hotshot!
Bonus: The refills come on a subscription plan, so you'll never find yourself sans caffeine.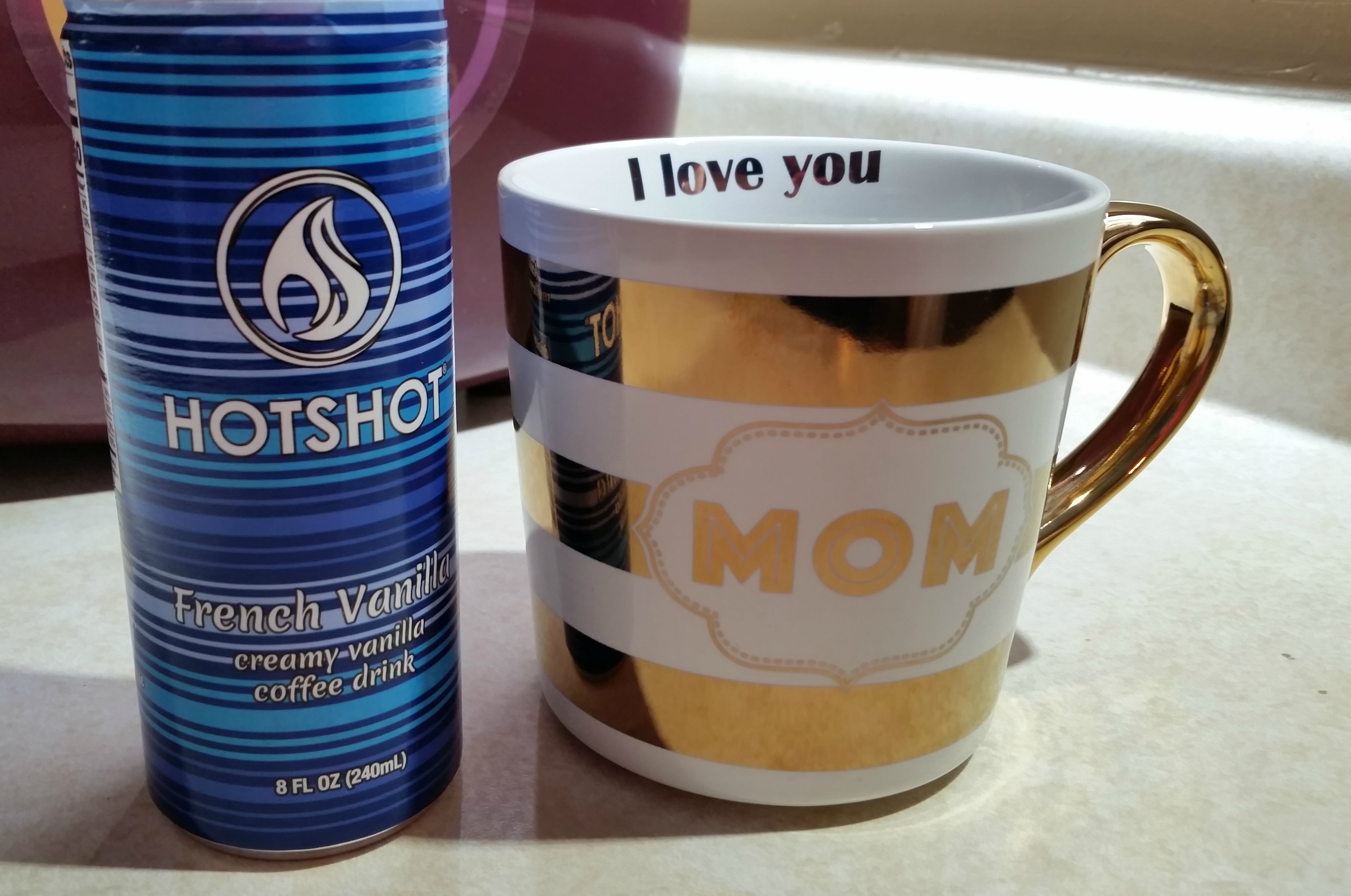 Hotshot has changed the way I work – literally. I've always been the type to not brew coffee because I don't want to waste it. Let's just say that there have been a few rough afternoons! Now that I have Hotshot, I just grab some coffee whenever I feel that I need a little boost. No mess, no waste. Sometimes that's in the morning, sometimes at night, and sometimes that's at 3am. No matter what the clock says, Hotshot coffee is always hot and always ready. I may never go back to brewing coffee in a pot again!