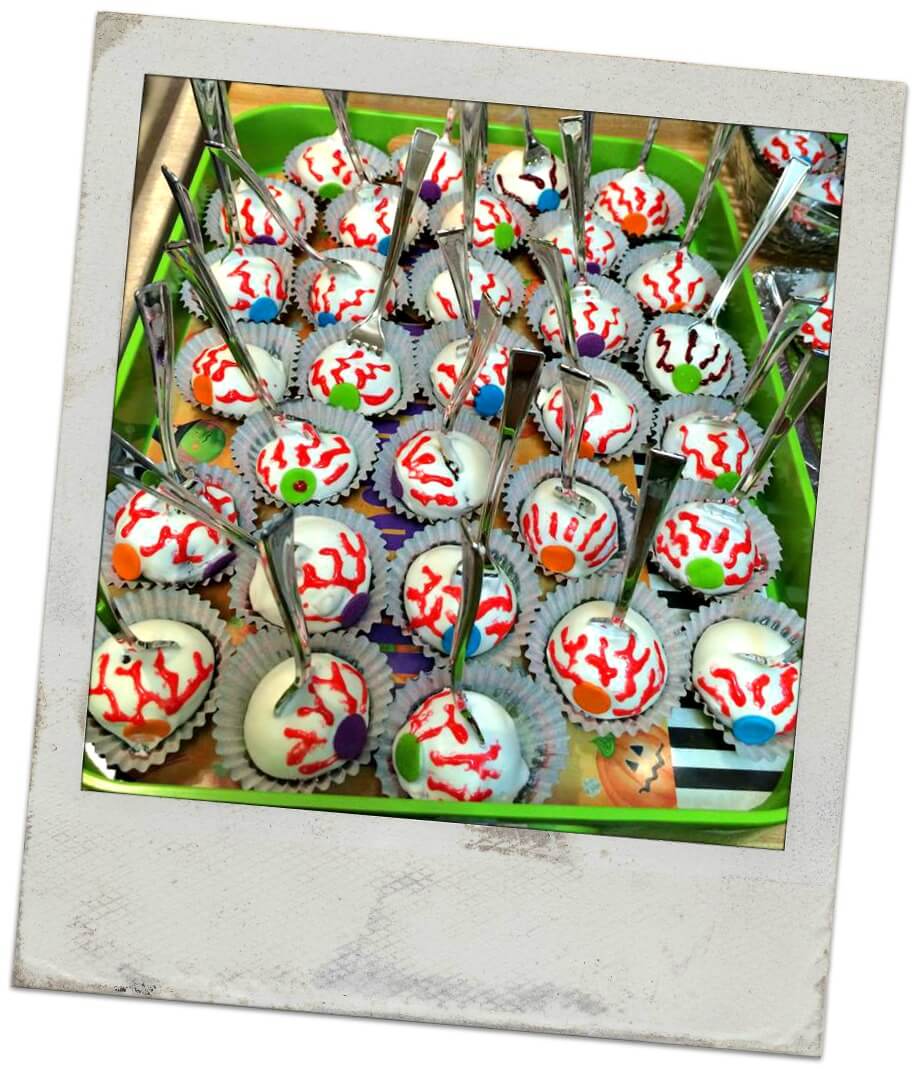 My name is Jayme I'm 20 and I'm a stay at home mom! I love to do all kinds of crafty stuff. My husband is in the military and his unit has a lot of parties so I always do a different cake pop for the party! Today I decided to make cake pop eye balls (on a fork)!
Course the ingredients depend on how many cake pops you make I made 72!
1 box= Duncan HInes Devil Food cake
1 tube =Wilton Red Sparkle Gel (vanes)
1 jar=Wilton Sprinkles (eye balls)
2 bags = WIlton Bright White Candy Melts!
Vegetable oil
and you can find the small silver forks at your local dollar store
If you know how to make the cake pops the long way that works to but i cheated this time around and used my new cake pop maker 
I always make sure to have a clear day and enough time to do the cake pops cause it is very time consuming! (even with the cake pop maker)
Using a cake pop maker
Step 1 – You mix you batter just follow the instructions on the back of the box that works for you
Step 2 – You bake them! Make sure you bake all of your batter so it gives your pops time to cool
Step 3 –  Wait for you pops to cool.. I let them sit out so this step take about 15-20 minutes.  You have to wait until your pops are cool to decorate
Step 4 – Take your candy melts and put them in a microwave safe bowl and depending on your watts put on 1 minutes and stir until all chips are melted (if 1 minute doesn't work follow the instructions on the back of the bag)
Step 5 – Add some vegetable oil to your candy melts this will thin our your chocolate I didn't measure how much I used I just went by how thin I wanted my chocolate coat to be (DO NOT SKIP adding some vegetable oil this s very important!)
Step 6- stick your fork into the ball and dip into the chocolate you can use a spoon or a spatula to push the chocolate over the pop once your ball is covered pull your pop out and stick your eyeball sprinkle on the cake pop! Set it down on a pan or somewhere to cool
Step 7 –  After your pops cool you will need to GENTLY pick them up off of what ever you cooled on ( BEWARE THE BOTTOM OF YOUR POP WILL PULL OFF SO DON'T FREAK OUT!)
step 8- place your pops in your cupcake thingy and add your vanes
You have cake pop eye balls on a fork!
If you do not have a Cake Pop Maker – you can find a tutorial on YouTube Here .  Then come back to finish the rest of the steps!HAPPY HALLOWEEN!