When Lil C was born, I don't ever recall any concern about Bumper Guards.   But with Peanut… all the research says:  Baby Lays on Back, No Blankets, No Pillows and No Bumper Guards!  I was shocked!  How do you protect your little one against banging their head on the rails? Or getting their arms or feet stuck outside the crib?  So we were blessed to be able to put Wonder Bumpers to the test.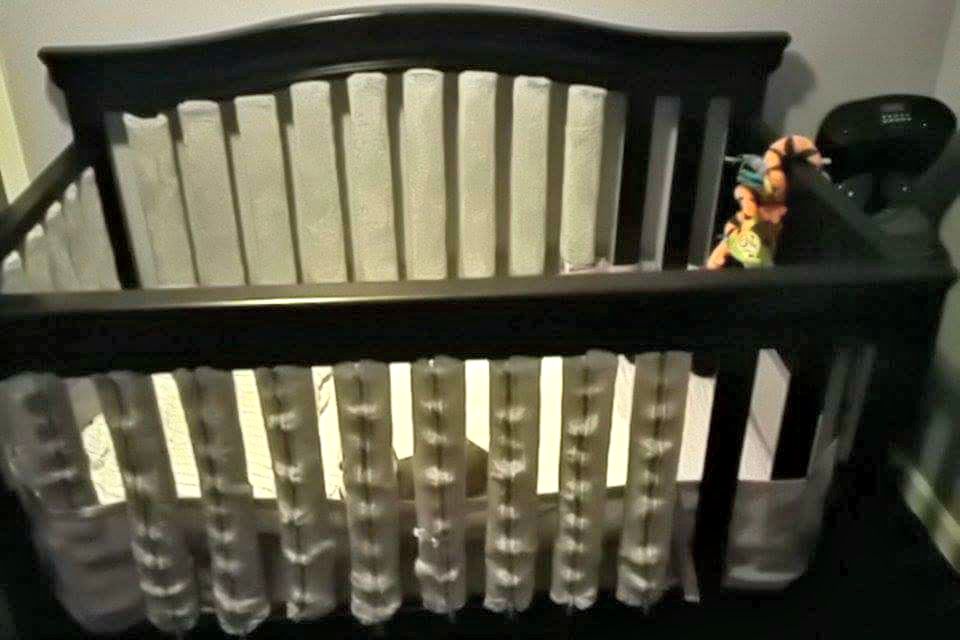 A little about Wonder Bumpers:  The Wonder Bumpers are created by the Mama's at Go Mama Go Designs. They are individual sleeves that fits around the rails of the crib, removing the risk of suffocation and entanglement, protects baby's head and body, maintains optimum airflow, inhibits toddlers from climbing out and keeps limbs safely inside the crib.
The Wonder Bumpers are very easy to put on.   Each bumper has a zipper that goes from the top to the bottom – and between the hubby and myself, we were able to apply all the bumpers  in just a couple minutes.    The pack that I received had only 24 bumpers.   We chose just to apply those to the bars that would be closest to where her head is.  In the past 15 months, she has never scooted to the "foot" of the crib.   Ever since putting these on the bars she has seemed to be much calmer in the crib.  I personally believe it is because of the soft fuzzy feeling that these have.
Features of the Wonder Bumpers:
Just zip on! Made to fit ANY crib, Wonder Bumpers' sleek, vertical design effortlessly zips on your crib in a downward motion ensuring babies do not have access to the pull.
Easy to wash! Machine wash cold, gentle cycle, tumble dry low. Do not iron. Do not wash more than 10 Wonder Bumpers at a time.
Luxurious and soft minky 100% Polyester, Lead-free zipper
Each Wonder Wonder is reversible, offering 2 color choices and 24″ high and 6″ wide. They can compress and stretch to fit any size rail: wide or skinny, short or long.
Zip 2 Wonder Bumpers together to cover corners or wider rails.
"Wonder Bumpers are the only safe solution for creating a protective and comforting environment for your baby." Dr. Melinda Holliday, Pediatrician
Since I have received these, I have been to at least 3 baby showers.  Each shower, I have recommended to the parents to be to get a set of Wonder Bumpers for their cribs.   I have even Purchased a set of these for my Sister-In-Law for their baby due!  Must have for Every New mom
Disclaimer:  I received a set of the WonderBumpers in exchange for my honest opinion. All opinions expressed are 100% my own.