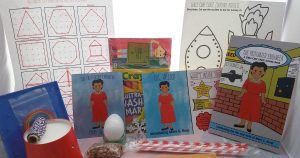 With three daughters and a recently added granddaughter, you can imagine that there is a lot of girl power in my world. I've always been one to encourage my kids to grow up to be strong women rather than submissive. I don't want them to take any nonsense from anyone. This makes them a little more…feisty…as children, but it's well worth it knowing that some guy isn't going to push them around when they get older. They're beautiful, smart, and can do anything they put their minds to, and I make sure to let them know that every single day of their lives.
One of the things I like about the Girls Can! Crate is that they feel the same way. The company's mission is to teach girls that they really can change the world and that they're never "just a girl". The crates are each themed after a powerful woman in history, like Sally Ride or in this case, Mary G. Ross, the first known female Native American engineer and the first female engineer at Lockheed Martin.
The crate includes all sorts of pieces and parts to do learning activities about powerful female role models. It also has the cards with the activities all outlined for you. As you can see, there is a LOT included. What you get each month will vary, but will always include:
2-3 hands-on STEAM activities
FREE SHIPPING
Creative play props
20-page GIRLS CAN! Activity book featuring a woman's story, games, experiments, and more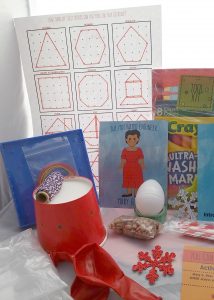 Also in the box is an activity book, which has other fun learning activities in it. For example, the Mary G. Ross book starts with a little lesson about motivation – what it is and how it works. Then it goes on to talk about Mary's life and accomplishments. The book also explains about what engineers do and some of the amazing things female engineers have helped make. I actually learned some pretty cool facts myself, which is kind of ironic since the book talks about how you should never stop learning.
(By the way, women were involved with the engineering of windshield wipers!)
Other activities in the book include instructions on how to make Rocket Fruit Kabobs (totally saving that one for another blog post!), mazes, and connect the dots. It's a really fun little box.
The Girls Can! Crate is designed for girls ages 4-8. I got the first one to review, but I think I'm going to subscribe to it as a Christmas gift. There are some awesome rainy day (or snowy day!) activities in there that my daughter and I can do together. The crates encourage creativity, learning, imagination, and give me a great excuse to spend some much needed mommy-daughter time with the littlest one.
Do you have little girls? How do you teach them that they can do anything they set their mind to?