*I was able to test drive the Kia Soul for a week in exchange for this review.  All opinions expressed are 100% my own
I have recently had the opportunity to Drive a 2015 Kia Soul.  When Lil C saw it he immediately called it the Hamster Car.  And from that moment on, that was the only way that this car was referred to! (Silly kids)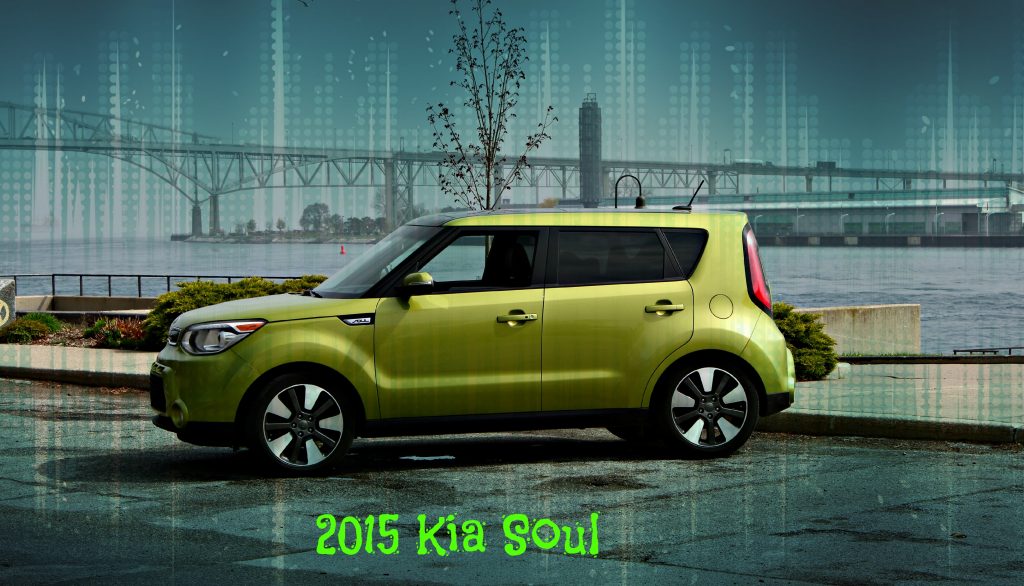 The Kia Soul ! only has a 14 Gallon gas tank.  Even at the $3.00 per gallon that gas is right now that is only $42.00 to go from Empty to full! So imagine our surprise when we decide to put in $10.00 and got over a quarter tank of gas! According to the Monroney, the Kia Soul ! has a 26 MPG combined city/highway Fuel economy rating.  (It is said to get 23 city and 31 highway)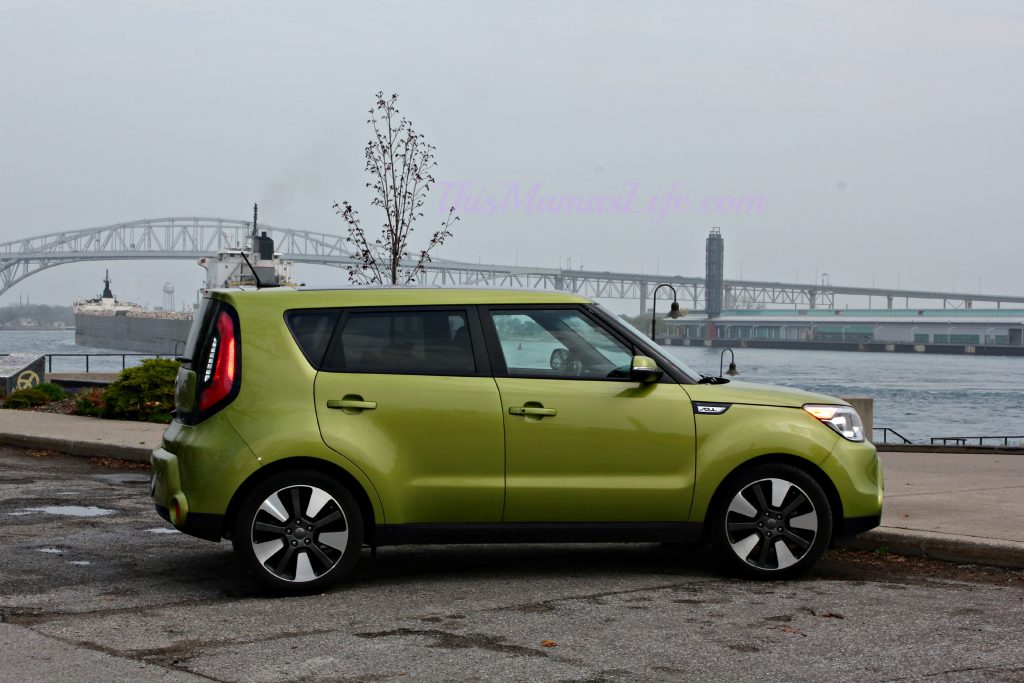 Looking at the Soul From the outside, you wouldn't think that the back seat was so spacious.   But it is!  It fit all 3 kids comfortably in the back seat!  I personally drive a 4 door car, and the 3 kids do not fit nearly this comfortable across the back seat!  So that gave this car a Big Plus in this Mamas Book.  There is also plenty of head and leg room for my husband – who is over 6′ tall!
One of my favorite features of the Soul ! was the Color changing speaker rims in the door panels.  When I was in High School all the rage was the neons that could be put in the cars.   I had a Plug in neon bar that would light up to the music, but it was so aftermarket.  To have them right in the speaker rims on the door panels made me feel like I was in High School all over again. I couldn't wait to go somewhere with out the kids so I could crank up the Radio, Open the Moon roof and just drive  – feeling the freedom of being in High School and College!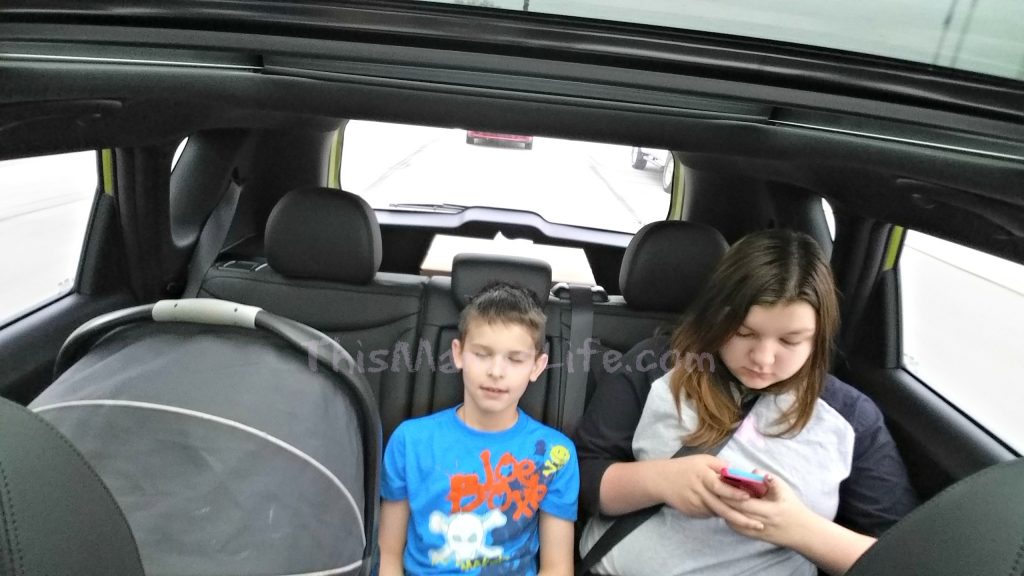 Now for some Safety Stats.  In accordance to the Government 5 Star Rating System (for vehicles of like size/weight)
OVERALL SCORE  5 out of 5 Stars
Frontal Crash:
Drivers Side:  5 out of 5 stars
Passengers Side:  4 out of 5 stars
Side Crash:
Front Seats:  5 out of 5 Stars
Rear Seats 5 out of 5 Stars
Rollover: 4 out of 5 Stars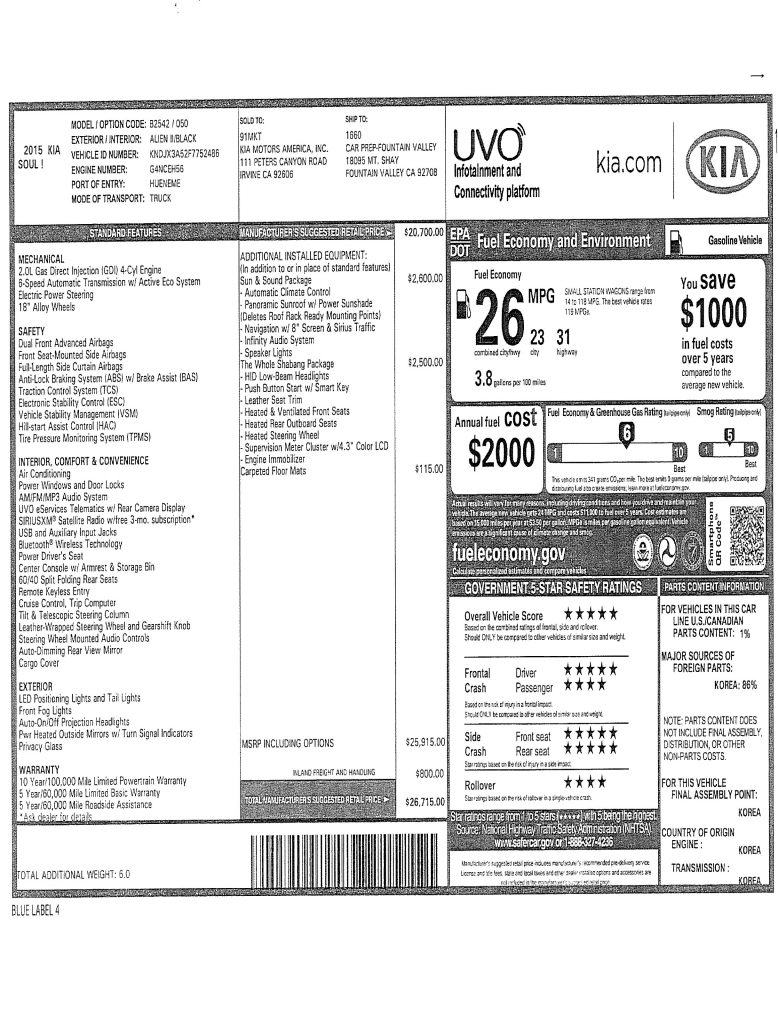 Discliamer: I got to test drive the Kia Soul ! for 1 week in exchange for my honest review. All thoughts expressed are 100% my own.