The reviewer has been compensated in the form of a Best Buy Gift Card and/or received the product/service at a reduced price or for free. 
I LOVE music.
If I could, I'd have it playing 24/7, but I do have to share my technology with the rest of the family.  Typically I would use our surround sound system to play my cds or log into my Pandora through the TV, but when Hubby or the kids decide that they want to watch a TV show or play a video game, then I get booted from my music.  UNTIL Chromecast Audio!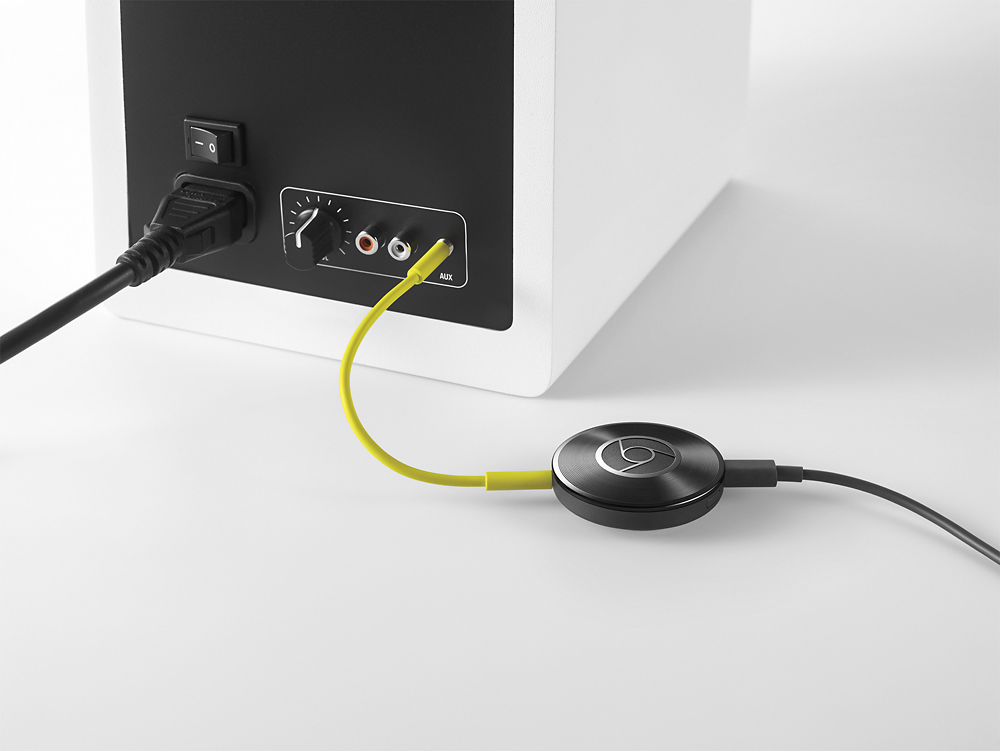 You've hear of Chromecast for the Television; where you can stream shows from your phone, tablet or computer to your television.  Now they have Chromecast Audio.  Chromecast is found at my favorite Tech store – Best Buy.  The Chomecast Audio allows you to play your music on any of your speakers, new or old, wirelessly from  your phone, tablet or laptop.  Chromecast Audio uses WiFi instead of Bluetooth, giving you crystal clear hi res sound!io uses WiFi instead of Bluetooth, you can stream crystal clear hi res sound.
The Perks of Chromecast Audio:
You can listen to your favorite tunes on any of your speakers
– By using your phone, it's easy to play, pause or change the volume from anywhere in the in your house.  Also, while you stream, you can still text or call on your phone without interrupting what's playing or draning your battery.
Crystal Clear Sound, Powered by the cloud.
-Chromecast Audio streams over Wi-Fi, which has many advantages over Bluetooth, which includes higher sound quality
Enjoy hundreds of your favorite audio apps
-Stream millions of songs, radio stations, and podcasts through apps like Pandora, Spotify, YouTube Music and Google Play Music.  You can find more at chromecast.com/apps.
Play Music everywhere with Multi-room
-With Chromecast Audio you can easily fill every room in your home with synchronous music.  Simply group Chromecast Audio devices together so you can listen to the same song on multiple speakers.
I was a little nervous when it came to setting up the Chromecast Audio.
I thinking I was overthinking the whole process, but it went much smoother than I originally thought it would.   With moving recently, we're still in the stage of giving everything a home.  So I'm constantly going up and down the stairs.  Before Chromecast Audio, I dragged my feet a little getting things put upstairs from the basement.
I mean, a great song would go through Pandora, and I just HAD to finish listening to it since it was just being played on my desktop computer.  Then I'd pray that the next song would be one I didn't like as much, so I could get something done.  Now I can have Pandora playing on my phone, connected to my Speakers downstairs and also one connected to my speakers upstairs! Now I don't have to wait a moment or two til a song is over to get my work done.
What's is your favorite feature about Chromecast Audio?  Make sure to pick up yours today from your Local Best Buy Location!