Food Allergy Awareness: How Well do you know Food Allergies?

Did you know that only 8 foods account for nearly 90% of all reactions?
The top 8 allergens are Peanut, Tree Nuts, Milk, Egg, Wheat, Soy, Fish, Shellfish. Allergy to cow's milk is one of the most common food allergy in infants and young children.
Did you know that over 15 million people suffer from at least one food based allergy
That number equates to roughly 8% of children under the age of 18 being allergic to at least one food. That is 1 in 17 children who have food allergies and are younger than 3. 40% of those children experience severe allergic symptoms. About 2 million school days are lost to allergies of ALL kinds.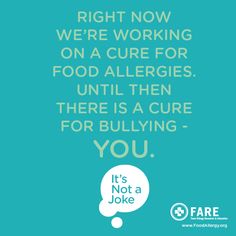 Did you know that there is no known cure for food allergies?
In November 2013, FARE published "A Vision and Plan for Food Allergy Research," a bold new strategic plan that will transform the future of food allergy research. Developed in consultation with leading food allergy experts, this ambitious plan focuses on both the short-term goal of advancing therapies that reduce the risk of life-threatening reactions and the long-term goal of inducing permanent tolerance – in other words, finding a cure.
Learn more about FARE's strategic plan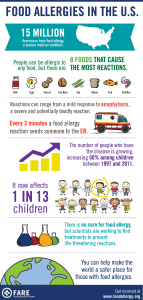 Because Mr. D is allergic to Dairy, I am going to mostly focus on that area. I found multiple sources of information on the internet but one of the most comprehensive websites was http://www.foodallergy.org/  (also known as FARE) It has information for not just the top 8 allergens but also for many other allergens, like insect stings, which my mother and daughter have a reaction to. The information below is directly from their website and it is what I refer to when I have questions. Please note that I have no affiliation with FARE or Foodallergy.org and that all opinions in this post are mine. I have recieved no compensation for any information provided and some information belongs to the owners/ writers of the foodallergy.org website. 
Milk Allergy
Allergy to cow's milk is the most common food allergy in infants and young children. Symptoms of a milk allergy reaction can range from mild, such as hives, to severe, such as anaphylaxis. Therefore it is advised that people with milk allergy have quick access to an epinephrine auto-injector (such as an EpiPen®, Auvi-Q™ or Adrenaclick®) at all times.  To prevent a reaction, strict avoidance of cow's milk and cow's milk products is essential. Always read ingredient labels to identify cow's milk ingredients.
Approximately 2.5 percent of children younger than three years of age are allergic to milk. Nearly all infants who develop an allergy to milk do so in their first year of life. Most children eventually outgrow a milk allergy. The allergy is most likely to persist in children who have high levels of cow's milk antibodies in their blood. Blood tests that measure these antibodies can help your allergist determine whether or not a child is likely to outgrow a milk allergy.
Sensitivity to cow's milk varies from person to person. Some people have a severe reaction after ingesting a tiny amount of milk. Others have only a mild reaction after ingesting a moderate amount of milk. Reactions to milk can be severe and life-threatening (read more about anaphylaxis).
Differences between Milk Allergy and Lactose Intolerance
Milk allergy should not be confused with lactose intolerance. A food allergy is an overreaction of the immune system to a specific food protein. When the food protein is ingested, in can trigger an allergic reaction that may include a range of symptoms from mild symptoms (rashes, hives, itching, swelling, etc.) to severe symptoms (trouble breathing, wheezing, loss of consciousness, etc.). A food allergy can be potentially fatal.
Unlike food allergies, food intolerances do not involve the immune system.  People who are lactose intolerant are missing the enzyme lactase, which breaks down lactose, a sugar found in milk and dairy products. As a result, lactose-intolerant patients are unable to digest these foods, and may experience symptoms such as nausea, cramps, gas, bloating and diarrhea. While lactose intolerance can cause great discomfort, it is not life-threatening.
Read more about food intolerances>
Formula for Infants with a Milk Allergy
It is recommended that formula-fed infants who are allergic to milk use an extensively hydrolyzed, casein-based formula. This type of formula contains protein that has been extensively broken down so it is different than milk protein and not as likely to cause an allergic reaction. Examples of casein-hydrolysate formulas are Alimentum® and Nutramigen®. If the child is not allergic to soy, his or her doctor may recommend a soy-based formula.
A milk-free formula is an excellent source of necessary nutrients, so many doctors recommend continuing its use well past the age of one year for children on restricted diets due to food allergy. Discuss your options with your doctor or dietitian to be sure that the child's nutritional requirements are all being met.
Avoiding Milk
The federal Food Allergen Labeling and Consumer Protection Act (FALCPA) requires that all packaged food products sold in the U.S. that contain milk as an ingredient must list the word "Milk" on the label.
Read all product labels carefully before purchasing and consuming any item. Ingredients in packaged food products may change without warning, so check ingredient statements carefully every time you shop. If you have questions, call the manufacturer.
As of this time, the use of advisory labels (such as "May Contain") on packaged foods is voluntary, and there are no guidelines for their use. However, the FDA has begun to develop a long-term strategy to help manufacturers use these statements in a clear and consistent manner, so that consumers with food allergies and their caregivers can be informed as to the potential presence of the eight major allergens.
Avoid foods that contain milk or any of these ingredients:
Butter, butter fat, butter oil, butter acid, butter ester(s)
Buttermilk
Casein
Casein hydrolysate
Caseinates (in all forms)
Cheese
Cottage cheese
Cream
Curds
Custard
Diacetyl
Ghee
Half-and-half
Lactalbumin, lactalbumin phosphate
Llactoferrin
Lactose
Lactulose
Milk (in all forms, including condensed, derivative, dry, evaporated, goat's milk and milk from other animals, lowfat, malted, milkfat, nonfat, powder, protein, skimmed, solids, whole)
Milk protein hydrolysate
Pudding
Recaldent(R)
Rennet casein
Sour cream, sour cream solids
Sour milk solids
Tagatose
Whey (in all forms)
Whey protein hydrolysate
Yogurt
Milk is sometimes found in the following:
Artificial butter flavor
Baked goods
Caramel candies
Chocolate
Lactic acid starter culture and other bacterial cultures
Luncheon meat, hot dogs, sausages
Margarine
Nisin
Nondairy products
Nougat
Some Unexpected Sources of Milk*
Deli meat slicers are frequently used for both meat and cheese products.
Some brands of canned tuna fish contain casein, a milk protein.
Many non-dairy products contain casein (a milk derivative), listed on the ingredient labels.
Some specialty products made with milk substitutes (i.e., soy-, nut- or rice-based dairy products) are manufactured on equipment shared with milk.
Some meats may contain casein as a binder. Check all labels carefully.
Shellfish is sometimes dipped in milk to reduce the fishy odor. Ask questions about the risk of milk contact when purchasing shellfish.
Many restaurants put butter on steaks after they have been grilled to add extra flavor. The butter is not visible after it melts.
Some medications contain milk protein.
*Note: This list highlights examples of where milk has been unexpectedly found (e.g., on a food label for a specific product, in a restaurant meal, in creative cookery). This list does not imply that milk is always present in these foods; it is intended to serve as a reminder to always read the label and ask questions about ingredients before eating a food that you have not prepared yourself.
Keep in mind the following:
Individuals who are allergic to cow's milk are often advised to also avoid milk from other domestic animals. For example, goat's milk protein is similar to cow's milk protein and may, therefore, cause a reaction in individuals who have a milk allergy.
Kosher Dairy:  A "D" or the word "dairy" following the circled K or U on a product label indicates the presence of milk protein or a risk that the product is contaminated with milk protein. These products should be avoided.
Kosher Pareve:  A product labeled "pareve" is considered milk-free under kosher dietary law. However, a food product may be considered pareve even if it contains a very small amount of milk protein – potentially enough to cause an allergic reaction in susceptible individuals. Do not assume that pareve-labeled products will always be safe. Read more about kosher labeling>
Do These Ingredients Contain Milk?
People allergic to milk often have questions about the following ingredients. These ingredients do not contain milk protein and need not be restricted by someone avoiding milk:
Calcium lactate
Calcium stearoyl lactylate
Cocoa butter
Cream of tartar
Lactic acid (however, lactic acid starter culture may contain milk)
Oleoresin
Sodium lactate
Sodium stearoyl lactylate
Download our PDF on how to read a label for a milk-free diet. 
Symptoms
An allergic reaction to food can affect the skin, the gastrointestinal tract, the respiratory tract, and, in the most serious cases, the cardiovascular system. Reactions can range from mild to severe, including the potentially life-threatening condition known as anaphylaxis. In the U.S., food allergy symptoms send someone to the emergency room every three minutes.
Symptoms typically appear within minutes to several hours after eating the food to which you are allergic. Keep in mind that children may communicate their symptoms in a different manner than adults. Read more about how a child might describe a reaction.
Mild symptoms may include one or more of the following:
Hives (reddish, swollen, itchy areas on the skin)
Eczema (a persistent dry, itchy rash)
Redness of the skin or around the eyes
Itchy mouth or ear canal
Nausea or vomiting
Diarrhea
Stomach pain
Nasal congestion or a runny nose
Sneezing
Slight, dry cough
Odd taste in mouth
Uterine contractions
Severe symptoms may include one or more of the following:
Obstructive swelling of the lips, tongue, and/or throat
Trouble swallowing
Shortness of breath or wheezing
Turning blue
Drop in blood pressure (feeling faint, confused, weak, passing out)
Loss of consciousness
Chest pain
A weak or "thread" pulse
Sense of "impending doom"
Severe symptoms, alone or in combination with milder symptoms, may be signs of anaphylaxis and require immediate treatment.
Learn more about anaphylaxis.
How a Child Might Describe a Reaction
Children have unique ways of describing their experiences and perceptions, and allergic reactions are no exception. Precious time is lost when adults do not immediately recognize that a reaction is occurring or don't understand what a child is telling them.
Some children, especially very young ones, put their hands in their mouths or pull or scratch at their tongues in response to a reaction. Also, children's voices may change (e.g., become hoarse or squeaky), and they may slur their words.
The following are examples of the words a child might use to describe a reaction:
"This food is too spicy."
"My tongue is hot [or burning]."
"It feels like something's poking my tongue."
"My tongue [or mouth] is tingling [or burning]."
"My tongue [or mouth] itches."
"It [my tongue] feels like there is hair on it."
"My mouth feels funny."
"There's a frog in my throat."
"There's something stuck in my throat."
"My tongue feels full [or heavy]."
"My lips feel tight."
"It feels like there are bugs in there." (to describe itchy ears)
"It [my throat] feels thick."
"It feels like a bump is on the back of my tongue [throat]."
If you suspect that your child is having an allergic reaction, follow your doctor's instructions and treat the reaction quickly.
Download a PDF with information about "How a Child Might Describe a Reaction" >