Make It Monday: DIY Bow/ Headband Storage
Pinterest Project: Nailed it!  
"headband & bow storage holder out of painted picture frame, ribbon, and hooks"
I don't know if you noticed in my previous posts about "making things" but I love Pinterest! There really is no end to the many ideas on there. I could and have spent hours upon hours on that website- not all at one time mind you, but my husband would say otherwise. While browsing I found this lovely idea to make a Headband & Bow Storage unit for all those pesky hair bows and headbands that my daughter has gotten over the years.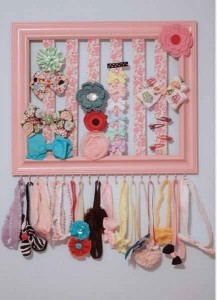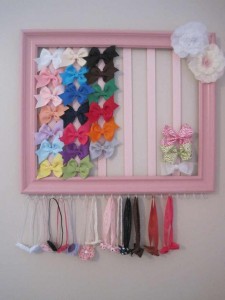 Ever since I found those ideas on pinterest and pinned them I have been scouring resale shops for crappy old but big frames with no luck. So imagine my surprise one day when I walk in to my mother in laws garage and find almost exactly what I had been looking for.
How I came Across the Items for the Headband & Bow Storage:
About 6 months ago my mother in law was going through one of purging fazes in which she goes through the house looking for something in particular, finds stuff she doesn't want and sets it in the garage to either be donated, thrown away or see if one of her 3 daughter in laws want it. Typically I try to bypass most of the stuff because lets face it- I have enough of my own! But on this day she had this rather large antique picture frame  set out to get tossed. When I say antique I don't mean because of the looks, I mean because of the age: it was OLD-she said it had been around for about 20 plus years, It had no back, it was broken, it was literally falling apart. It looked like garbage,
But I saw craft project and potential for one of my million ideas for home.
I wish I could find the photos I took of the frame before hand so you could see the amazing transformation. All I can find are the after ones which just do not do the change its justice. This is after about 6 coats of All Purpose All Surface Gloss White Spray paint- the good stuff from Rust-Oleum with the fancy spray top that goes in ALL directions.  It was this nasty old gold color which was probably beautiful when it was new and not sitting in years of caked on age.
After I put it back together with some wood glue and tack nails, I cleaned it with some TSP liquid cleaner (That's Tri-sodium Phosphate Concentrate that I had left over from removing wallpaper) then sanded it ever so slightly because I didn't want to remove the pattern on the frame. After all the painting and repairing was finished I was left with one small section of damage that was not repairable… the section that the frame had fallen apart at and i had to glue together and use tack nails…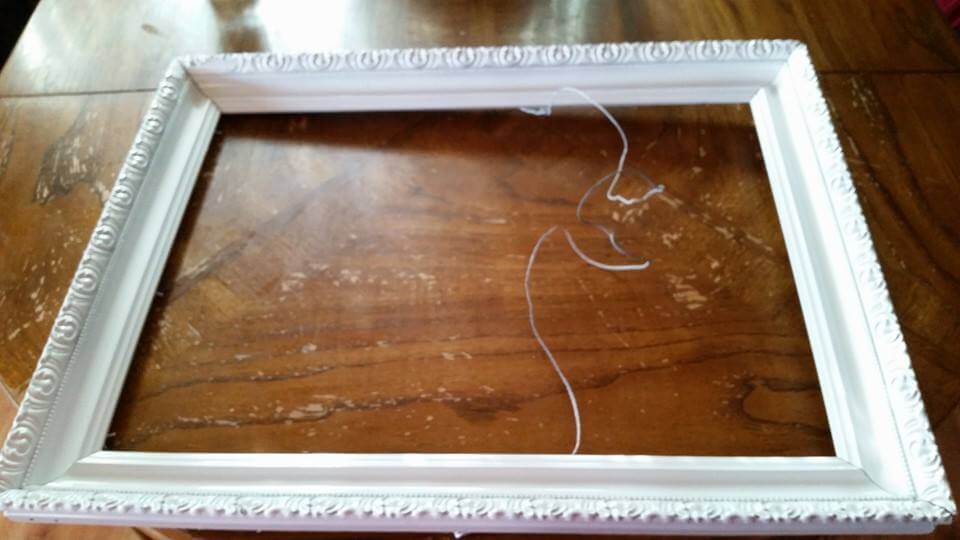 So instead of scrapping the whole idea and starting over I went digging through my stash of embellishments.
I went digging through all my clutter and found some roses I had been keeping for some reason hoping I might use them for something one day… OMG!!!… I sound like my Mother, Mother in Law and my Grandmother… HELP 🙂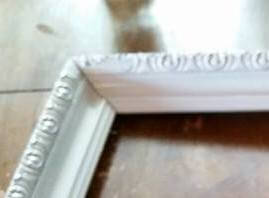 So 4 large roses, 3 small flowers, a hot glue gun and 1 burn later… the broken messed up corner of the frame looked like this: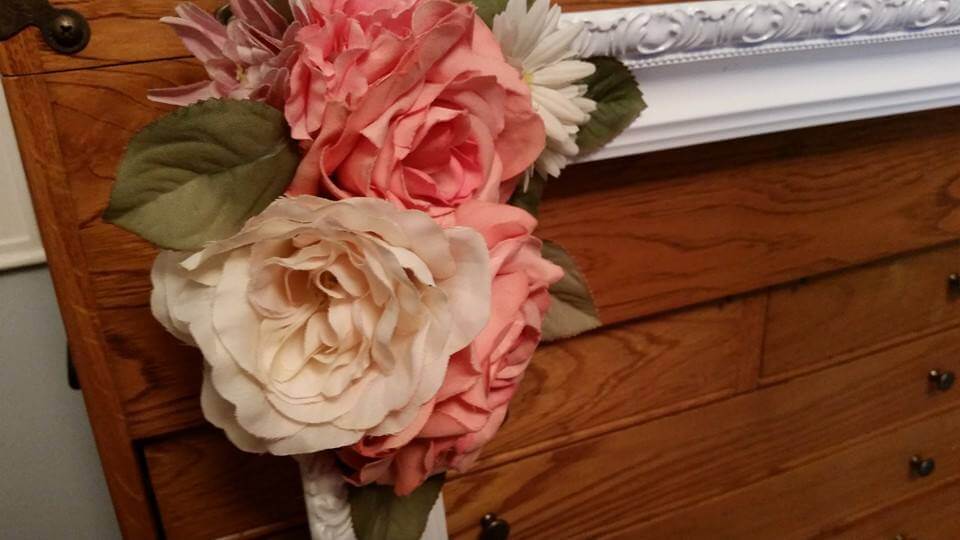 A staple gun, glue gun, one trip to Jo Ann Fabrics for ribbon and Home Depot for cup hooks and that empty ready for the garbage frame became this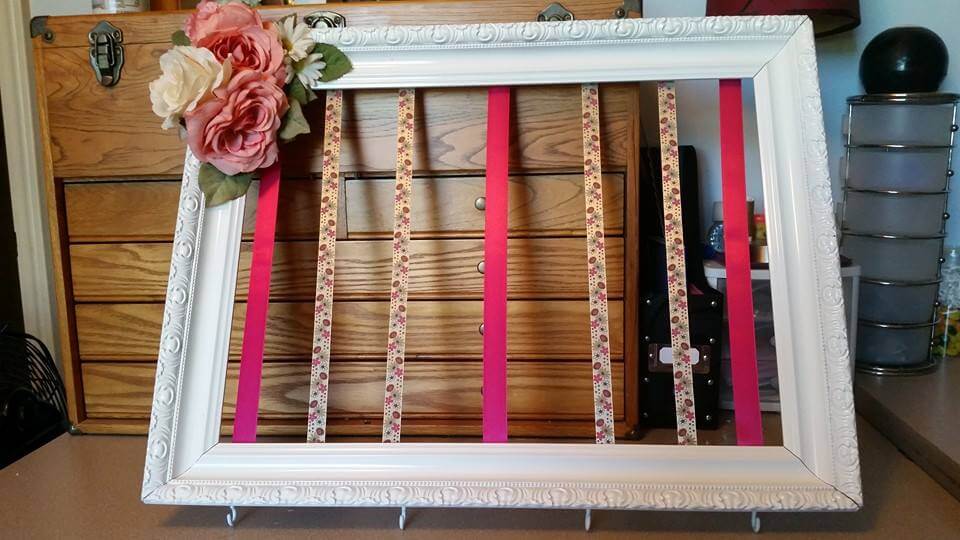 I was planning on having it in her room which has blue walls and white furniture but someones little hands kept taking it down off the wall and playing with it. So it ended up in the bathroom on the wall. Behind the frame is a sticker from Dollar Tree that says "Be your own kind of Beautiful"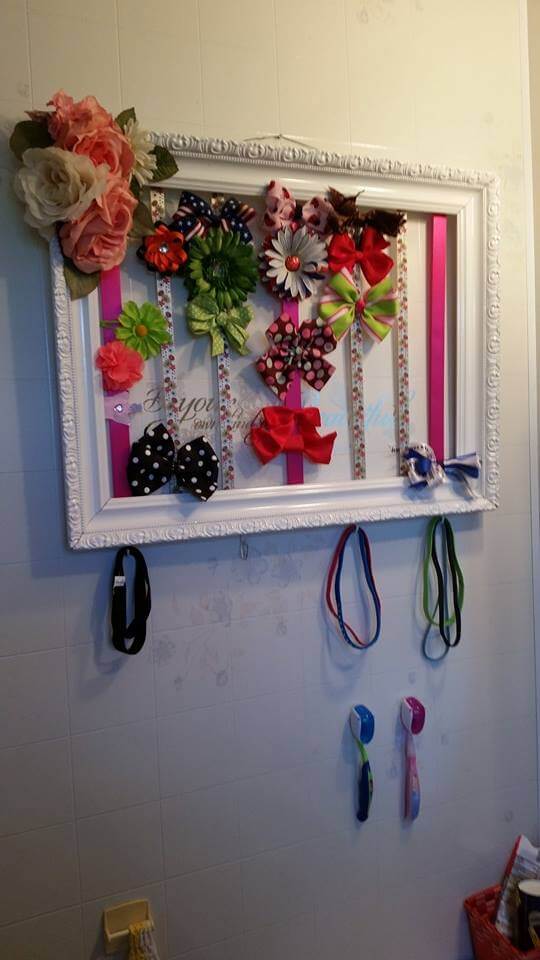 And this is what it looks like with most of her hair bows and headbands on it.