This is everything you need to know for tips on Disney World planning.  Your vacation will go smoothly as long as you follow this simple checklist.  A printable is included for your convenience.  Disney World planning is more than an essential for the ultimate experience, it is also fun to do and rewarding to see the blocks fall into place.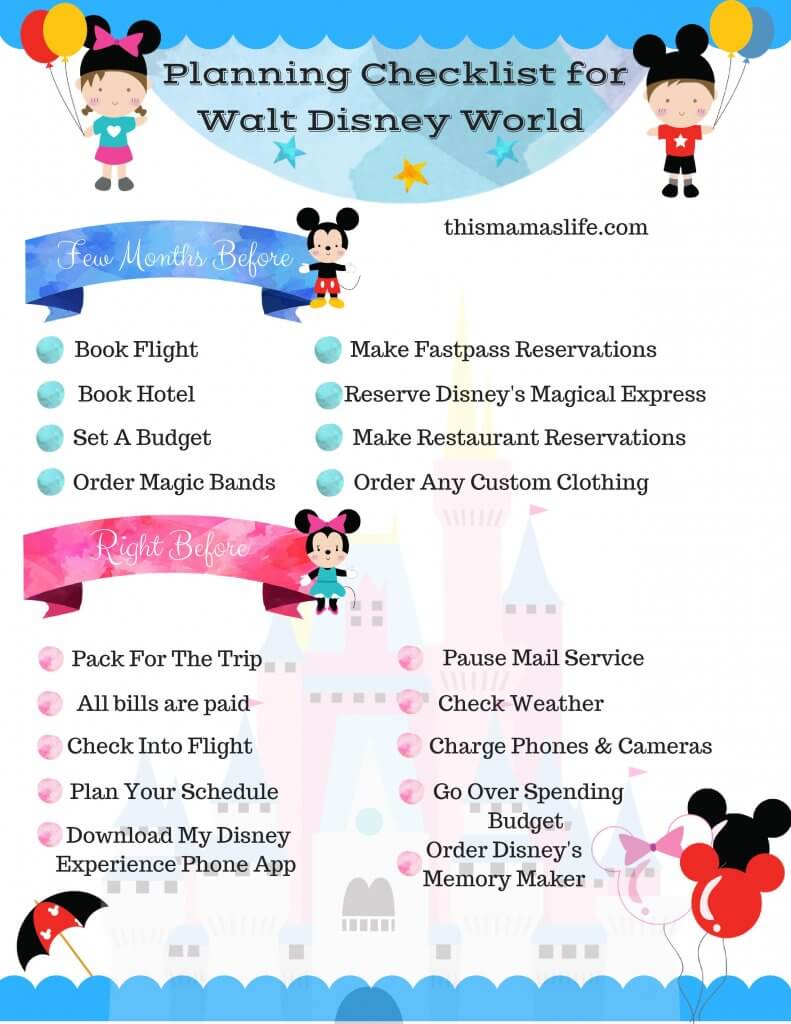 Disney World Planning Months Before
The foundation of your vacation is the Disney World planning you do months before your trip.  This includes, buying park tickets, booking your hotel and flights, setting a budget, and ordering custom clothing inspired by the time of year you plan to visit.  You will also need to reserve dining (180 Days in advance of trip), choose Fastpasses (60 days in advance), select MagicBands, and set up Magical Express.  Disney will send you everything you need in the months leading to your vacation.  You can also request maps which are indispensable for planning.
Disney World Planning Right Before
Disney World Planning is practically all taken care of.  All there is to do is download MyDisneyExperience.  This will allow you to link up all of your reservations and manage your itinerary on your phone.  MyDisneyExperience also manages photos and lets you mobile order at select quick service restaurants.  Look for your airline's app to download as well, and consider a weather prediction app to keep you informed on the day to day changes in Florida.
Pack your bags and double check all of your flight info and documents.  This is also the time to charge all of your travel electronics, take care of your bills and call the credit card company to let them know you will be out of town, just in case.  This is also the time to double check your budget plans and itinerary.
Enjoy your Vacation
With the proper planning a Disney World vacation is stress free and full of magic and memories.  Remember, Disney World planning doesn't have to stop on your trip.  Be ready to think on your feet and stay positive if plans don't work out.  Have a nice trip!  Print out this cute list as a reminder.