A Disney World Christmas always has a little bit of extra magic in the air. The resorts take on unique holiday theming according to their own personalities, and three of the four theme parks have distinct celebrations with fireworks and dazzling projections.  These parks also have extras you can buy In the form of Dessert Parties with reserved viewing, after hours ticketed Events, and even Dinner Events inside and outside of the Magic Kingdom surrounding ways to view the fireworks at night.  Celebrating Christmas at Disney does not have to push you over budget, however.  There are plenty of ways to appreciate the holidays in Disney World without a major up charge.  Here are some of the best ways to celebrate Christmas on a budget at Disney World.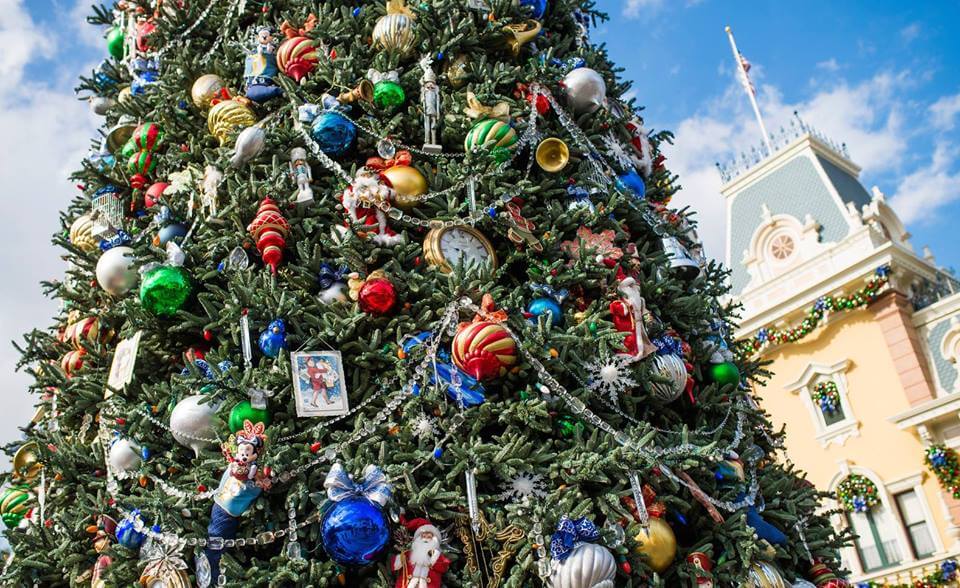 Resort Lobbies
Deluxe resorts are especially worth taking the time to visit and explore during the holidays.  They really get into the season with elaborate holiday decor that fits to the resorts' specific theming.  This is completely free, but you may want to purchase some gingerbread at the Grand Floridian.  There are three Magic Kingdom deluxe resorts connected by a monorail loop for easy access to each.  The three Epcot Deluxe resorts are within minutes of each other by walking, or by boat.
Disney Springs
Disney Springs is free to park and free to enter.  You don't have to buy anything while you are there, but it is more fun if you have a shopping budget.  Regardless, there are plenty of decorations in this lively neighborhood of shops and restaurants.  And besides, window shopping is free.  So, you can admire the festive displays celebrating Christmas traditions practiced the world over.  Plus, the Christmas music in the air will definitely put you in the holiday spirit.  There is live entertainment and a Christmas tree trail as well.
Winter Summerland
Did you know there is a Christmas themed miniature golf course in Walt Disney World?  Winter Summerland is the perfect way to celebrate Christmas in Florida.  Summer and Holiday themes are covered in two separate 18 hole courses.  Of course in this case we want to take winter.  The silly and fun interactive holes are entertaining for all ages.  Plus,  you get a message from old Saint Nick himself at the end of your game.  Winter Summerland is near Blizzard Beach, which is a similarly themed water park based on a ski resort.
Festival of the Holidays
Festival of the Holidays is a seasonal festival that takes over Epcot.  It provides a new way to experience the World Showcase, as well as appreciate how different cultures celebrate Christmas.  As with other festivals, there are special food kiosks located around the park.  There is no additional charge for this festival and it can actually save you money.  Instead of getting reservations for some of the restaurants in the park, snack your way around the world at these stations with specialty treats.  Many of them are sharable, especially if you just want a bite or two from each.  Just don't purchase passes with pre set entitlements.  Those will make you feel pressured to only get the most expensive dishes on offer to get a value.