I received something of value from Feld Entertainment as part of their Insider Program. I was not required to write a positive review. The opinions I have expressed are my own.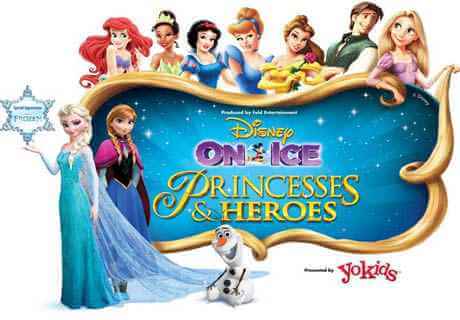 Last night we enjoyed the newest Disney On IceShow to come to the Palace of Auburn Hills. Despite getting off to a rocky start  on our trip out to to the venue, we managed to… wait for it… Let it Go and have an amazing time. Due to our rough start, we missed the opening act for the first time since we began coming to these amazing shows. We made it into our seats just in time for Princess Jasmine and Aladdin.
Normally I would upload at least several photos of the show and let you see just a few, instead I am including a link to my Facebook album with all the photos I took. I must apologize for the quality, I forgot my camera (part of the rough start). That link is here… Kristinas Disney on Ice Photos.
We always have an amazing time watching the shows that Disney on Ice brings to its audiences. They always seem to add some unexpected element that is sure to amaze and delight all ages. This time around, I was impressed with the crewmen of Prince Eric's Ship. They had a see/saw, crows nest and a chair on a stick… they would jump from the crows nest on to the see/saw and fly into the chair or into another persons arms, usually flipping in the air… some serious acrobatic skills on ice. I couldn't believe it, a see/saw on the ice!
In the beginning Miss Z was upset that they didn't feature her favorite princess (Snow White) more in this one with the name of the show being "Princesses and Hero's." I was thrilled that they had my favorite princess (Ariel).
This is her "I am trying to eat my snow cone and watch the show so stop taking photos of me, mom!" face not to be confused with her, "Mom seriously!" face that I got several of last night.
During intermission, we made it down to the ice rink for a photo opp. We had such amazing seats at the Palace last night! If you know the Palace of auburn Hills you will understand when I say we were in section 120 row B seats 1-4. If you don't know the palace, we were in the center-stage section in the first level above ground floor. It was awesome, they were some of the best seats we have had as far as views, not so much for photos, which may have been different if I had my actual camera (grrr!)
The dress that Miss Z is wearing was made by her awesome grandma (My mother in law), it came complete with a cape too. It will be her Halloween costume this year.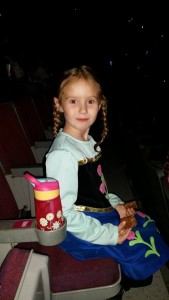 When the second half came around, all thoughts of her favorite princess fled when she saw Anna and Elsa. I swore to myself going in to the show I wasn't going to be one of those parents who sang along with that song from Frozen, I was going to just sit back and enjoy the show and stay detached…. yeah right. when a 6 year old looks at you and says "MOM You have to SING A LONG!!!"  you sit up in your seat and sing along with the song you have heard a million times already, you smile and enjoy the fact that your kid is a Disney Addict, just like yourself 🙂 
Click here to purchase tickets to a Disney On Ice show near you!
Here is the Description of the show from The Palace of Auburn Hills website…
Princesses & Heroes
OCT 16 – 19, 2014 THE PALACE OF AUBURN HILLS
Anna and Elsa and the hilarious snowman Olaf from Disney's Frozen will now share their story of true love in Disney On Ice presents Princesses & Heroes Presented by Stonyfield YoKids Organic Yogurt, for nine performances at The Palace of Auburn Hills from October 16-19
Show times for Disney On Ice presents Princesses & Heroes:
Thursday, October 16 at 7:30 p.m.
Friday, October 17 at 11 a.m. and 7:30 p.m.
Saturday, October 18 at 11:30 a.m., 3:30 p.m. and 7:30 p.m.
Sunday, October 19 at 11:30 a.m., 3:30 p.m. and 7:30 p.m.
Believing is just the beginning in this mesmerizing show where dreamers will witness the magic of eight Disney Princesses; Ariel, Belle, Cinderella, Rapunzel, Tiana, Jasmine, Aurora and Snow White make their wishes come true in this collection of celebrated tales wonderfully told through artistic skating and acrobatics.
Performing audiences will be transported to a world where imaginations soar and anything can happen if they just believe.  The Disney Princesses embark on the adventure of a lifetime thanks to the help of Tinker Bell's magical pixie. Royal sisters, Anna and Elsa along with Olaf and rugged mountain-man Kristoff travel through a fantastical winter wonderland to discover true love conquers all.
Entering a world of wonder where heroes and hearts prevail, guests then get to see other favorite Disney Princesses such as Jasmine, who discovers a whole new world with Aladdin after meeting her unlikely hero in the marketplace. Prince Philip defeats the evil fire-breathing dragon Maleficent in a race to save his true love Aurora. Prince Eric breaks Ursula's spell so that Ariel can remain part of his world. Rapunzel, Tiana, Cinderella, Belle and Snow White also find happiness in this beautifully imagined ice show.
Produced by Feld Entertainment, Disney On Ice presents Princesses & Heroes features an incredible display of special effects, stunning set design and breathtaking choreography on the ice. To learn more about Disney On Ice, visit www.disneyonice.com, or visit Facebook (Disney on Ice Facebook) and YouTube (Disney on Ice Princess and Hero's Youtube video )

I received something of value from Feld Entertainment as part of their Insider Program. I was not required to write a positive review. The opinions I have expressed are my own.