Soy Sunday: Dairy Free Pumpkin Muffins
Wednesday before Thanksgiving my mom decided she was going to figure out a way for my little guy to enjoy dessert with everyone else the next day so she went digging through her cook books and wouldn't you know, She found a dairy free recipe in her cookbooks for Dairy Free Pumpkin Muffins! She made a massive batch of them both adult (normal) size and kid (mini's) size. They were a big hit all the way around. Kids and adults enjoyed them and made Mr. D feel like a part of dessert time. now if I could just find a store around here that sells dairy free whipped cream…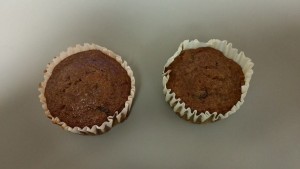 The recipe came from a cook book my mom has had for years. It was one of those compilation books you buy as a fundraiser. This one was recipes from famous Bed &Breakfasts' and Inns around the country. This particular recipe came from The Longfellow's Wayside Inn in  Sudbury, MA (http://www.wayside.org/)
The recipe is fairly simple and oh so good.
Ingredients:
1 cup raisins
1/2 cup Water
2 Eggs
1 cup Canned Pumpkin
1 1/4 cups sugar
3/4  tsp ground cloves
3/4 tsp ground cinnamon
1/2 tsp salt
1/3 cup cooking oil
1 3/4 cup all purpose flour
1 1/2 tsp backing powder
1/2 tsp baking soda
Instructions:
Soak raisins in the 1/2 cup water for 5 minutes. Do not drain.
In large mixing bowl beat eggs, stir in pumpkin, sugar, cloves, cinnamon, and salt. Add oil mixing well.
Stir together flour, baking powder, and baking soda.
Add to pumpkin mixture with half of the raisin-water mixture. Mix well.
Add remaining raisin water mixture, stir to mix.
Fill greased muffin pans 2/3 full.
Bake at 400 degrees till to springs back when pressed with fingers, about 25 minutes.
Makes 12 large or 16 medium muffins.