I cant wait for summer, and I know the kids cant either.  Winter can be so gloomy and cold.  Even though the kids can go outside and play in the snow (when there is some), it still doesn't beat going to play in warmth and water.   Castaway Bay invited the This Mamas Life Family to visit their Hotel and Waterpark – where it is always 82 degrees!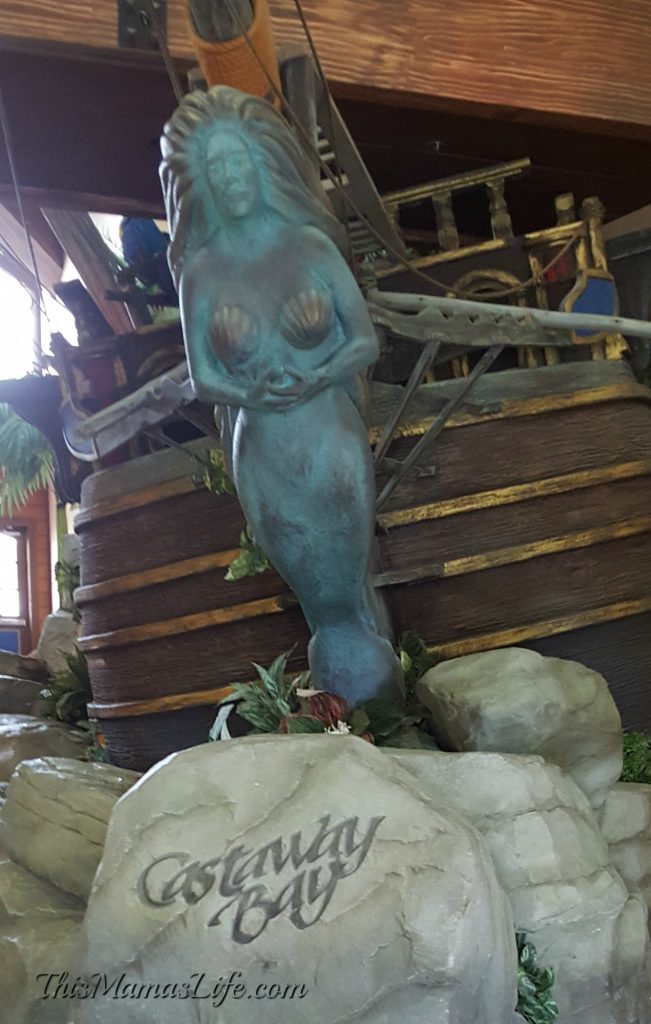 Castaway Bay is Located in Sandusky Ohio, just a short drive from Cedar Point.  This hotel and indoor water park is open year round.  It features a Thrilling water coaster, Slides, a wave pool, and lots of places for children to splash and play.  There are 237 hotel rooms and Suites at Castaway Bay resort.  Along with the rooms and suites, you can find a fitness center, 6,000-square-foot state-of-the-art arcade, a craft and child activity center, three restaurants, retail shops, adjacent marina and space for meetings, group events and birthday parties. Lets just say this place is Huge!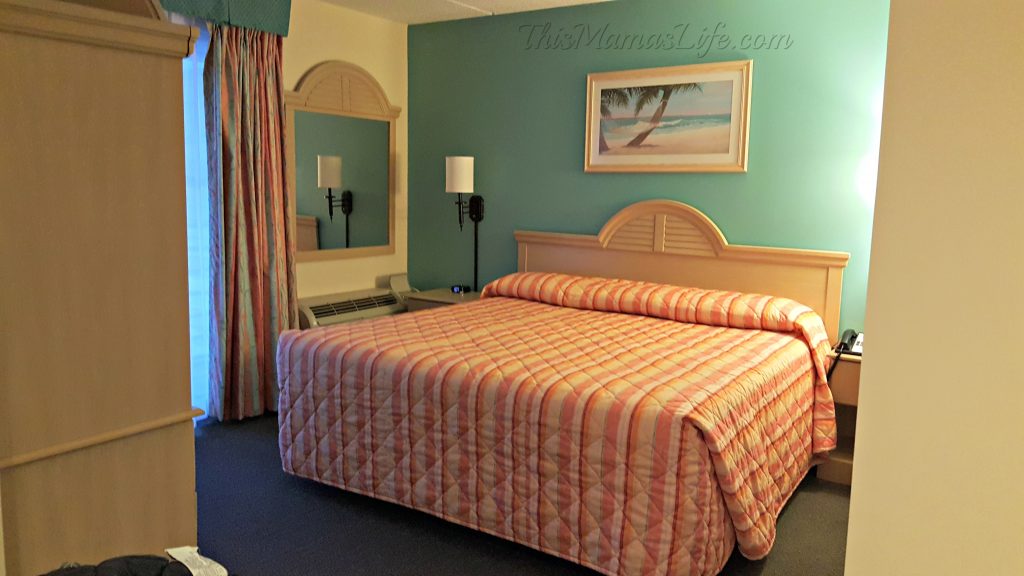 Because of the size of the This Mamas Life family, we got to stay in the Tarpoon Suite.  The Tarpoon Suite is a "2 Room" Suite.  The first room has 1 King size bed and the 2nd room has 2 sets of bunk beds.  Making this a perfect room for a family of 6!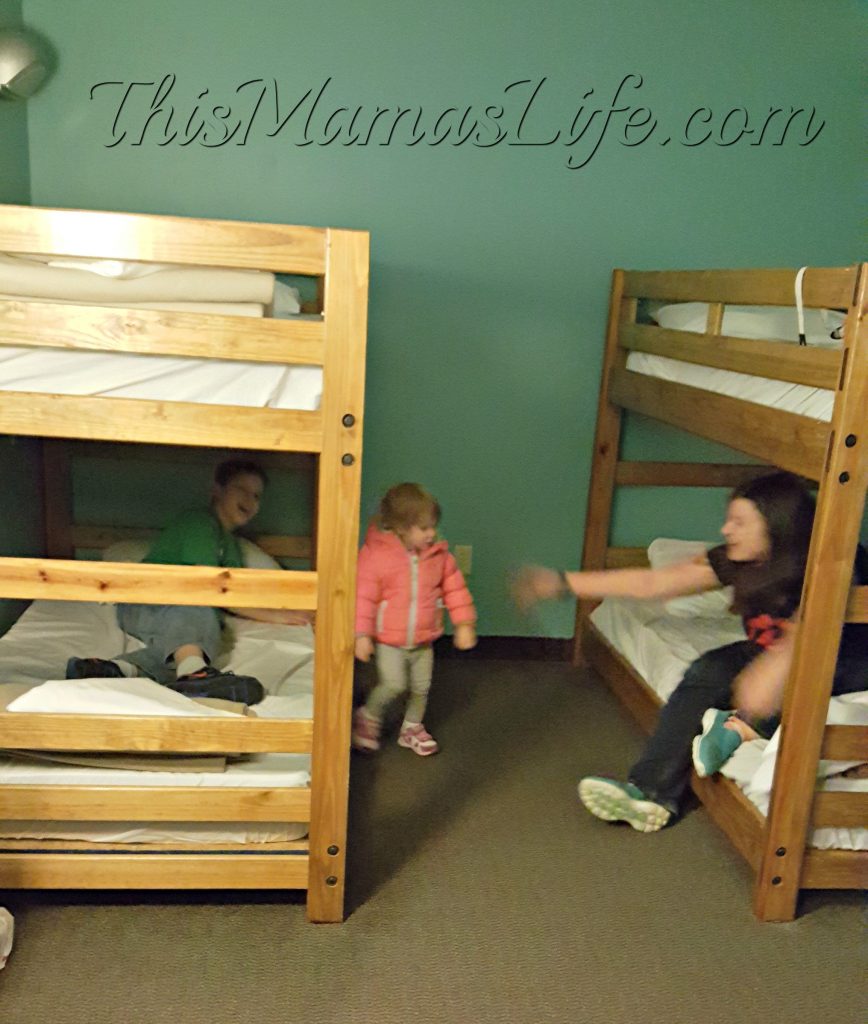 I tried to get a picture of the kids room, but they beat me to getting in there – and from then on, no one would sit still!  Peanut thought this was the greatest thing.   Having a room that she could sleep with both her brother AND her sister!   I loved the fact that the beds had Rails along the top bunks, that way I was less worried that one of the kids would roll out of bed.  There was just a wall that separated the kids room and the parents room.
This wall had a bamboo style window, which if you were on the top bunk, you could look in to the other room. Or if you're like me, You can make funny comments on Instagram about watching the Wild Creatures in their caged habitat.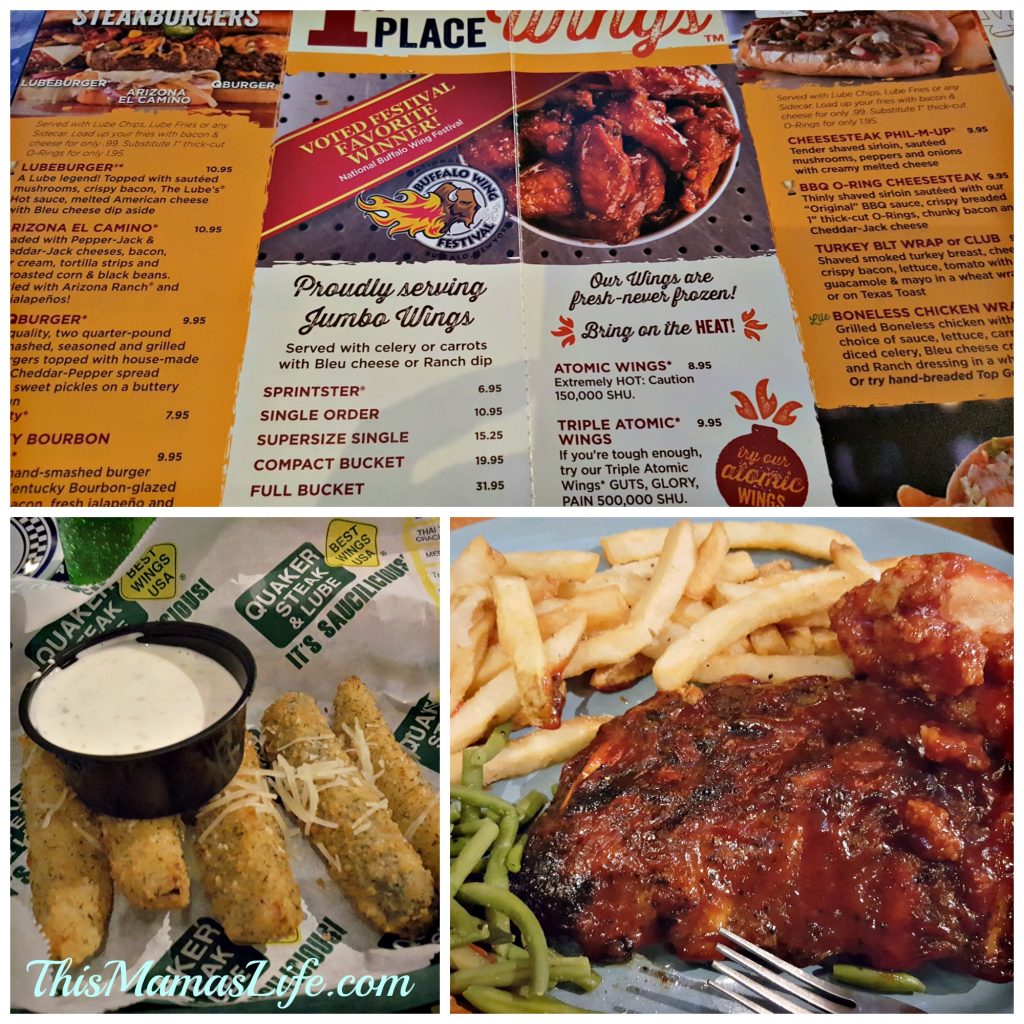 During our visit, we ate at Quaker Steak & Lube.    This not a quick drive through style way to eat.  The 5 of us sat down and got to enjoy an amazing meal, and never felt like we were being rushed.  I will say their food was quite amazing!  I got the BBQ ribs and Chicken Tenders platter for Peanut and I to split.  There was not one piece of rib or vegetable left by the end of the meal.  If you are entering from the hotel, you do have to go across the restaurant to the front entrance to be seated.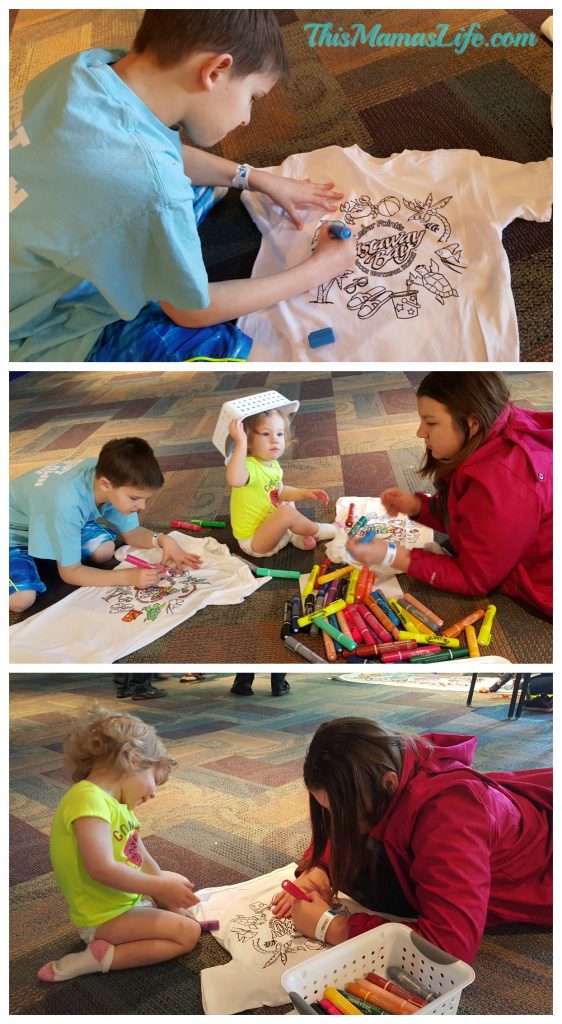 Even though check in is at 4:00 pm and checkout is at 11:00 am, you can still have access to the water park before and after check in/out.  After we officially checked out, we took a visit to the Camp Castaway area, where Miss G and Lil C got to color Castaway Bay shirts.  Peanut wanted to help – she made sure that everyone could see what colors were in the basket of Fabric markers!
Here you can color shirts, or Beach towels or bags!   What a great way to have a memory of your visit.
I did not get many photos of the water park, I was too busy being pulled in different directions – with the different kids.   But I will tell you this, they all had a ball – and boy were they wiped out both nights that they got to play in the water!
We received a stay at Castaway Bay in exchange for our honest post. All thoughts and opinions expressed are those of This Mamas Life.