When you take a cruise with Carnival most everything is free. However, there are a few things that are upcharged, and the Carnival Premiere Steakhouse is one of those things. The fee is $35.00 per person and you get an appetizer, entree, sides, and a dessert. Even though it is not all you can eat, you won't leave hungry. Carnival has a few different steak houses depending which ship you are on. We were on the Pride, which sails out of Baltimore, and they have David's Steakhouse. It is a beautiful restaurant filled with Greek decor. I was simply amazed at how beautiful it was.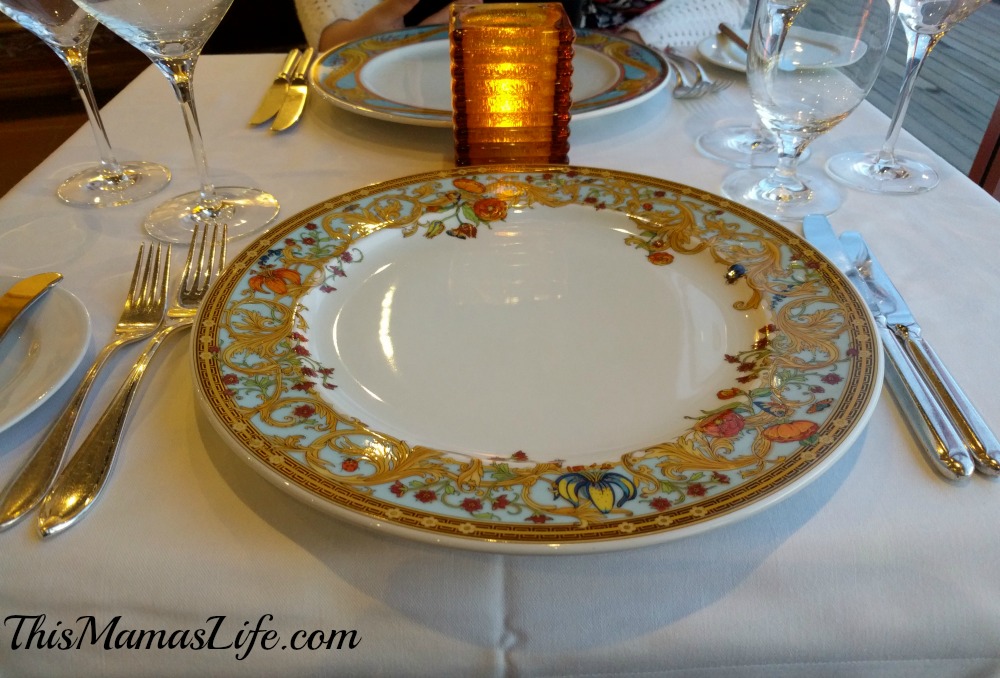 When you are seated the first thing you will notice is how fine everything looks. There a crisp white tablecloths on the table and a beautiful place setting with real china. And yes, you need to know which fork is which. Also, what sets this place apart is the service. You get customized, personalized service for your table. We had a waitress, a bartender, and a service helper. It was amazing and we felt like queens being waited on. They will first take your drink orders and you really must look at the wine selection. They have some really great wines that are not found anywhere else on the ship. After drinks, the waitress will bring you "compliments from the chef". These are just little bites to whet your appetite. I am not sure how they do it for everyone but we actually received three different ones. Each one was delicious but I must say my tomato soup was the best.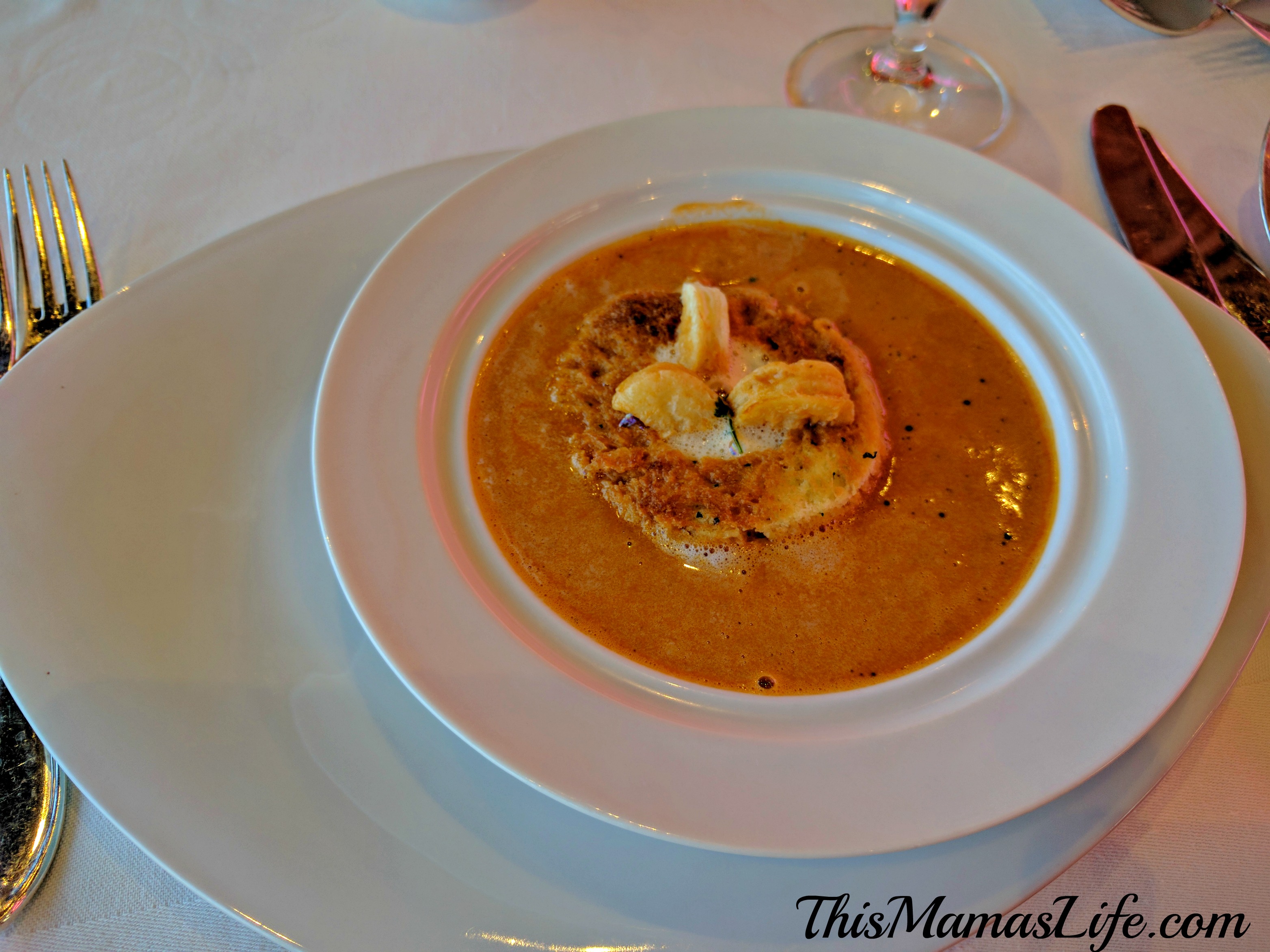 After your compliments they will come around to take your order. The menu is kind of extensive and you see it HERE. You can order an appetizer, entree, sides, and dessert (as stated above). We ordered the Lobster Bisque for our appetizer. It was so very good. It was very creamy, rich, and had plenty of lobster. I will admit the color is a little bit of a turn-off but once you take that first bite you forget all about it. It is like heaven on your tongue.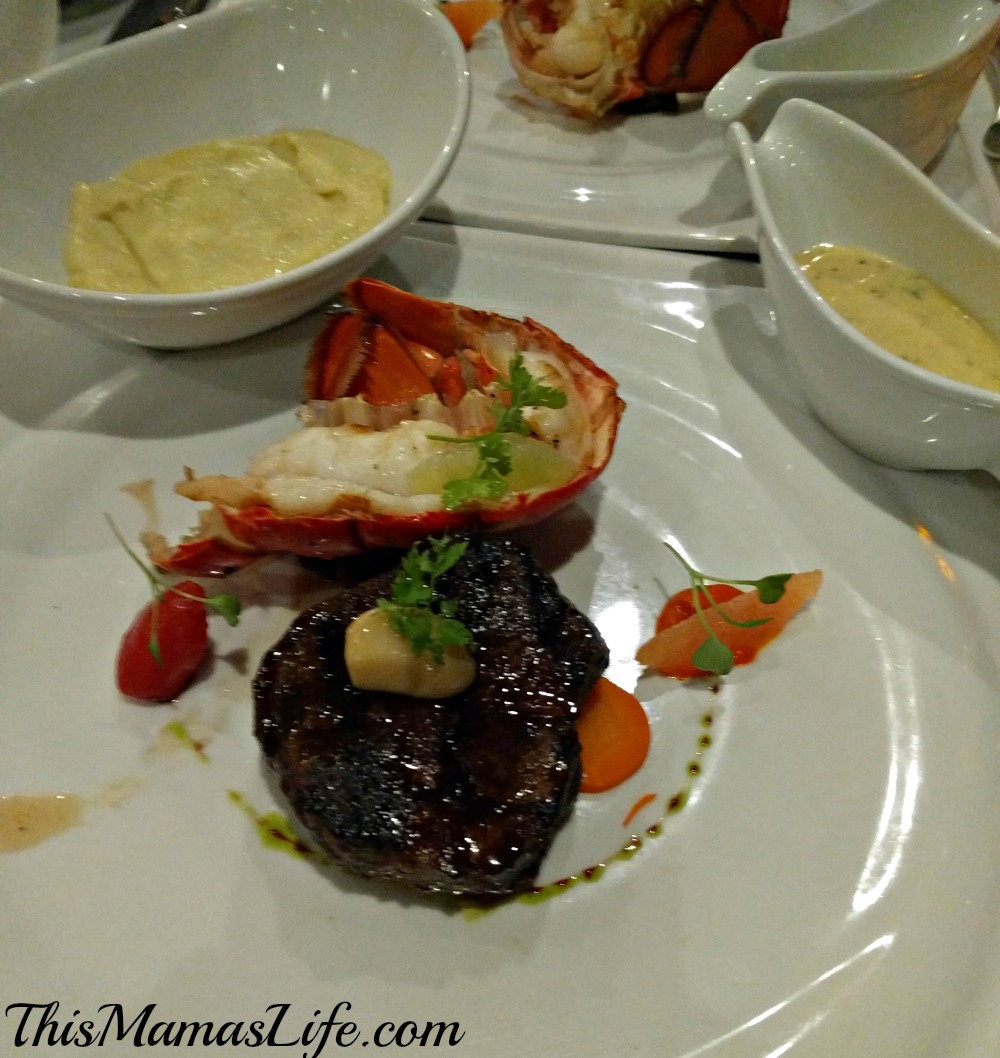 For an entree two of us ordered the Surf and Turf which comes with Grilled Fillet Mignon and a Lobster tail. I must point out that the lobster tails in the steakhouse are different than the ones you get from the main dining room on free lobster night. They are bigger, meatier, and a lot juicier. I highly recommend the Bearnaise sauce for your steak. It is creamy and makes it taste so much better.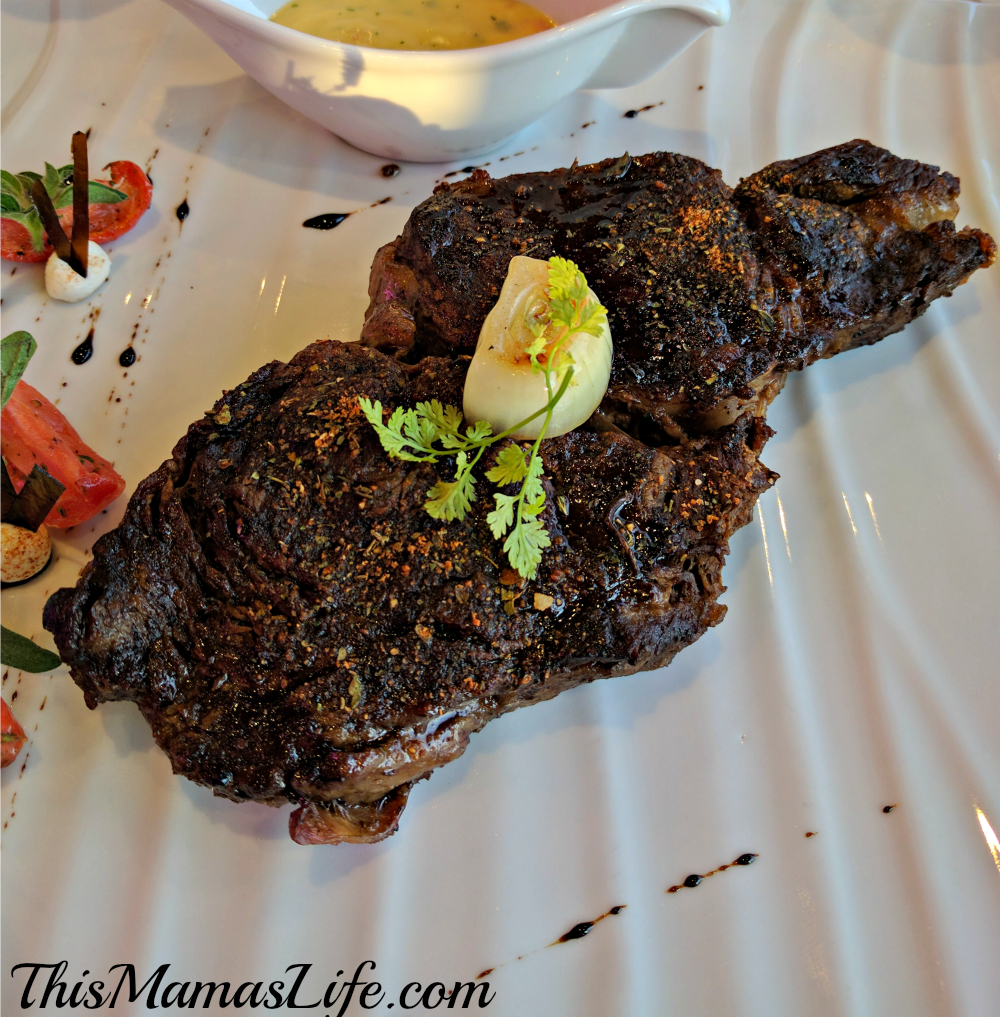 Another member of our party got the Cowboy steak. One warning, unless you are a big eater or simply starving, you should not order this. It was absolutely huge and the person that ordered it could not finish it. Since we didn't have a way to heat it up later, we had to leave it and honestly it felt like such a waste of food. It is over a pound of steak and it really was delicious but I would recommend the Prime New York steak for the same taste and smaller portion.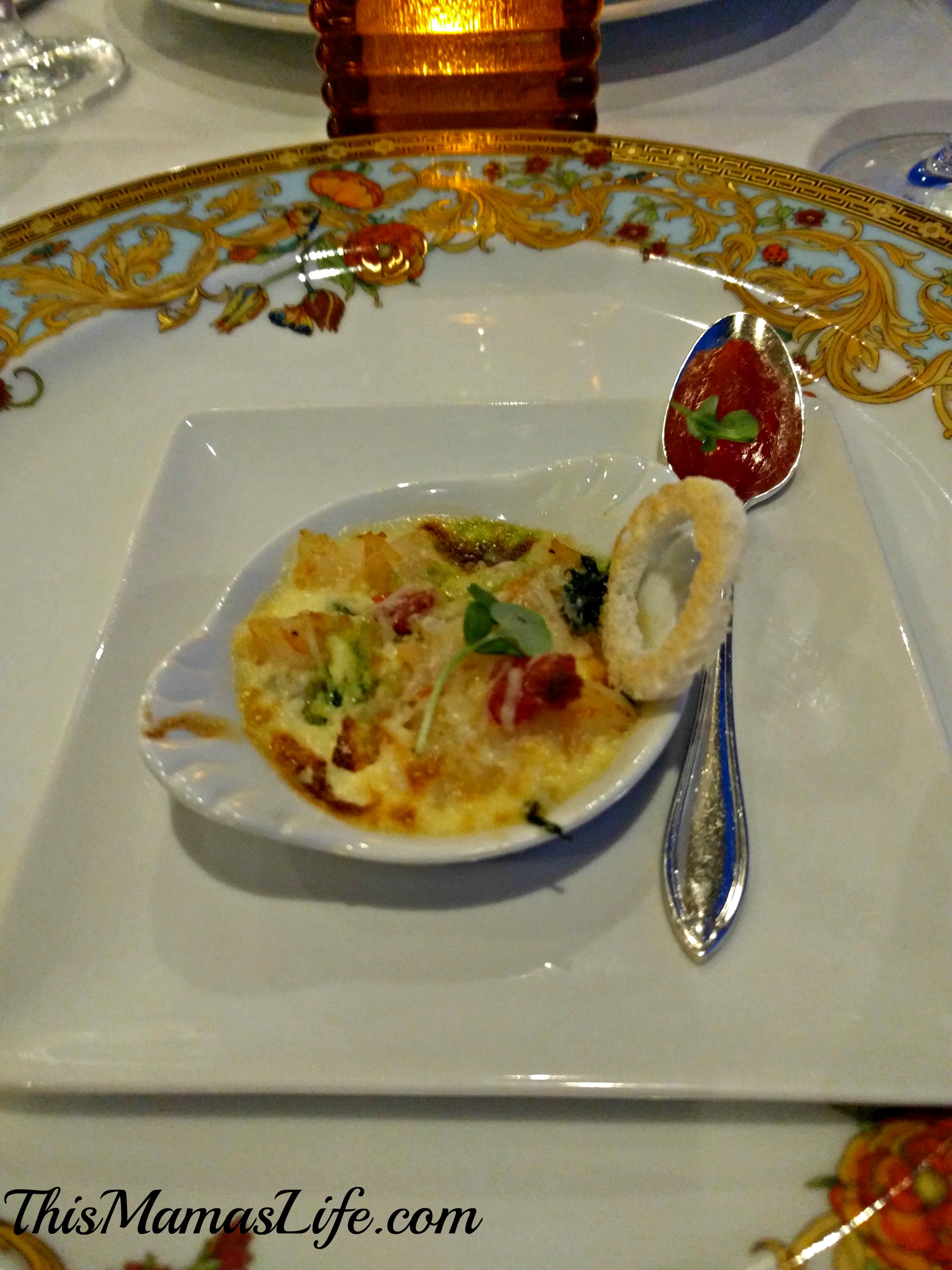 Sides are plentiful and we all tried something different. My favorite was the Yukon Gold Mash with Wasabe Horseradish and Sautéed Medley of Fresh Mushrooms. One person got the Baked Potato with all the trimmings that included cheese, sour cream, chives, and bacon. Yum! The Creamed Spinach with Garlic was also good. The spinach wasn't as pungent as most spinach is. It seemed to have a smoother flavor and the garlic really added to the flavor.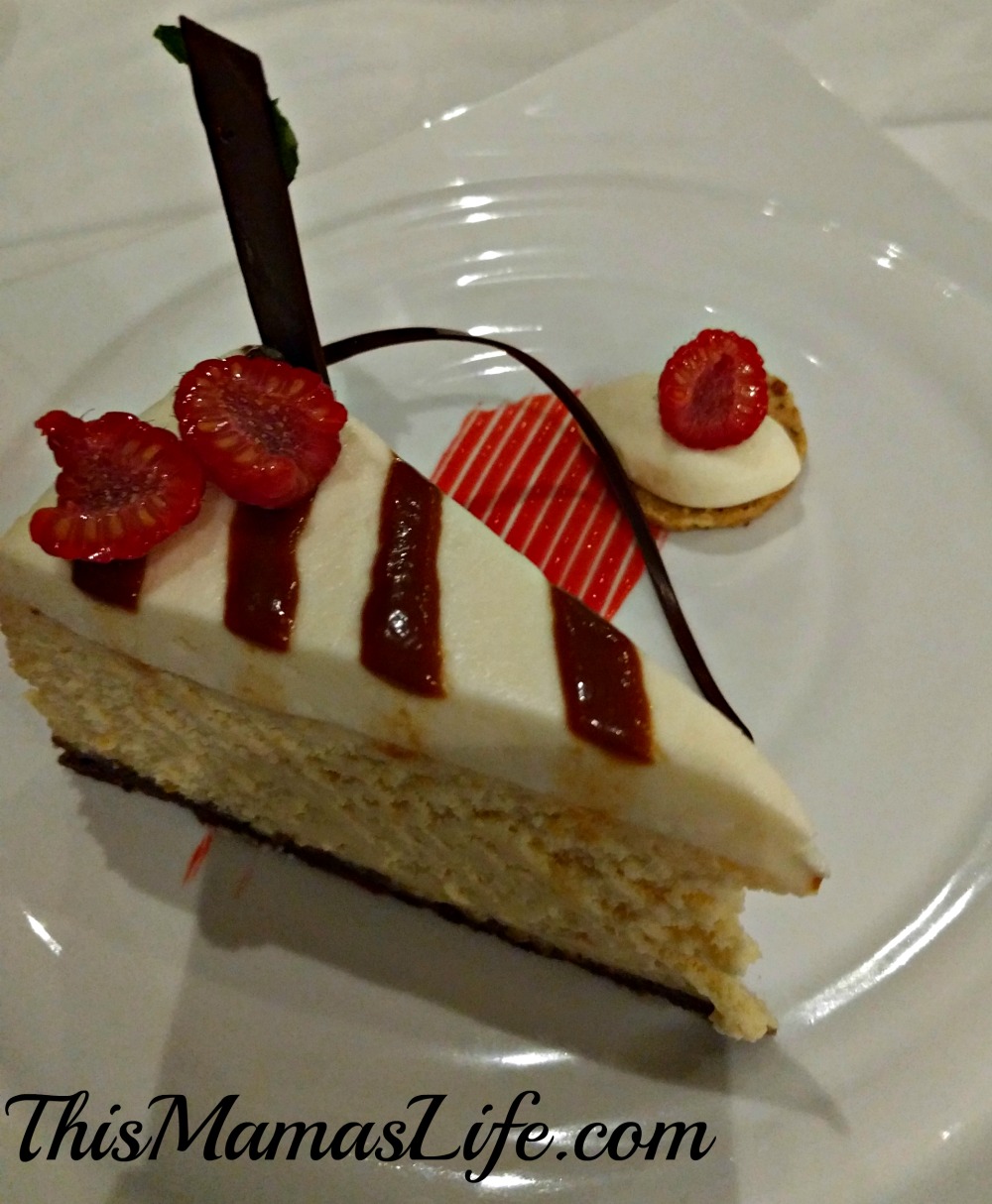 With all of that good food you may not have room for dessert. I know I didn't. But the other two guests in the party had the Strawberry Cheesecake. It was absolutely the best cheesecake I have ever had. It was like a whipped cheesecake. It was topped with a raspberry reduction and was so very good. I was super sad that I could only take one bite. So make sure you leave room for dessert.
All in all I really think the Steakhouse is a splurge that is well worth the cost. Kids are allowed but I really think you would enjoy it more as a date night. The ambiance and food make it the perfect romantic place to have dinner. Plus dinner can take as long as 3 hours, so your little ones may not be able to sit that long. If you get a chance to check it out, you totally should because I think it will be one of your favorite experiences of the whole cruise!