Beauty and the Beast, a tale as old as time, is coming back to the theaters on January 13, 2012 this time in 3D.  The same speculator story that you fell in love with and treasure all those years ago gets a whole new look in speculator 3D. This wonderful tale will having you singing along and smiling the whole way through as if you are just seeing it for the first time, like all those years ago.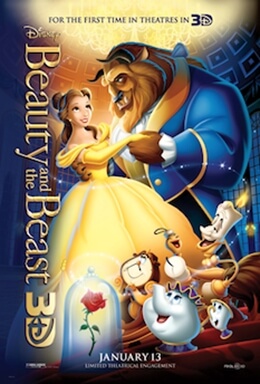 Thoughts of Beauty and the Beast
I was giving the opportunity to be one of the first to see Beauty and the Beast in the theaters prior to its nationwide release.  So, I took the my son to go see it, even though he had already seen it, he enjoyed it all. He love the singing parts but was a little scared of the Beast at first and what kid wouldn't be. He was kind of scary with his demeanor, his claws & roaring. So if you get a chance to see this animated classic in theaters in 3D please do so and you won't be disappointed and share it with the ones you love all over again.
*I received tickets to Beauty and the Beast  in exchange for this post. All opinions expressed are 100% my own.