We have been trying really hard to eat way healthier around our house. But after a while, just eating plain vegetables tends to get boring.  So we decided to look for a little favor to add to our sides. So what goes best with Asparagus?  Bacon!  According to some, bacon goes with everything.  And its true, these Bacon and Asparagus Bundles are the perfect pair.
Bacon and Asparagus Bundles:
Ingredients:
Asparagus
Turkey Bacon
Salt
Pepper
Butter
Directions to make Bacon and Asparagus Bundles:
Take four asparagus stalks and chop off the ends, about half an inch to an inch.
Take your piece of turkey bacon and lay it on a flat surface. Then, lay your bundle of asparagus on top of the bacon. Begin to tie the bacon around the asparagus as you would a shoe. It is important that you are gentle in order to not rip the bacon. Do not do a full bow, just pull the bacon through the first step of the tying process.

Do this for each bundle as many as desired. Place asparagus bundles on a cookie sheet and sprinkle salt and pepper over the top of them.
Drop little dollops of butter on the pan around the asparagus. It will melt in the oven and spread to the various parts of the asparagus.
Bake at 350 degrees for about 15 minutes.
This will be sure to make your mouth water! This is the perfect appetizer for your next family meal.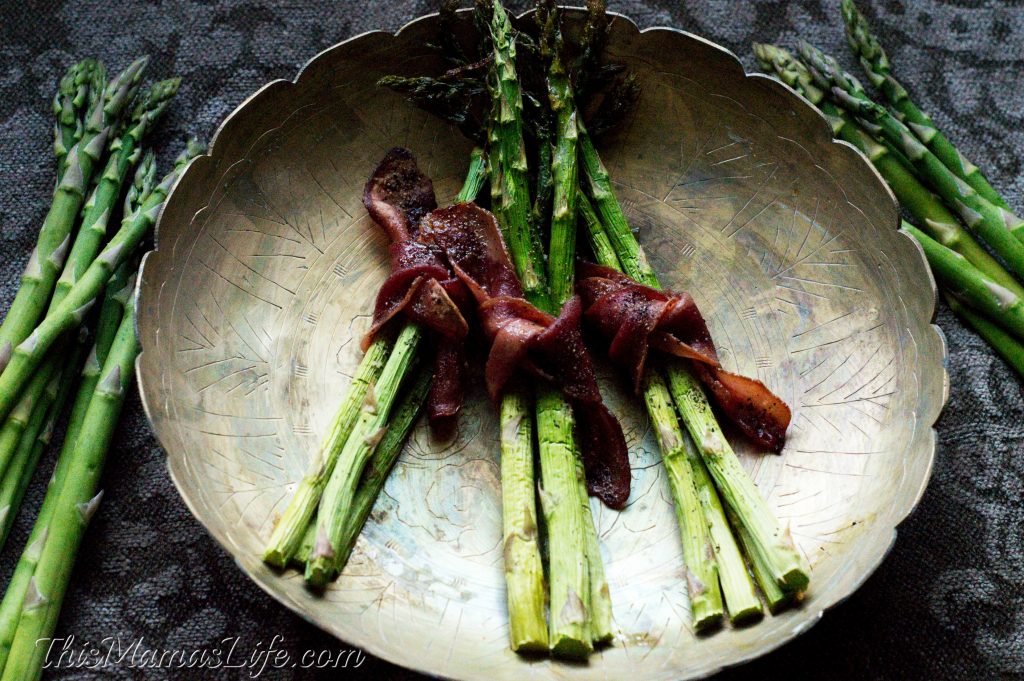 Doesn't this look delicious?  This is perfect for your next meal.