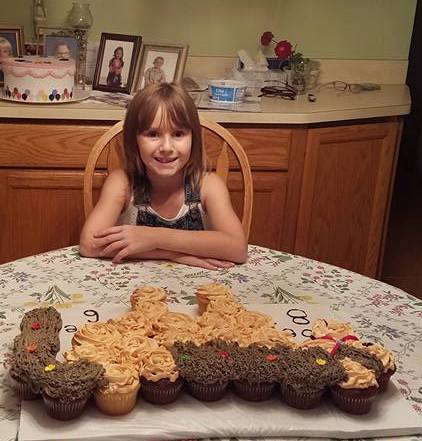 Last Month Miss Z turned 8! Where has the time flow off to? Seems like yesterday we were bringing her home from the hospital.  Since then she has grown into a beautiful little girl. A few years ago she got an Isabelle Girl of the year American Girl Doll for a Christmas present from Santa and she was hooked! She now has 4 American Girl Dolls, 1 non AG doll and enough accessories to fill 2 of those large Sterilite 3 drawer carts that everyone loves.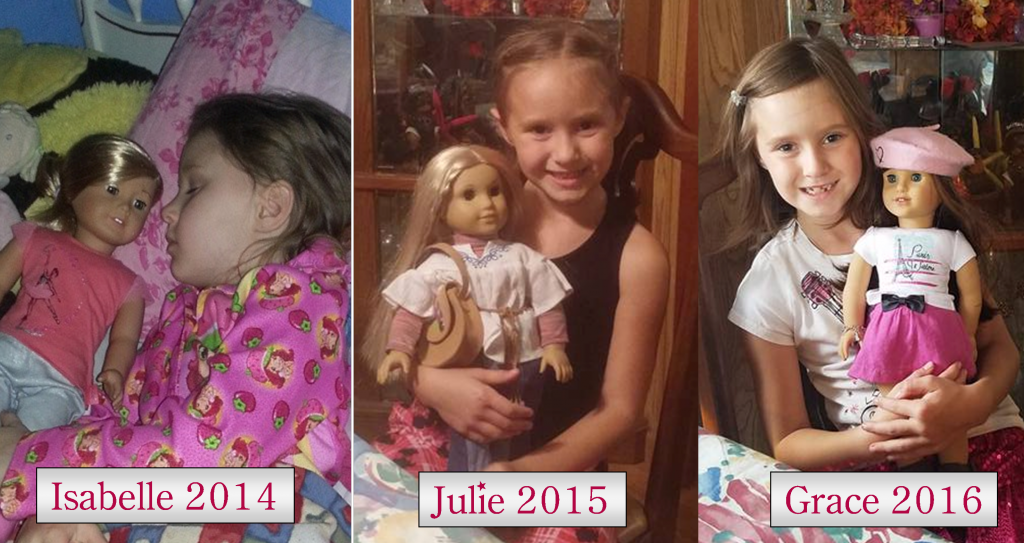 This year we got the opportunity to attend the Be Forever American Girl Melody Ellison launch party in Detroit. As much as I would have loved to take her to the party, it just wasn't a possibility.. So Amy and Myself packed up and trucked on down to Detroit. During the launch party at the Charles H. Wright Museum of African American History we got to not only meet Melody but also meet the creative team behind her and her amazing story.
I was so excited when we learned that we would be receiving our own Melody Doll for Miss Z.
With it being so close to her birthday, we decided to wait to give it to her. On the morning of her birthday party she got to open the box that was sent directly to her from American Girl. Did I mention that I had been holding onto a Grace doll for nearly a year for her birthday? Well yep, we bought it for her previously and so we decided to just go for it and make her birthday extra special and give her 2 of them.  Yes I am aware that I am one of those crazy moms who spoilers her children.
First we gave her the give away bag from the Launch party… It came with this cute little lime green shirt, stickers, pennant flags with inspiring sayings related to Melody's story and an informational pamphlet on Melody's products/ story.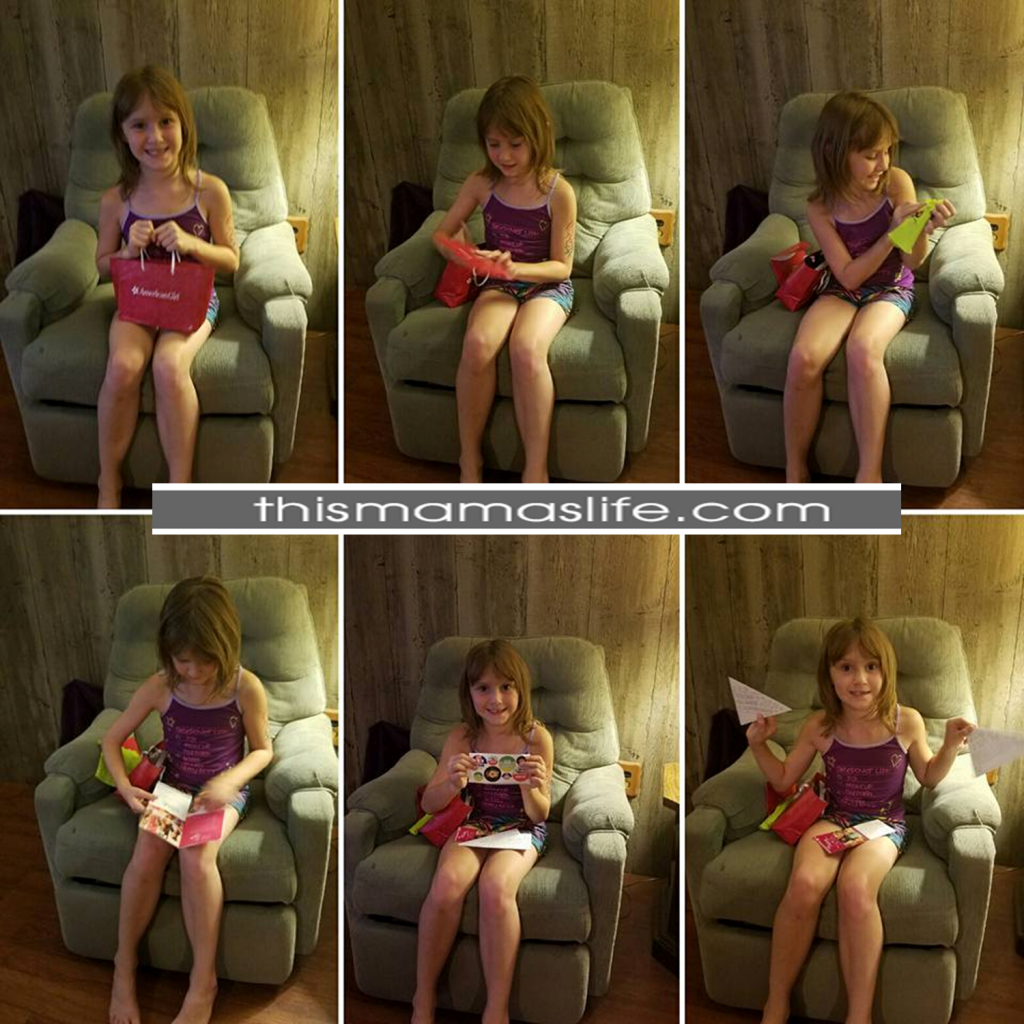 Then came the good stuff…
The big brown box with her own name on it. She thought it was the neatest thing in the world to receive this doll because Melody was from Detroit, MI where some of her family is from. Some live in Detroit and some work there, including her dad. Oh and also because the doll looked just like her cousins.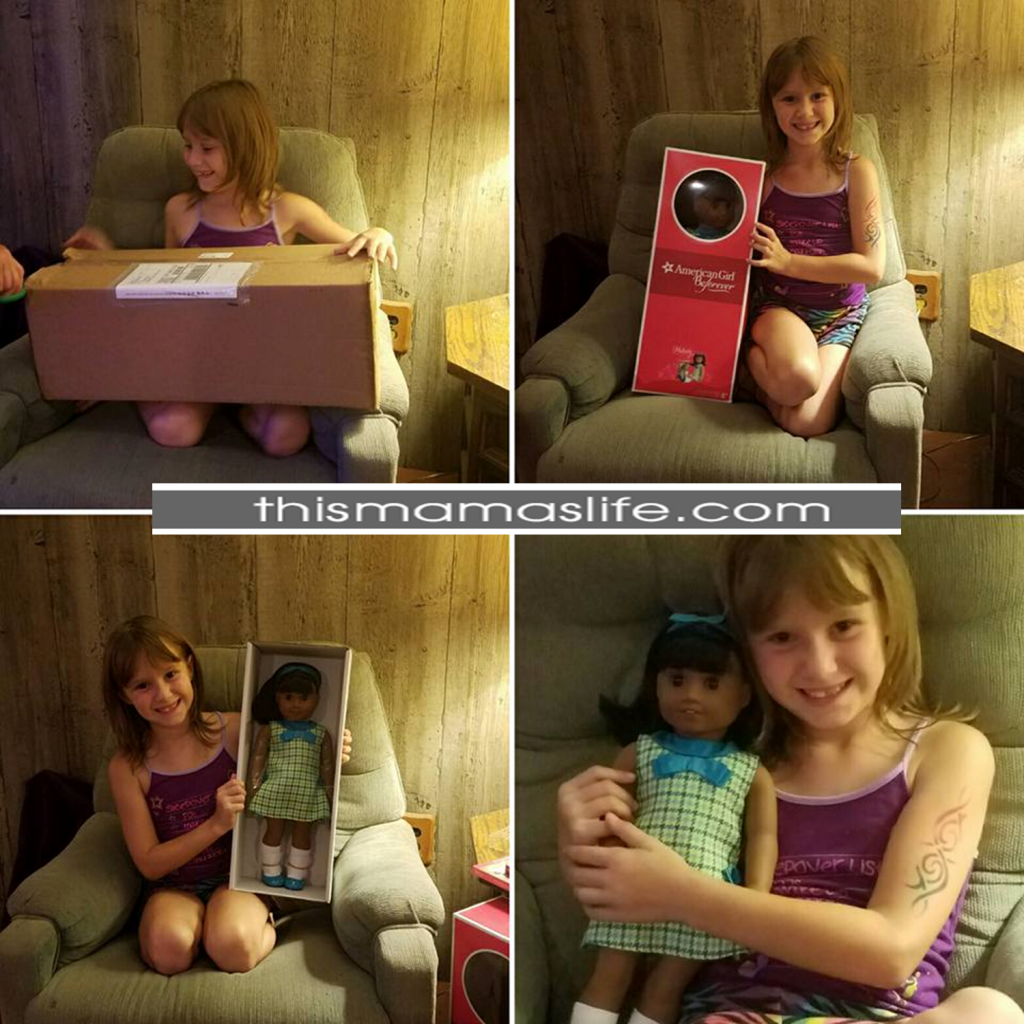 While Miss Z loves her new doll and plays with her often. I think she is most excited to read about Melody in the book that came with her "No Ordinary Sound."
I think I am most looking forward to the discussions that will come from her reading this story. She is getting to the age where she not only understands what is being talked about but is also beginning to form a personal opinion on the events she reads and or hears about. The time period that Melody is based off of was something I heard about often as a child. My dad would have been the same age as Melody in the book. He grew up in Detroit during the 60's. My mom was a little younger during that time, but I have 5 uncles who were various ages and remember it well. I cant wait to let her ask questions of my grandmother who is 85 and compare those answers to that of those who were younger.
A little about Melody Ellison from the American Girl website:
Optimistic Melody Ellison has deep-brown eyes that open and close, and thick black hair. She comes in an authentic 1964 outfit:
A bright blue-and-green hounds-tooth A-line dress with a blue cowl collar, a blue bow on the chest, and blue bows on the side pleats

A blue ribbon headband with a bow for her hair

Underwear

Socks

Shiny blue patent shoes with bows on the toes
The 18″ Melody doll has a huggable cloth body, and her movable head and limbs are made of smooth vinyl. Includes the paperback book No Ordinary Sound, the first novel-length volume of Melody's classic series.
Winner of a 2016 National Parenting Product Award.
Winner of the 2016 Oppenheim Toy Portfolio Gold Award.