Are you trying to figure out what to get the special kiddo in your life for Christmas? Have you thought about the Gift of Swim? Being from the Great Lakes area, I grew up knowing how important it was to know how to swim.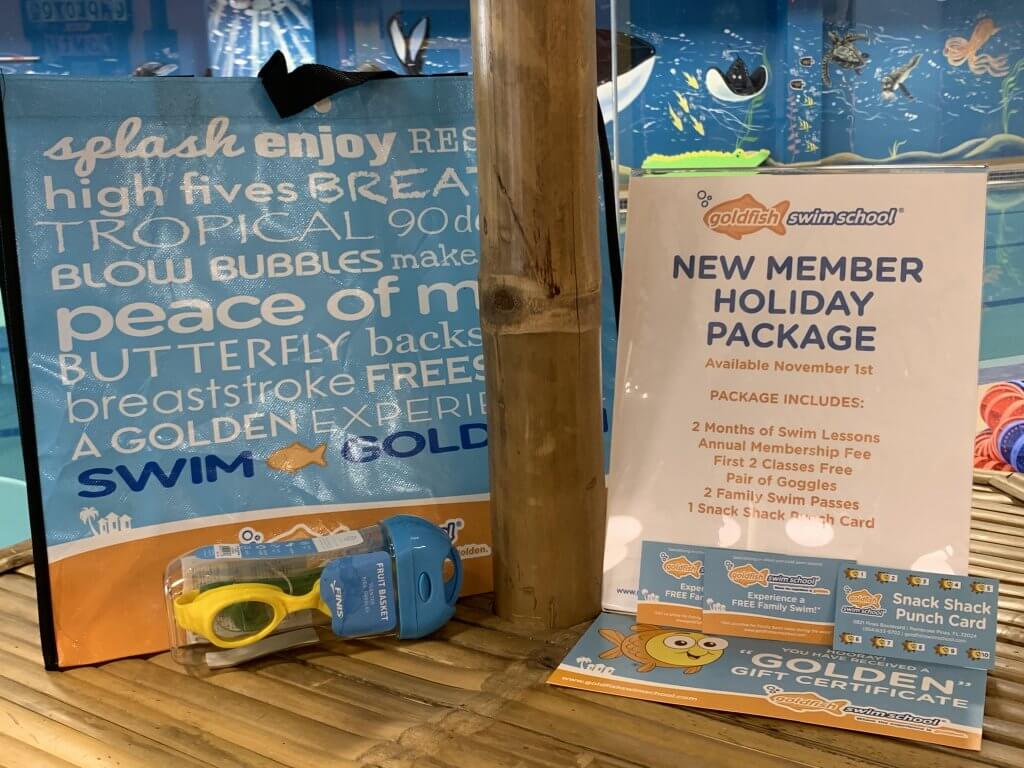 This post has been written in partnership with Goldfish Swim School.
5 Reasons to Give the Gift Of Swim Lessons
Instead of giving gifts that will just sit on a shelf or get tossed into a closet, give the gift of an experience!  Did you know… experiential gifts are more effective in improving relationships and connecting socially with others than material items

Swimming lessons provide essential skills and confidence that last a lifetime.

Kids learn safety skills while having fun, making friends, building confidence and learning life lessons. Kids love Goldfish's fun, tropical environment and 90 degree pools. Parents get the peace of mind knowing that their loved ones are accomplishing an essential life skill based on our proven curriculum. There's no better gift than that!

Believe it or not, winter is actually the BEST time of year for families to be thinking about water and swim safety. So now's the time to get a head start on the summer.  By starting in January, kids can see results in time for pool and beach season in June (or that spring break we are already looking forward to). Plus, each child learns new skills differently and at his/her own pace so starting in the winter is the best way to ensure progress by summer.

Indoor swimming is a great (and warm) winter activity for kids and parents. Especially in one of Goldfish's 90 degree pools!   Have we mentioned the water is always warm?
If you'd like to give the gift of swim, you can purchase a Holiday Package from one of these local Goldfish Swim Schools
The 2019 Holiday Package Includes
$180 in family credits
2 free casual lessons
2 family swim passes
1 snack shack punch card
1 GSS dry bag
1 GSS branded towel
*** a $311 value for only $200***