With Peanut only being 2, we're not planning on her carving a pumpkin.   I know she's not ready to hold a knife or carving tool.  Actually I'm not sure she's even going to want to clean out the pumpkin seeds. So after scouring the good old inter-web, we have come across 22 of the cutest No-Carve Girly Pumpkins.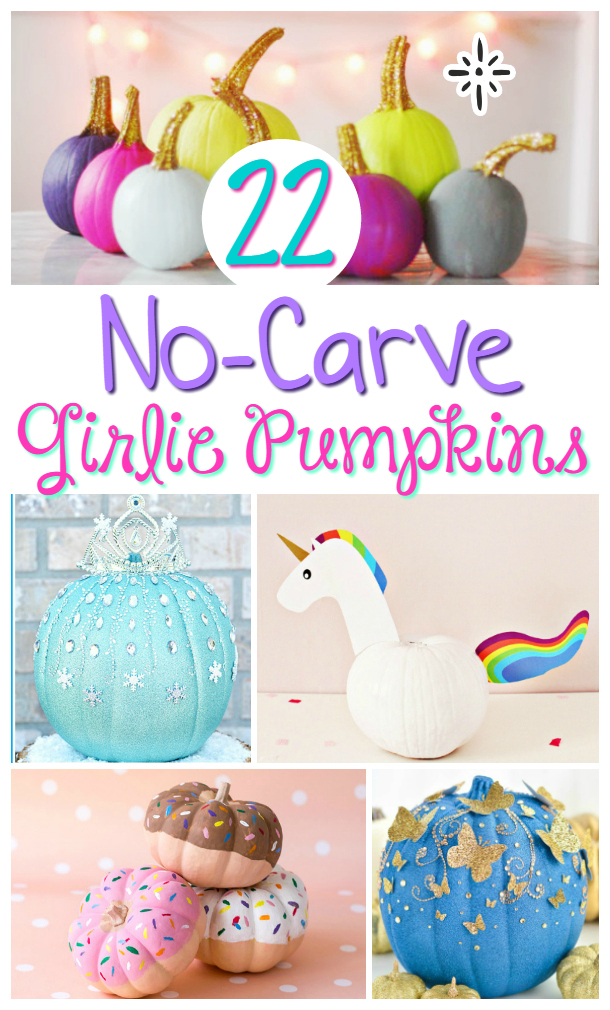 Here are 22 Girly No-Carve Pumpkins
A Pumpkin and a Princess – DIY Cinderella Butterfly Pumpkin
Pink Stripey Socks – No-Carve Colorful Pumpkins
Studio DIY – DIY Pun-Kins
Real Coake – Swirly Wirly Spiral Rosette Yarn
The Nerd's Wife – Melted Crayon Pumpkin
Aunt Peaches – Painted Pumpkins with Glittered Stems
A Pumpkin and a Princess – Frozen Elsa Pumpkin
Studio DIY – DIY Donut Pumpkins
This Mama Loves – Fall Pumpkin with Felt Flowers
Five Marigolds – Hello Kitty Pumpkin
Ode to Inspiration – Chic Fall Pumpkin
As the Bunny Hops – No-Carve Princess Pumpkins
Line Across – DIY Watercolor Pumpkins
Positively Splendid – Gold Foil Pumpkins
A Subtle Revelry – Abstract Painted Pumpkins
Tell Love and Party – DIY Tissue Covered Pumpkin
A Joyful Riot – Pool Float Pumpkins
Mom Dot – Marbled Pumpkin
Sincerely Sarad – Wrapping Paper Covered Pumpkin
Line Across – DIY Unicorn Pumpkin
Studio DIY – DIY Confetti Dipped Pumpkins
U Create Crafts – Paint Stitched Pumpkin
What do you think about the list above?  I think they are adorable!  Have you designed a No-Carve Pumpkin?