Disclosure: I got this product as part of an advertorial.

Being a Mom, a Wife, and a Business owner can be very stressful.  Some people carry stress in the shoulders, I happen to carry my stress in my back.  So when I was looking for natural remedies for stress and backaches,  I came across Bed Of Nails.  They sent me one of the Beds of Nails to put to the test.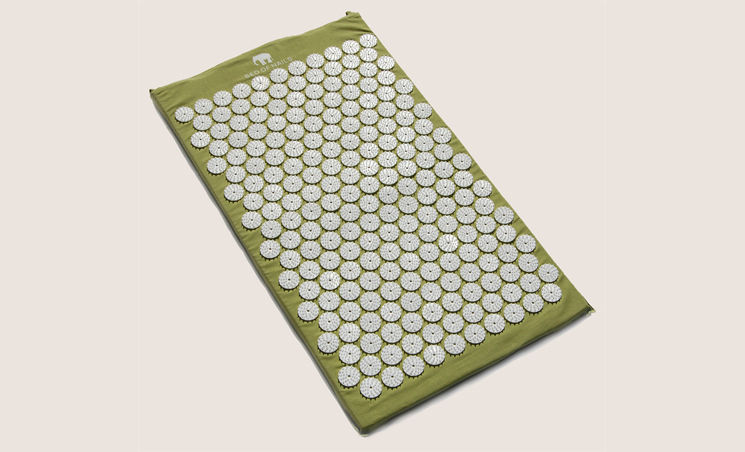 A little about Bed of Nails:  Bed of Nails works similar to acupuncture, the pressure of the rounded nails against the skin may help the body release endorphins, the body's very own "happiness drug" which provides a sense of joy, energy and painrelief, and oxytocin, which makes You calm and relaxed ( yes, it is possible to feel energetic and be relaxed at the same time!). Everybody reacts differently to Bed of Nails, and the effects can even vary from time to time; You may feel tired, hungry, happy, alert. Alot of people experience feelings of happiness, relaxation and hightened body temperature. (Beds Of Nails)
I have heard wonders about acupuncture, but I have always been afraid to try it.  So when I heard about Bed Of Nails, I figured that was the next best thing.  After reading a little about Bed of Nails I found out that if you use it regularly for a long enough period of time, it can help alleviate
Stress
Headache
Constipation
Tiredness
Insomnia
Tension
Back pain
Muscle aches
Malaise
When I heard Bead of Nails, I thought "oh my gosh, its going to hurt"   So when I tried it at first, I was wearing a tank top and a t-shirt.   That's when I realized that I really couldn't feel the "nails" like I thought I would.  So, down to the tank top I went.  With one less layer, I was able to feel the nubs from the plastic "nails".  At first, it was a slight discomfort – but that was because I was not sure of what to expect -and I was also slightly tense, expecting the worse.  After laying on it for a couple minutes, I became more relaxed.   After using this every other day for a couple weeks, I did notice that there was a little less stress in my back – which means a little less back pain.   My son has taken claim to this though.  Every chance he gets, he goes and lays on it.  I don't know if he gets any "stress relief" from it – as he is only 7.  I think he enjoys it because its 1) Mommy's and 2) something funny looking.
Make sure you take a moment to follow Bed of Nails on Facebook and Twitter.
I received one or more of the products mentioned above for free using Tomoson.com. Regardless, I only recommend products or services I use personally and believe will be good for my readers.