For as long as I can remember, the Easter bunny would always come and hide Eggs around the house or the yard (depending on the weather) and fill our Easter Baskets with our favorite candies.   But this year is Peanut's First Easter and she's not anywhere near the age of Candy Eating. So the Easter Bunny already told us that he'd leave something Special just for her; it's the book "Guess How Much I Love You" by Sam McBratney.
Sometimes, when you love someone very, very much, you want to find a way of describing how much you treasure them. But, as Little Nutbrown Hare and Big Nutbrown Hare discover, love is not an easy thing to measure! For two decades, Sam McBratney's timelessly endearing story, beautifully rendered in Anita Jeram's exquisite watercolors, has captured the deep and tender bond between parent and child. Guess How Much I Love You is one of the world's best-loved picture books.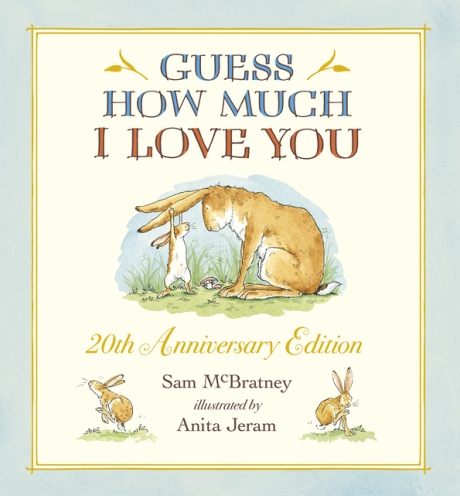 I remember reading this book when Lil C was a baby.  When reading it I could picture Him and I as Little Nutbrown Hare and Big Nutbrown Hare.  And now that Peanut is getting to the point where she's starting to sit still for more than a minute, I'm looking forward to siting and reading Guess How Much I Love You to her.   Another amazing thing about this particular story …. It has made it to the 20th Anniversary edition!
Disclaimer:  I received Guess How Much I Love You in exchange for this post, however, all opinions expressed are 100% my own.
If you love books, here are some related posts:
Winter Kids Books