Crocs- Best for your Feet!

I'm sure you have heard of Crocs.  They have been all over the internet and on the news.  Everyone who wore them told me how Comfortable they are.  But, for the longest time I thought they were … Ummm…how to put this… Not very stylish.  So I never wanted to try them on.  Over the past years, though, they have changed their styles from the Basic Traditional Crocs and have come out with Stylish and Fun Crocs Shoes for everyone of all ages.  The wonderful people at Crocs sent me a pair for me to try, and try to change my mind.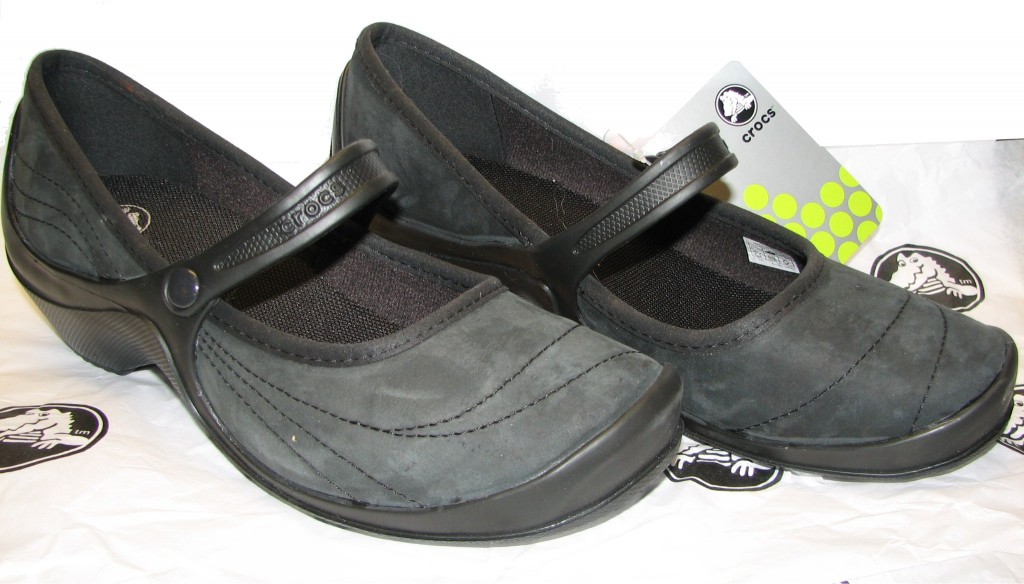 A Little About Crocs:
" Born in Boulder, Colo. as a simple, comfortable boat shoe, today Crocs™ footwear can be found across the globe and in more than 120 styles for men, women and children. With distinct collections, Crocs offers colorful, lightweight comfort for any occasion and every season.  All Crocs™ shoes are uniquely designed and manufactured using the company's proprietary closed-cell resin, Croslite™, a technology that gives each pair of shoes the soft, comfortable, lightweight, non-marking and odor-resistant qualities that Crocs wearers know and love. Crocs™ footwear is ideal for casual wear, as well as for professional use and recreational activities."
Our thoughts on Crocs
I have had the chance to own a pair of Crocs
for myself.  I was so surprised at how many different styles of Crocs they had on the market!  They have come a long way from the traditional Slide on Crocs – Now they have heals and clogs and boots.  I got the Mary Jane Wedges for review!  These came in a couple different colors  – but I chose the Basic Black on Black.  I figured this would be the best to go with ANY outfit!  And I was right! I was really excited when I got these, because I was able to go down the 1/2 size from my normal Tennis Shoe size – and I didn't have to go up to the next whole size.   Comfort wise?  I now see why every one was bragging about how comfortable these shoes were.  Now I have a pair of EXTREMELY comfortable Dressy Wedges!  These are going to go great with my Capri Pants in the summer!
Have you tried Crocs?  What is your favorite style?
Disclosure:   I received the item above in exchange for my honest review.  All thoughts expressed are 100% my own and are not influenced in any way.  This Post may contain affiliate links