Many people suffer from foot pain – usually caused by not having the correct support under their arches.  I know I have flat feet- which mean I have no arch…and when I walk around barefoot, my foot naturally rolls inwards – causing my knees to go out of alignment, which results in one unhappy mama!  That's when Strutz Sole Angels came to my rescue!  In my regular shoes, I wear an insert to give myself the support I need.  But when I walk around barefoot, now I can wear Strutz Sole Angels.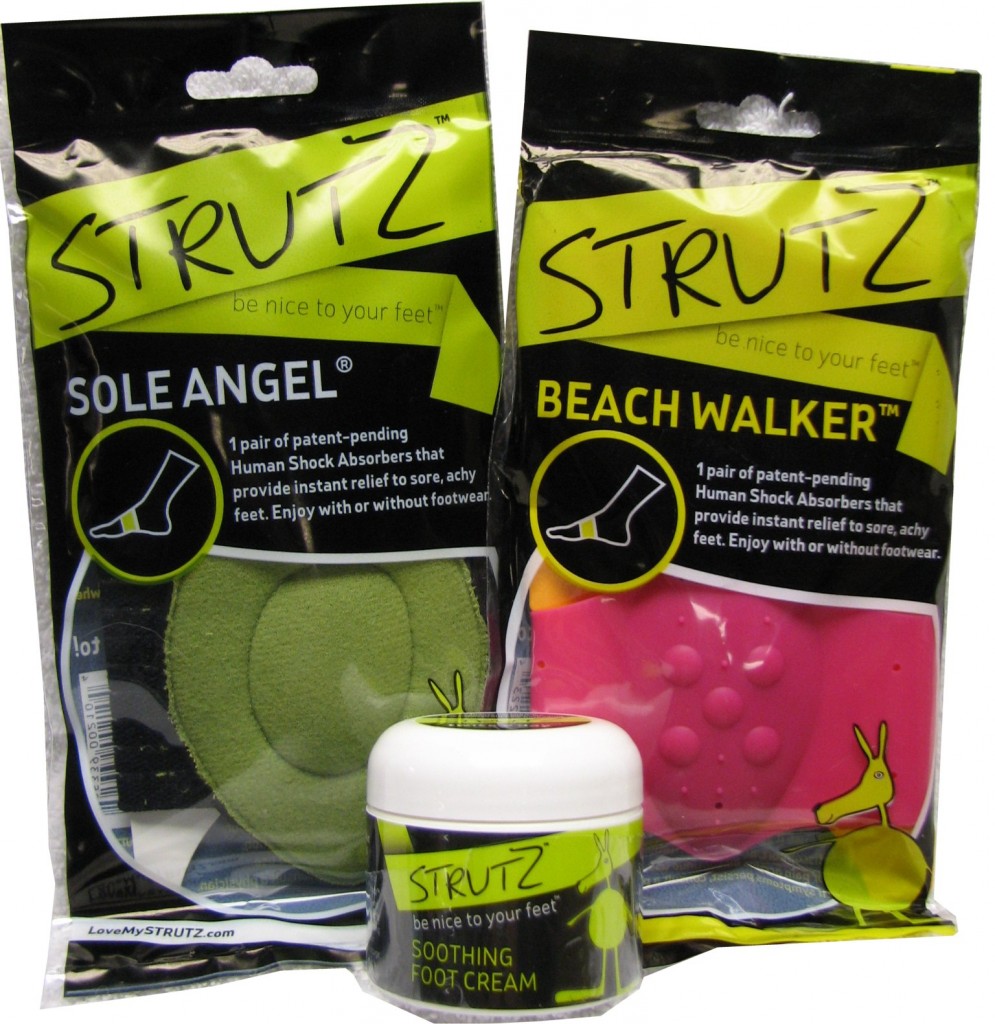 A little about Strutz Sole Angels:
"The Strutz patent-pending, revolutionary product line is designed to provide immediate relief to those with sore feet, knee and back pain caused by poor arch support. Endorsed by world-leading podiatrists, orthopedists, chiropractors and athletes, Strutz Sole Angel reduces heel, arch and ball of foot pain caused by flat feet, fallen arches and plantar fasciitis.  Unlike traditional arch support products on the market, the Strutz™ patent-pending internal shock absorber dampens shockwaves that travel throughout the body as it compresses and rebounds itself while the wearer engages in activity. This promotes better balance, control and body alignment while also rejuvenating tired legs, alleviating knee, hip and lower back pain so that you can strut comfortably. You can even wear them barefoot!"
What we thought about Strutz Sole Angel
Strutz has sent me Sets of their Sole Angels, Beach Walker and also their Soothing Foot Cream.  When I opened the box, I saw the great invention!  All I had to do was slide it onto my foot and it was like instant arch.  For someone who is not use to walking with any support under your arch, it does take a moment to get use to.  But It made a world of difference.  It gave snug support around my arch and instep.  And after wearing them for an hour or so around the house, i basically forgot that i had them on.  The Beach walker is going to be a perfect addition to my slide on sandals.  I also had the chance to try the foot cream.  This cream has given my feet a refreshing feel.  This is a product that I recommend to any of my friends who have flat feet!
*Disclosure: I received the item above in exchange for my honest review. All thoughts expressed are 100% my own and are not influenced in any way. This Post may contain affiliate links